How You Can Win the Coming Trade War
There is a trade war brewing. You might think the biggest target would be China. You'd be wrong.
That's not to say China isn't a target. Of course it is. In fact, the Nikkei Asian Review reports that the U.S. will slam China products with $60 billion worth of tariffs.
Still, China isn't the biggest target.
Today, I'll tell you about who is in Donald Trump's sights, and how you can profit.
A recent Business Insider Chart of the Day shows who is in the crosshairs. The Eurozone, and particularly Germany.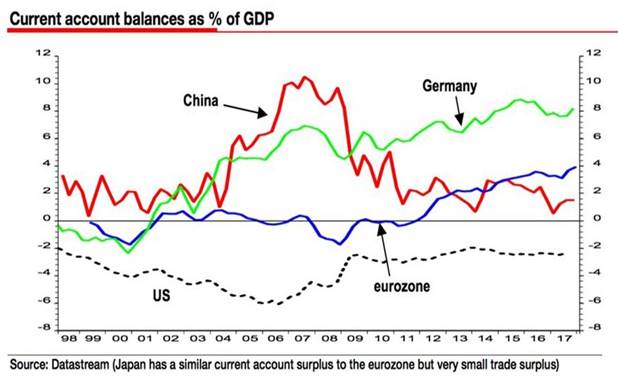 In 2017, Germany ran a $62.1 billion trade deficit with the U.S.
While that is smaller than the total trade surplus China had with the U.S. last year — $375 billion — it's a much larger part of Germany's GDP. In other words, Germany's economy is more focused on profiting on exports to the U.S.
Don't think that will be lost on Donald Trump. After all, he doesn't like Europeans, or Germans. And we've seen how tough he can be even with our friends.
Canada as a Metric
President Trump recently blasted Canada for its trade surplus with the U.S. Critics then savaged the president for making an inaccurate claim. But as fact-checked by the Center for Economic and Policy Research — hardly a right-wing bastion — the fact is, President Trump was right. Canada runs a surplus of $20 billion to $30 billion. Or 2.3% of Canada's GDP.
Now, consider that Germany's trade surplus with the U.S. is more than double Canada's trade surplus, and a MUCH higher percentage of its GDP.
I'd say Germany is straight in President Trump's line of fire. And the rest of Europe isn't far behind.
So how will President Trump hit back at Germany? Probably the same way he is telegraphing he will hit the EU. Through exports of steel and steel products.
The German magazine Der Spiegel reports that the U.S. has offered Europe the same kind of pass on tariffs that Uncle Sam gave Canada and Mexico. But the price of that pass is a tax on steel and aluminum exports to the U.S.
U.S. Trade Representative Robert Lighthizer laid out the offer along with other conditions at a meeting in Brussels with the EU Trade Commission.
Otherwise, President Trump has said specifically that he will levy a 25% tax on cars from Europe. We can assume this includes German Mercedes and Volkswagen brands.
In 2016, the EU shipped more than 6 million cars abroad. The U.S. was the biggest market, taking in 1 million vehicles.
But they won't stop there. And it puts Germany in an especially tight spot because steel is the backbone of the German economy. Germany is the world's seventh-largest steel producer — and the largest in the European Union.
Will it come to a trade war?
We don't know. Maybe the Europeans will cave.
On the other hand, President Trump has a weakness. And that is, that he doesn't know when to declare victory. I think the chances of a full-blown trade war are 50/50.
How You Can Protect Yourself and Profit
German brands like BMW AG (OTC Pink: BMWYY), Daimler (OTC Pink: DMLRY) and Volkswagen (OTC Pink: VLKAY) are all particularly vulnerable. And mega steelmaker ArcelorMittal (NYSE: MT) has operations across Europe.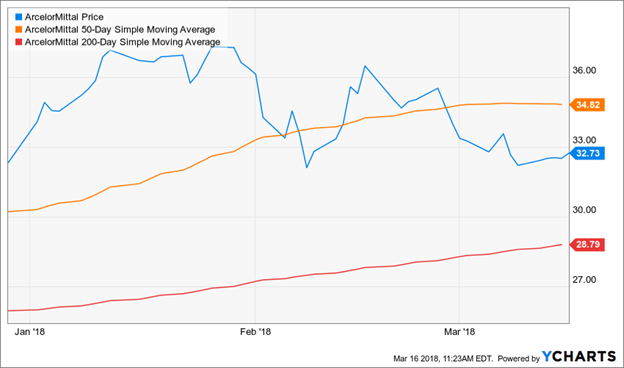 ArcelorMittal shares have fallen 2% just since Trump's March 1 statement that he wants to tax foreign-made steel at 25% and aluminum at 10%.
Likewise, the iShares MSCI Germany ETF (NYSE: EWG) is ripe for a fall. It plunged last month when the trade war sabers started to rattle. The next leg down could be a doozy. A smart investor who owns any of these stocks or funds might want to exit.
The only one worth shorting is ArcelorMittal. The rest simply don't have enough trading volume.
If you have the market agility — and the steel in your spine — necessary to use a triple-inverse ETF, you could go long the Direxion Daily FTSE Europe Bull 3X ETF (NYSE: EURL). That's not a long-term trade, though.
There are ways to play this on the positive side, with American stocks. In Supercycle Investor, we're doing just that.
Whatever you buy, do your own research. And remember, The Donald doesn't take "no" for an answer. Trading partners who try to stand up to him will end up crushed under his steel wheels.
All the best,
Sean