You Can't Afford to NOT Buy an EV
With the rollout of President Biden's infrastructure bill, the electric vehicle (EV) megatrend is shifting into higher gear.
The bill jacks up tax credits for EVs, making them the obvious choice for buyers. But there are pitfalls along the way … and ways investors can profit.
In this column, I'll explain:
Why new tax breaks will make EVs much more affordable.
What stocks WON'T qualify for the tax breaks.
Which stocks qualify for ALL the tax breaks.
Two exchange-traded funds (ETFs) that could put you on the road to profits.
President Biden rolled out his $1.75 trillion infrastructure proposal on Thursday, and it's loaded with upgrades for EV shoppers:
$7.5 billion will be invested in a nationwide charging network so you can travel long-distance with EVs.
For five years, all automakers will be able to offer $7,500 to EV buyers, no matter where the EV is made.
After that, for the subsequent five years, the $7,500 credit will apply only to cars made in the U.S. This will give auto manufacturers time to ramp up domestic production.
What's more, cars made by American manufacturers with union-represented workers will get an additional $4,500 in credits. So that's $12,000 in tax credits! With the average cost of a new EV at $40,000, that equates to a 30% tax credit!
Car buyers can get an additional $500 credit for EVs made with domestically built batteries.
There are couple strings attached: The credits will apply to cars that sell for $55,000 or less, vans for $64,000 or less and an SUV or pickup that costs $74,000 or less.
Also, the credits are limited to individuals who make less than $400,000 a year, or $800,000 for joint filers. Most Americans will qualify.
And it should cover a LOT of vehicles.
For example, the Ford (NYSE: F) F-150 Lightning — one of the most anticipated new EVs — costs $40,000–$90,000. I can see so many guys lining up for that, they should call Biden's bill "Daddy's Vroom-Vroom EV Truck Act."
Putting it plainly, if the government is willing to pay for a third of your car, you can't afford NOT to buy an EV.
What Won't Qualify
Tesla (Nasdaq: TSLA) is by far the largest EV maker in the U.S. today. However, those who purchase an EV from the automaker will not be eligible to claim the car on their taxes.
That's because the credits phase out after a particular automaker sells over 200,000 qualifying vehicles. In Tesla's case, it sold its last qualifying vehicle back in 2019.
You know who else is "capped out?" General Motors (NYSE: GM). They passed the 200,000 milestone in 2019.
But that law could change.
In fact, it probably will change as other manufacturers come up against the 200,000 limit. But for now, GM doesn't qualify, and Tesla uses a non-union workforce, so it's double-dog disqualified.
By the way, Toyota (NYSE: TM) and Honda (NYSE: HMC) have joined Tesla in criticizing the union-made requirement, because they use non-union labor as well.
Now let me explain why you'll want to buy that car by 2023.
If Republicans seize control of Congress in the next election, you can bet they WON'T extend these tax credits. That's why you'll want to buy your vehicle in the next couple years. The benefits could go away.
The Massive Opportunity
Currently, EV market share in the U.S. is only 2.5%. President Biden and Democrats want that up to 100% by 2035. That is a HUGE gap of opportunity.
Let's look at a chart of the most popular EV models sold in the U.S., using the latest data available from 2019: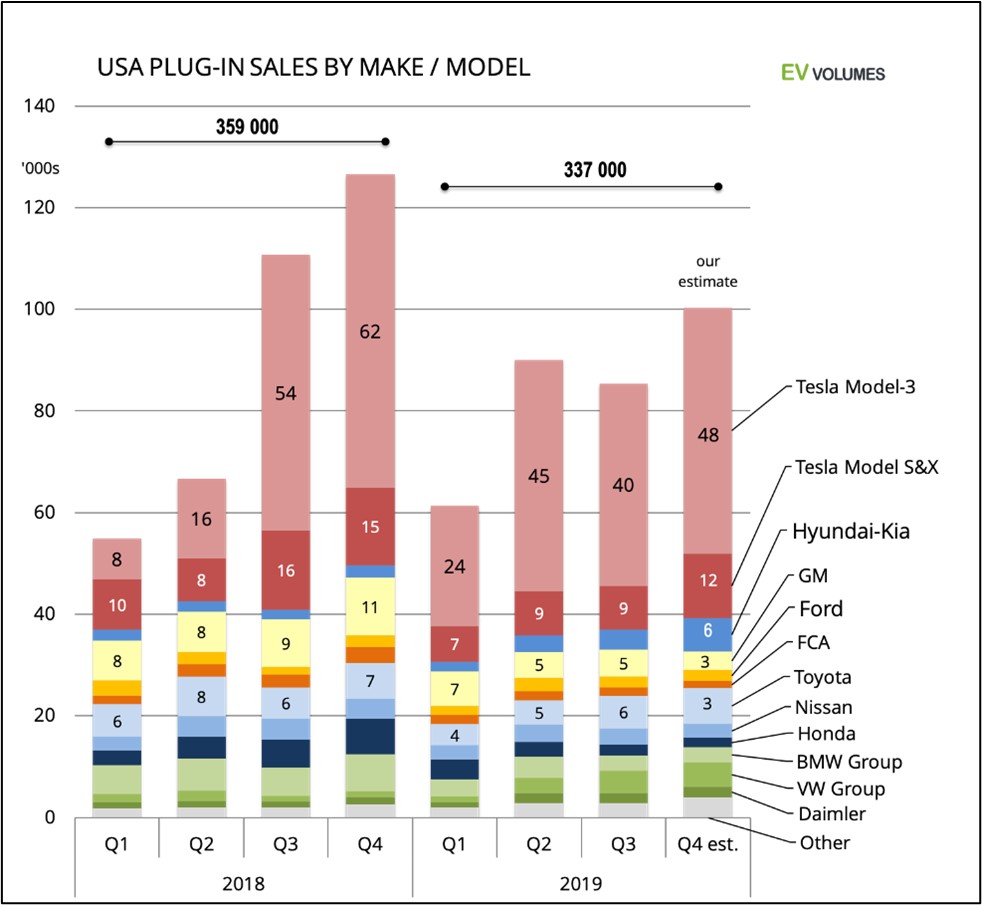 As you can see, Tesla dominates the market. Tesla sold 67% of EVs in America in 2020, but the company's market share was already expected to drop to 21% in 2030 even before these new tax credits.
GM, Ford, Toyota and other automakers are way, way behind. But the new tax credits could change that.
To be sure, maybe Tesla doesn't need the tax credit … it sure seems to have a cult-like following. But if the EV pioneer does shift into lower gear, General Motors, Ford Motor and Fiat Chrysler — which changed its name to Stellantis (NYSE: STLA) … because apparently we needed more confusion — could step in to fill the gap. Ford and Stellantis qualify for both the EV credit AND the union-made credit.
How to Play the Megatrend
You could try to pick individual stocks … but be aware that we saw 3,000 individual automakers come and go during the internal combustion engine (ICE) era in America. We ended up with five winners. So, those odds can be daunting for the average investor.
Or you could just buy an ETF. I'll give you two ideas.
ETF #1: The Global X Autonomous & Electric Vehicles ETF (Nasdaq: DRIV)
DRIV is hitting new 52-week highs, and about 59% of the fund is composed of U.S. stocks. It holds everything from lithium miners like Albemarle (NYSE: ALB), to China's Geely Automobile Holdings (OTC Pink: GELYF) to Ford, GM and Honda. DRIV has an expense ratio of 0.68%
ETF #2: The KraneShares Electric Vehicles & Future Mobility ETF (NYSE: KARS)
KARS is also hitting 52-week highs, and it owns Tesla, which the other fund doesn't. KARS also counts Chinese EV battery maker Contemporary Amperex Technology, Daimler AG (OTC Pink: DMLRY), Analog Devices (Nasdaq: ADI), Chinese EV maker Nio (NYSE: NIO), Ford and GM among its top holdings. KARS has a total expense ratio of 0.70%.
In the past month, KARS has been the clear winner. However, KARS has about one-tenth the volume of DRIV, which is very liquid.
Keep that in mind … and do your own research before you buy anything, just like always.
Best wishes,
Sean