When the Debt Volcano Erupts, Go for the Gold (Miners)
Have you seen the latest numbers on the U.S. debt? They're insane!
We already have a mountain of debt. Now, there are rumblings like a debt volcano is forming.
Last month, The Wall Street Journal reported that the U.S. budget deficit — the amount we add to the national debt every year — widened to $1.07 trillion in just the first 11 months of the fiscal year.
Source: Wall Street Journal
Higher spending on the military, rising interest expenses on government debt and weak revenues combined to push the deficit up 19% compared with the same period a year earlier.
The last time we saw a deficit this big was during the Great Recession. This time, we've got an ocean of red ink when the economy is supposedly doing well.
If you're smart, you'll start building your golden lifeboat right now.
The new federal fiscal year started Oct. 1. So, those in the know braced for what the final results for 2019 might be.
Those results just came in, and they aren't pretty. In fact, they're pig-bitin' ugly.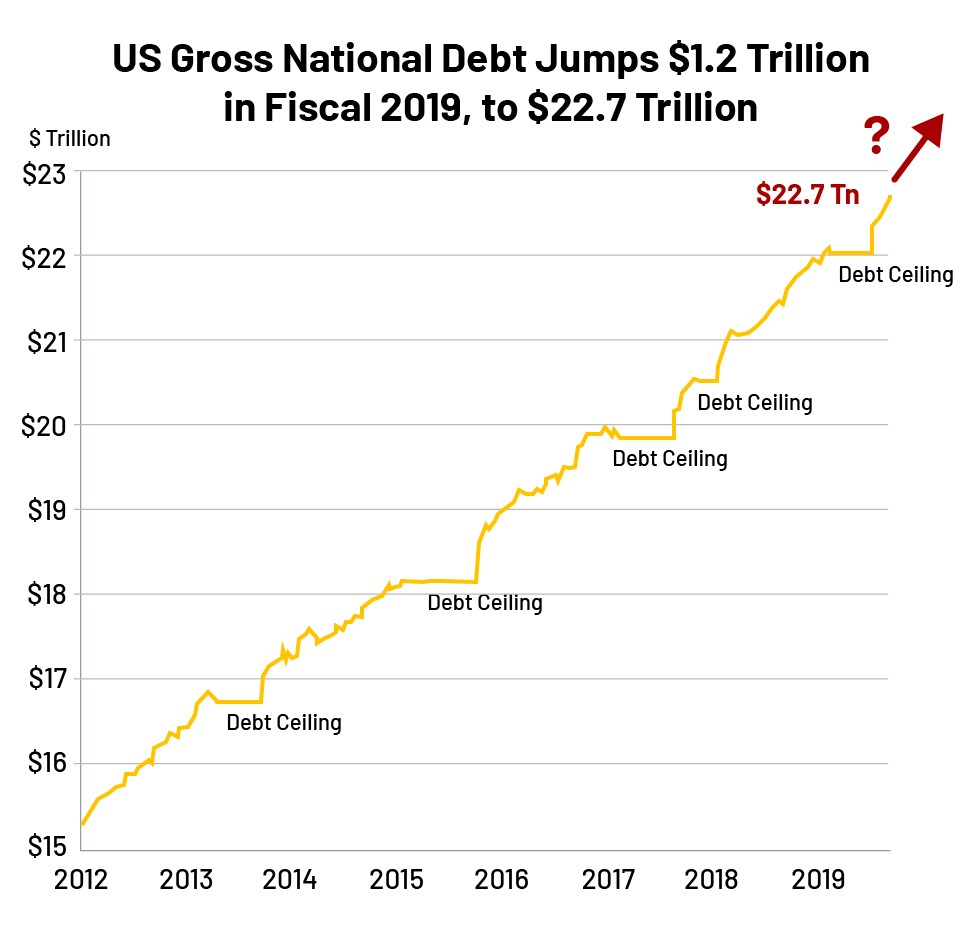 The final numbers show a deficit of $1.2 trillion. And that pushed the U.S. national debt to $22.7 trillion. Holy cow!
The only signs of restraint on that chart were when the debt ceiling clamped a lid on spending. Thanks to a recent deal between President Trump and Congress, the government won't run into debt-ceiling trouble again until Nov. 21.
How did we get into this situation? Well, for too many in Washington, they like spending people's money. So, they spend a lot. And everyone like a tax break, so those are easy to hand out, too.
But those are all outflows. We need a growing pile of cash to cover them.
How will the government get out of this? There are a few ways they could do it. But the most likely way — and least likely to outrage voters — is to "print" money at a record pace.
The spendthrifts in Washington don't actually have to print the money. They can just create it electronically. But that just makes it easier.
Already, we're seeing cracks in the financial system. Remember that "Repo" hullaballoo that erupted two weeks ago?
Repos, or repurchase agreements, are one of the policy tools the Fed uses to calm money markets and maintain steady interest rates. They basically create capital for a short time that was previously not part of the economy. In other words, it's a cash injection.
Why did the Fed have to do this? Because the financial system suddenly ran out of cash. We don't know why. But someone — probably a big bank — needed cash desperately. So much so, they were willing to pay a shockingly high cost to obtain it.
Short-term interest rates soared to as high as 10%. Just a reminder, the Fed benchmark interest rate its between 1.75% and 2% … though it's probably going to get cut again this month.
This crisis was caused because the Fed has been draining the excess reserves that have sloshed around in the financial system since the Great Recession. About $800 billion of the more than $2.5 trillion of quantitative easing (QE) had been drained out … so far.
But then something happened. The banks got hooked on that "free money" like my dog in front of a full plate of bacon.
As it drained out of the system, as the level of water in the pool went lower, someone suddenly found they weren't wearing a bathing suit.
They needed cash. Badly!
What's next? Probably more QE.
According to Bank of America (BAC), the Fed will need to purchase $400 billion in bonds from banks over the next year. That's QE by any other name.
And that will work … as long as other countries are willing to buy our Treasuries.
As long as the next crisis isn't so big it overwhelms the Fed's best efforts.
As long as the financial system — the one based on "In God We Trust" printed on the dollar bill, and "All Others Pay Cash" as the unspoken flipside of that — actually works.
But when it doesn't — when this debt mountain turns into a debt volcano — you'll want a golden lifeboat to get the heck away.
I'm talking about  …
Physical Gold and Silver. You can print money from here to the moon. You can't print gold.
Producing Gold and Silver Miners. In an environment where the dollar loses much of its value and gold soars, precious metal miners are literally in the business of making money.
Select Gold and Silver Explorers. These stocks were beaten into the dirt in the long gold bear market that only recently ended. Now, you can pick them up for pennies on the proverbial dollar.
You can always pick up the VanEck Vectors Gold Miners ETF (NYSE: GDX). It's a basket of some of the biggest gold and silver miners.
And don't wait too long. Did you see the action in gold this week?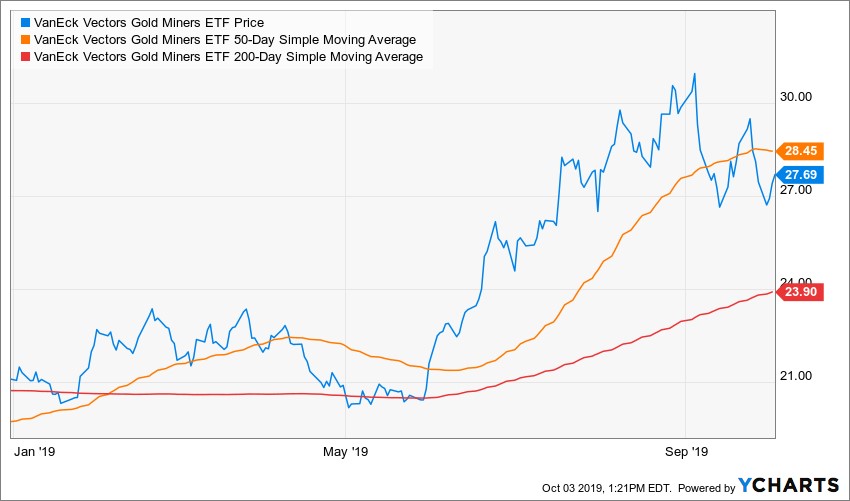 We saw a huge sell-off to start the week. But instead of triggering a cascade of sell orders in COMEX futures, the price only managed to drop to $1,460 an ounce before finding support.
Then buyers came in, and the price went up again.
Sure, it didn't hurt that the major stock indices were selling off hard at the same time. And the price of gold will zig and zag.
But it's obvious what the smart money is doing — buying the dips on gold.
Shouldn't you be the smart money, too?
That volcano is rumbling. It's time to build your golden lifeboat. You don't want this ship to sail without you.
All the best,
Sean
P.S. If you want to get my up-close and personal presentation, consider attending the New Orleans Investment Conference Nov. 1-4. It's an event chock-full of great speakers, in a fantastic destination city to boot. I'll be there, as will some of the sharpest minds offering amazing insight on gold, stocks, cannabis and more. Check it out right here: