2022 was a terrible year for the major indices. Terrible!
The blue-chip Dow Industrial lost 8.9% for the year. The S&P got pummeled, down 19.6%. And the Nasdaq Composite was a slaughter, losing 33.5%.
Think about that for a moment. A third of the tech-heavy Nasdaq's value got wiped out. Vanished! Poof!
You know who did well last year? Some of you already know that answer.
My Wealth Megatrends Members, that's who!
That's right. They outperformed Wall Street's white-shoe crowd … the billionaires and the bankers … the crypto kingpins … the hubris-filled hedge funds … even all those algo-assisted, fat-wallet types.
By how much, you ask? I'm happy to tell you!
Last year, if my Wealth Megatrend Members followed my recommendations, they reaped a 10.8% gain on their closed positions, including dividends. Awesome!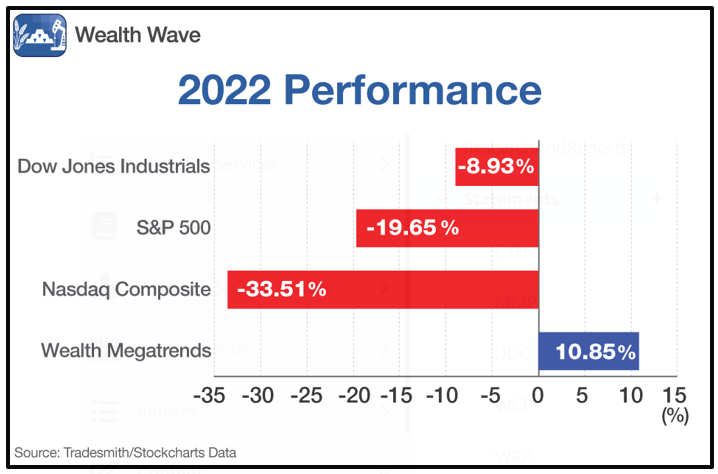 2022 Wealth Megatrends portfolio performance vs. major indexes.
Click here
to view full-sized image.
Eat my dust, S&P! Eat my shorts, Jerome Powell!
Wealth Megatrends is a service that rides the megatrends that are reshaping our world and global economy. We play those megatrends with dividend-paying stocks.
And those sweet, sweet dividends are a big reason why the recommended positions did so well. If members followed my recommended $30,000 total portfolio and allocated 5% to each trade, we tracked total dividends last year of $419.89. That's way more than the cost of the subscription.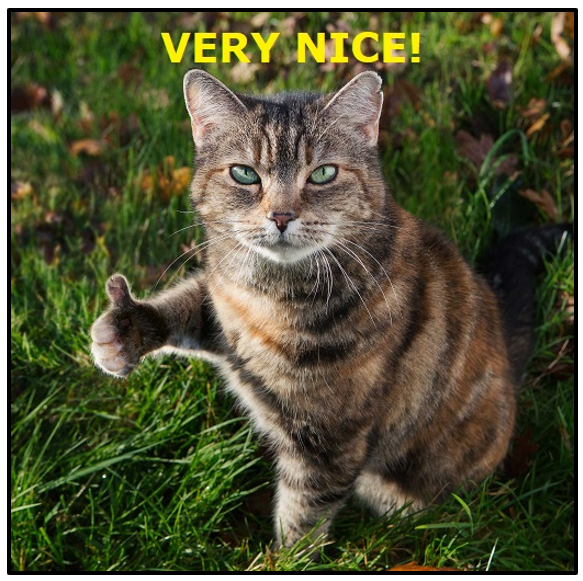 And the total closed gain on the recommended portfolio last year was $3,256.36. Yeah, baby!
There's a reason why dividends helped Wealth Megatrends outperform. Not only do you ring the cash register every quarter, but those dividends also act as a cushion. When stocks fall, dividends blunt the impact.
Also, dividend payers look even more appealing after a sell-off, so they get snatched up as investors go bargain hunting.
And dividends didn't just win in the short term, either. Standard & Poor's reports that over the past 90 years, dividends accounted for 40% of total returns in the S&P 500.
Now, that's just the cushion on the nitro-fueled race cars that are global megatrends. Trends reshaping the world in energy, robotics, demographics, health, industrial metals, water and gold!
Oh yeah, there's a gold megatrend going on right now. You can bet your britches we're playing that for all it's worth.
Look, I hope you're doing well in this market. I hope you're making bank and laughing at the banksters all the way. But if you need some help – if you want some outperformance — consider joining us.
There's a new Wealth Megatrends issue going out on Friday. It has two new picks. We are locking and loading for more potential profits. There are no guarantees. I mean, besides the money-back guarantee on the membership. Heck, that's the best offer you'll get all year.
Importantly, if Wealth Megatrends can run rings around the major indices in a bear market, just you wait. Just you wait and see what we can do in a bull market.
Your golden ticket is here. You just have to reach out and take it.
That's it for today. I'll have more for you real soon.
All the best,
Sean