Fight Volatility with Value
I recently mentioned how the Fed's mixed signals are creating a volatile environment for stocks.
We've certainly seen it this week as the S&P 500 dropped over 3% Monday and Tuesday.
The recent slide capped four consecutive days of losses as investors weigh an uncertain Fed decision and fears of a recession.
The silver lining is that the economy is showing signs of improvement. Inflation appears to be peaking, and employment figures remain strong.
In October, consumer and producer prices showed 7.7% and 8% yearly inflation, respectively, both well below previous peaks of 9.1% and 11.7%, respectively.
The data is a step in the right direction as the Fed decides how long it wants to continue raising interest rates. The following chart shows headline CPI data trending lower over the past several months: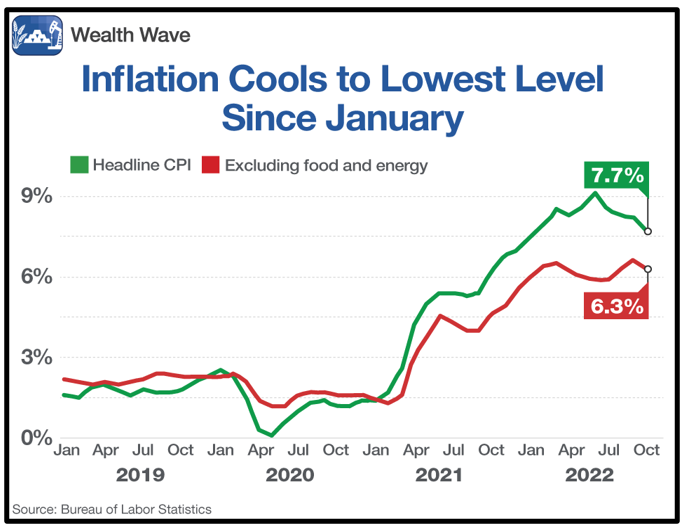 Inflation levels.
Click here
to view full-sized image.
As inflation subsides, the Fed has a greater incentive to slow down its economic tightening. The sooner it does, the greater the likelihood of a softer landing and milder recession.
Consumer prices are still significantly above the Fed's 2% target, but it takes time to see the effects of rate hikes. November's Consumer Price Index data will be critical because it comes a day before the next Fed decision.
Meanwhile, the U.S. unemployment rate remains close to multidecade lows at 3.7%.
The U.S. Bureau of Labor Statistics released excellent jobs reports in October and November, gaining 261,000 and 263,000 nonfarm payrolls in those two months. The figures easily eclipsed estimates of 200,000 and 205,000 created jobs.
After November's excellent report, Principal Asset Management's Chief Global Strategist Seema Shah emphasized, "To have 263,000 jobs added even after policy rates have been raised by some 375 basis points is no joke."
Wages grew double the expected pace, too, with average hourly earnings increasing 0.6% in November.
The market wasn't hoping to see excellent jobs data as it wants the Fed to prioritize pivoting, but it shows households are likely in better shape than previously expected.
Lower inflation with manageable unemployment could point to a soft landing for the economy as the Fed moves toward the end of this rate hike cycle. With Wall Street increasingly pricing in worse news for the economy next year, we could have an opportunity to capitalize.
How to Play the Trend
I expect the bumpy ride to continue, and one of the best ways to weather volatility is with companies generating stable cash flows.
They ride the wave higher during periods of strength, but they are less affected during market turbulence because of their strong fundamentals and cushioning dividends.
One exchange-traded fund to look into is the Vanguard Value ETF (VTV), which tracks an index mirroring the returns of large-cap value stocks.
VTV's top three holdings are UnitedHealth Group (UNH), Berkshire Hathaway (BRKB) and Exxon Mobil (XOM). They make up about 9% of the fund's $149 billion in assets under management.
VTV trades with plenty of liquidity, averaging about 3 million shares in daily trading volume. The fund's dividend recently yielded 2.46%, or over 60 times greater than its expense ratio of 0.04%.
VTV's chart shows it pulled back with the broader market recently, but that can be expected after significant upward moves: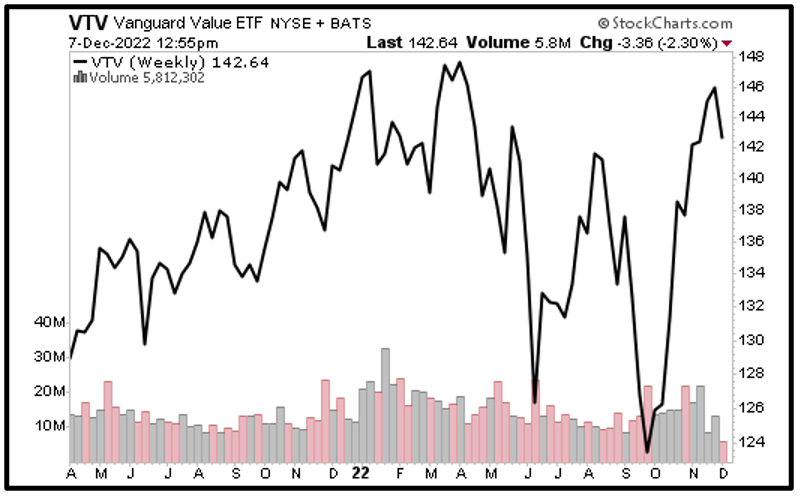 VTV tech chart.
Click here
to view full-sized image.
The fund could retest overhead resistance again soon if the market starts its next upswing. In the meantime, these stocks should hold their ground better during periods of volatility, thanks to their solid fundamentals.
Always do your own research before buying anything, but value stocks like VTV could help maximize risk-adjusted returns while conditions are uncertain.
All the best,
Sean
P.S. If you haven't yet joined my friend and colleague Tony Sagami's service, Disruptors & Dominators, now is the perfect time. Members are currently sitting on open gains of 40%, 30% and 16%!