Get on Santa's 'Nice' List!
I'm going to go out on a limb and say we're having a Santa Claus rally this year. That's the good news. The better news? It's not too late to get on Santa's "nice" list.
I'll give you my reasoning, as well as some picks to enjoy the sleigh ride.
First, what is a Santa Claus rally?
It's what we call a year-end market rally that often — not always — takes place in the last five trading days in December and the first two trading days in January.
According to the Stock Trader's Almanac, over those seven trading days, stock prices historically were up 76% of the time.
That's a short period, and in terms of the S&P 500, it's not a huge move — averaging about 1.3%.
However, this year, I think certain industries and select stocks could end up higher on the nice list.
Stocks have been on a bumpy ride recently. So why do I think we'll have a Santa Claus rally?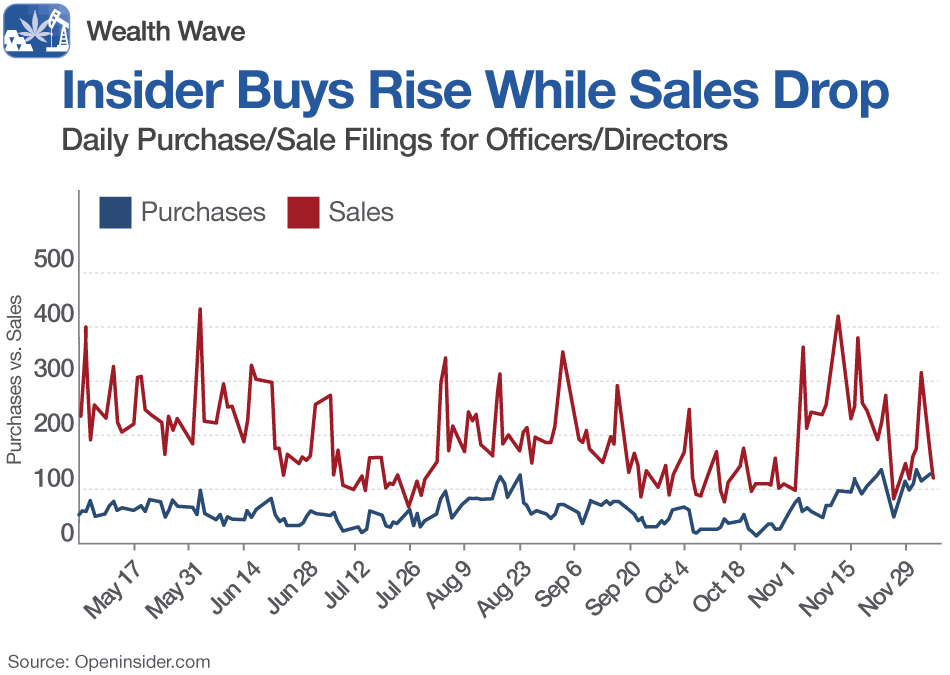 The red line is insider selling — which is falling hard right now — and the blue rising line is insider buying.
Insiders normally sell more than they buy because shares are one form of compensation. Now sales are dropping drastically while purchases are picking up.
That's a sign that insiders are feeling more bullish on their stocks ... and that really greases the ski-jump for a Santa Claus rally.
Most Investors Are Not Counting on a Rally
Speaking of insiders, let's look at what the "smart money" (institutional investors, market mavens, central banks, funds and other financial professionals) is doing compared to the "dumb money" (retail investors … and the rest of us).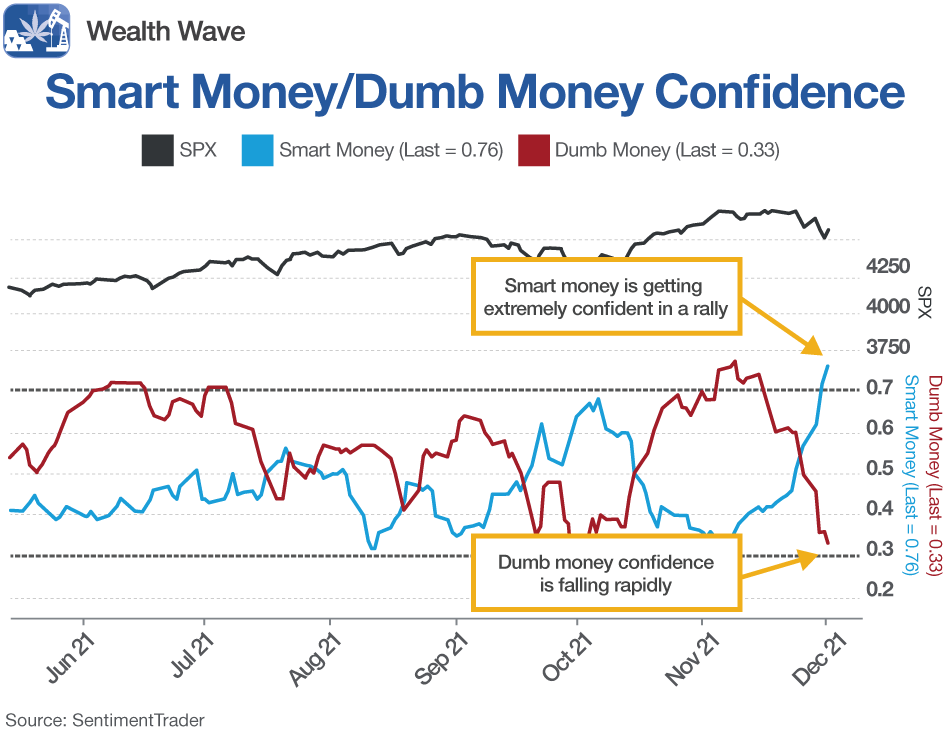 Indeed, SentimenTrader reports that "the spread in sentiment between smart and dumb money is historic!"
The chart shows that Smart Money Confidence, as they call it, jumped to 77% — the highest since late April 2020. Dumb Money Confidence plunged to 30% — the lowest since early April 2020.
It looks like the Omicron variant shook the confidence of retail investors, making them more likely to sit the next rally out. On the other hand, institutional investors are positioning for a surge that could be historic.
How to Ride Santa's Rally
There are still plenty of risks in this market. For example, inflation has turned red-hot and could trigger faster action by the Fed to taper bond-buying and hike interest rates.
Also, it's unlikely we've seen the end of the COVID-19 variants. The market will probably get spooked by the next one, too.
Nonetheless, in the short term, Santa should bring a rally to town.
Here are some jolly ideas to consider …
Oil and Gas
The energy sector was hammered by the Omicron scare. That means select oil and gas stocks are cheap. If you prefer exchange-traded funds (ETFs), the SPDR Series Trust - S&P Oil & Gas Exploration & Production ETF (NYSE: XOP) is bouncing nicely. It has an expense ratio of 0.35%.
Real Estate
We're entering an inflationary environment, so real estate is going to do well. The iShares U.S. Real Estate ETF (NYSE: IYR) is an easy way to play it. It has an expense ratio of 0.41%.
Financials
Wall Street banks are an industry everyone loves to hate, but we're hearing more bullish news about them all the time. Any Omicron sell-off in these stocks was a gift. You can buy them and more in the Financial Select Sector SPDR Fund (NYSE: XLF) and pay an expense ratio of just 0.12% to do so.
Here's a performance chart showing how these three ETFs have done against the S&P 500 since the market started rallying again on Dec. 1.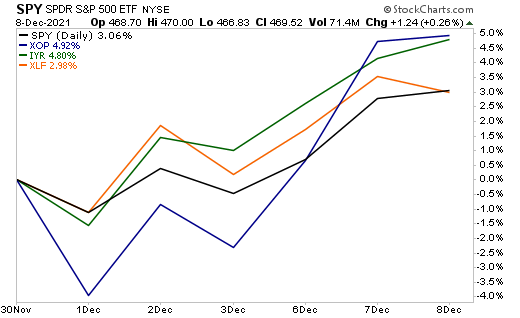 IYR and XOP are outperforming the S&P 500.
And the XOP — oil and gas — is outperforming by a lot … more than doubling the S&P 500's short-term performance.
If you want to end up on Santa's sleigh ride, any of these ETFs look like a good way to get there.
All the best,
Sean