Gold Puts on Dancing Shoes
A lot of investors hate gold right now. Hate it!
And for good reason.
It's underperformed lithium, rare earths, copper, aluminum, palladium, platinum and most recently, uranium.
While all the other girls are jumping out the convent window to go to the town dance, gold lay in bed like a lump, alongside her sister, silver.
But recently, gold put on its dancing shoes.
Maybe it's the shadows looming over the global economy as COVID-19 heats up again. Maybe it's the crypto flash crash. Maybe it's seasonal — this is a strong time of year for gold.
But no matter the reason, gold is going to the dance and taking gold miners along with it. My friend Shirley Anthony works in Canadian mining. (In lieu of flowers, send private placement money.) She recently joined a company called Cassiar Gold (TSX-V: GLDC).
After our conversation, I bought the stock.
That doesn't mean you should buy it. A lot depends on your own investment profile.
But let me explain what I find so interesting about Cassiar and some other small Canadian miners you might be interested in.
Everyone Hates Gold Right Now.
But They'd Hate to Sell it, Too
Looking at the chart, you can see gold bottomed on Aug. 10. Big gold miners, as tracked by the VanEck Vectors Gold Miners ETF (NYSE: GDX), bottomed on Aug. 20. Both are zigzagging now, and the trend in both is higher.
Big miners — like those tracked by the GDX — often lead any rally.
But when optimism starts to filter through the rest of the industry, you know what really takes off? Explorers … developers … the small fry.
That's natural, if you think about it. The small companies have the most to gain from a rally in the underlying metal.
It's partly emotional, sure. But do you know what else gets investors emotional? Visible gold!
Gold Bugs Like to See Their Wealth. Gold Investors
Like to See What Miners Have … Literally
There aren't a lot of projects around with grades high enough to have visible gold. Heck, even world-class gold projects sometimes don't have visible gold.
For example, I've been to the open-pit Cortez Mine in Nevada, which is owned jointly by Barrick (NYSE: GOLD) and Newmont Mining (NYSE: NEM). It produced 210,000 ounces in the first half of this year, grading 1.35 grams of gold per ton (g/t).
It's world class. But do you know what it doesn't have? Visible gold. A mountain of wealth, and only a geologist or metallurgist can tell you there's gold there.
Mines with visible gold are rare. I've been to a few of them. I remember the impact of seeing gold right there in front of you. That's excitement.
And this excitement brings me to Cassiar Gold (OTCPK: CGLCF).
When Shirley Talks, People Listen
Shirley Anthony is the VP of Communications for Cassiar. But she previously worked for Maple Gold Mines (OTCQX: MGMLF), which is joint ventured with Agnico-Eagle Mines (NYSE: AEM) on a rich, potentially vast project in Quebec.
•  Shirley was the one who put Maple on my radar … and I'm glad she did.
My subscribers traded Maple a couple of times, once for a small loss and once for a tracked gain over 80%. In the gold biz, that ain't bad. (I still own shares in my personal account.)
•  Now that Shirley now with Cassiar, I'm taking a close look at that company, too.
Cassiar is a tiny company with a market cap of just $24.3 million. It has a two projects in British Columbia, Canada, with a focus on their flagship Cassiar Gold Property and two target areas: Cassiar North and Cassiar South. The Cassiar South area hosts multiple past-producing, high-grade veins along with the Table Mountain historical resource that hosts visible gold along with historical gold grades between 18 and 24 grams g/t.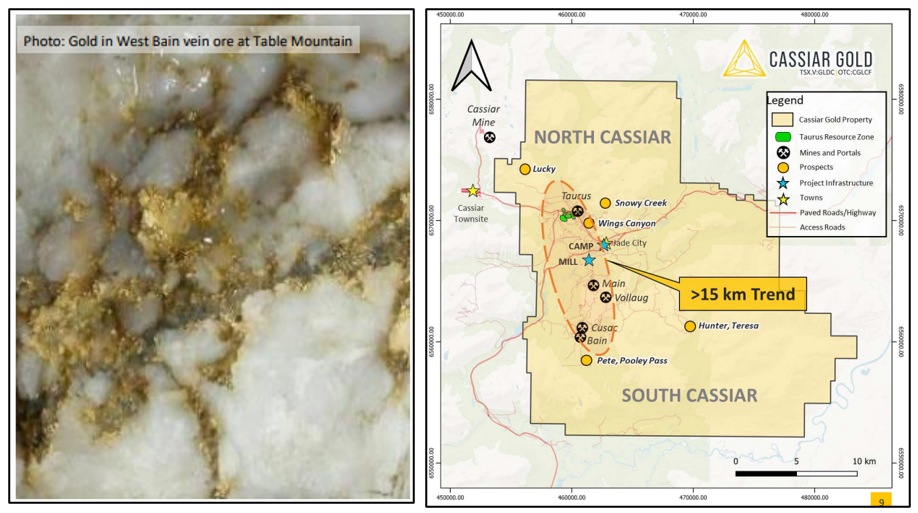 Source: Cassiar Gold Presentation
The operatve word is "historical." It's not proven or even probable under modern terms. It's a system that's being revisited, and Cassiar is hurrying on a 15,000-meter drill program to prove — or at least infer — they still have plenty of gold left.
The company has a lot more going for it, including a great team. Technical adviser Doug Kirwin led the discovery team for the super-giant Hugo Dummet deposit at Oyu Tolgoi in Mongolia. That's a guy who doesn't waste his time.
Cassiar also has:
* A tight share structure
*  A resource estimate of over a million ounces at their main project (so far), and
* Another project, Sheep Creek, that produced 736,000 ounces of gold at 13 grams p/t back in the late 1800s.
So, I'm thinking we'll be hearing a lot from this little company in the future.
One thing to keep in mind: Even though it trades on the OTCQX in the U.S., Cassiar's per-day volume is thin. If you'd like to own it, you're better off buying it in Canada.
Because of its small size, I'm not ready to recommend this one to my subscribers. But if or when the time comes that I want to recommend buying Cassiar, you can be among the first to know. Click here to see how.
All the best,
Sean