Gold Puts the Metal to the Pedal
For three out of the last four weeks, gold has moved higher.
But that's just part of a bigger bullish move that started late last year and really accelerated in January.
You might say gold is putting the metal to the pedal!
This move is being widely ignored by the babbling heads on TV … for now. By the time they wake up to it, we can make all sorts of money.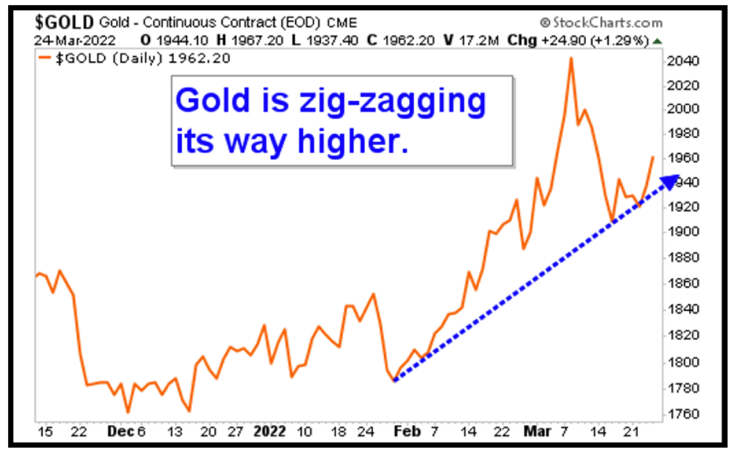 Year to date, gold is up more than 7%. That leaves the S&P 500, with its 5% loss over the same time frame, in the dust.
And gold dipped under $1,800 on Jan. 28 to what is, in retrospect, a major bottom. Since that bottom, gold is up 9.7%.
What's driving this move? Oh, the experts have all sorts of reasons.
The war in Ukraine. Accelerating global inflation. Sanctions on Russia and the subsequent surge in the prices of many commodities.
And for gold, that is outweighing increasing hawkishness from the Federal Reserve and other central banks around the world.
All that is true.
In fact, I just sat down with Weiss Ratings founder Dr. Martin Weiss to discuss how these precise factors are part of enormous supercycles that may threaten your wealth for the foreseeable future.
To hear that discussion and learn more, click here now.
But there's a big driver of gold prices that deserves more attention. Something that could drive it beyond the high of $2,043 it hit on March 8 and send the yellow metal much higher.
I'm talking about the fact that — right now — individual investors are lining up to buy gold bullion hand over fist. You can see it at gold dealers big and small. And that's the primary reason why gold is up nearly 10% since late January.
How else do I know this is the start of something big?
This surge in demand comes on top of last year's. Last year was a great year for gold. Demand for bars and coins hit 1,124 tons in 2021, according to the World Gold Council … the highest in almost a decade.
Why is this happening?
Gregor Gregersen, founder of Silver Bullion in Singapore, thinks he knows. Gregersen says his company saw gold and silver sales rise 235% in the first week following Russia's invasion, and demand has only intensified since.
Gregersen told Bloomberg, "Investors are thinking along the lines of a worst-case scenario with the war in Ukraine and are finding it prudent to buy physical safe-haven assets in a safe jurisdiction like Singapore."
But it's not just Singapore. From New York to London to Berlin, gold dealerships are reporting that customers are lining up for bullion.
And that's why I know that — while gold has rallied — it has a lot more room to go.
My short-term target on gold is $2,100. Longer term, I believe it's going a lot higher than that.
What do you think that will do to the share price of miners leveraged to the metal?
An easy way to find out is to buy the VanEck Vectors Junior Gold Miners ETF (GDXJ). It's a basket of junior and mid-tier miners of gold and silver.
Its top holdings include Pan American Silver (PAAS), Yamana Gold (AUY), SSR Mining (SSRM) and more.
And the GDXJ is breaking out right now: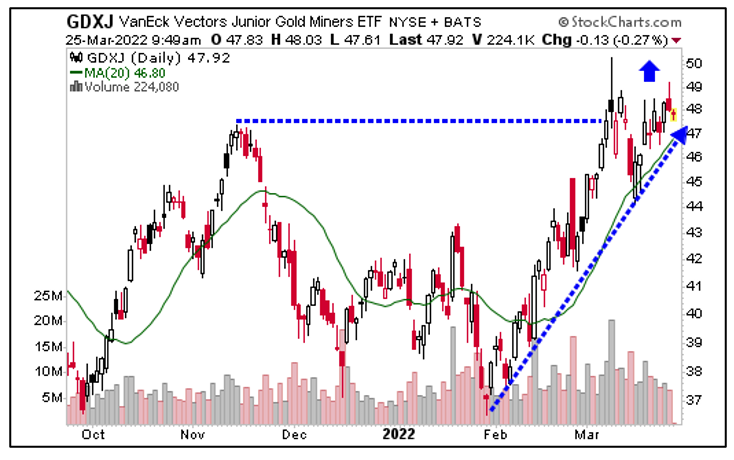 You can see that the GDXJ is stepping higher along its 20-day moving average (MA). The 20-day MA is a dividing line for short-term bearish and bullishness.
The GDXJ has stepped right up to overhead resistance around $47.50 and pushed through it.
The next stop for the GDXJ will probably be $61.
What happens there? We'll find out. Nothing travels in a straight line, but with the way gold is moving, that may be a short rest stop indeed.
And if you're interested in more golden insights — including my hottest picks for individual miners, developers and explorers — you should attend the MoneyShow's Money, Metals and Mining Virtual Expo.
I'll be presenting on Wednesday, April 6, at 11:50 a.m. Eastern.
I'll offer up some great gold and silver picks, and you can get those from the comfort of your couch. So sign up today!
All the best,
Sean