Gold & Silver Soar as Market Panics
Wow, did we see some nice moves in gold and silver yesterday. Gold jumped 2% and silver surged as much as 8.7% —the most since February 2021!
What's driving this? Is this a rally worth trading? I'll tell you what I think along with how you can play it.
First, there's trouble in the global debt markets. While we can lay part of the blame on Britain, it's a worldwide crisis. But let's start with the U.K., regardless.
Last week, the pound sterling hit its lowest level EVER against the U.S. dollar.
This is because new British Prime Minister Liz Truss rolled out a mini budget that offered steep tax cuts for the wealthy and corporations. These tax cuts were paid for with debt.
The idea of massive new debts spooked the markets, which turned around and sold the British pound.
As a result, British bonds tanked hard last week. British pension funds own a lot of gilt bonds, and they also play the currency markets by being long on the pound and short on the dollar. That, in turn, put pressure on British pension funds, many of which inched toward insolvency.
What a mess!
Truss likes to model herself after former British Prime Minister Margaret Thatcher, aka "The Iron Lady." The fiscal debacle has led to Truss being labeled "Margarine Thatcher," and critics saying, "I can't believe she's not better."
Anyway, facing catastrophe, Truss and her team rolled back the tax cut idea this week, and the pound seems to be recovering. But damage reverberates across the world's financial system in the form of …
A group of banks, including Barclays and Bank of America, cancelling a $3.9 billion debt offering last week amid a lack of demand.
Outflows in U.S. investment grade bonds hitting their third largest outflow on record last week, according to a note from broker SP Angel. This follows six weeks of withdrawals totalling $22.3 billion.
Credit default swaps across major European banks are soaring. Credit Suisse is facing what its CEO calls a "critical moment," though rumors of the big bank nearing a liquidity crisis haven't come true.
Could there be more trouble to come? Yes, and not just in the U.K.
The collective balance sheet assets of the U.S. Federal Reserve, the European Central Bank, the Bank of Japan and the Bank of England are now approaching about 55% of their countries' total GDPs.
If investors lose confidence, and these countries can't find buyers for their debt, that's when the crisis could really hit the fan!
Why Gold & Silver Suddenly Shine
While the British pound is bouncing, the rally looks short term. The structural problems haven't gone away. Longer term, the British pound is zigzagging lower … and nothing on the horizon will change that.
What do you buy when your paper currency is losing its value? That's when the hardest of assets starts to shine.
And that's why we saw gold and silver kick into higher gear. Look at this chart of the iShares Silver Trust (SLV), which holds physical silver and closely tracks the metal.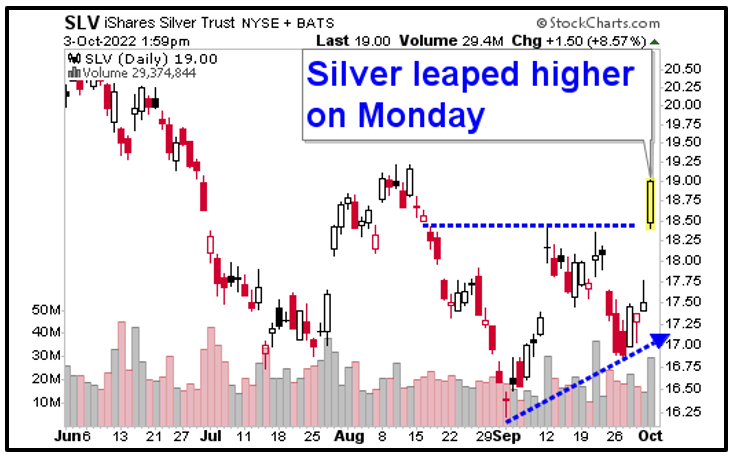 Five-month chart of the SLV.
Click here
to view full-sized image.
Wow, nice breakout!
Meanwhile, since British bonds are losing all appeal, international buyers are flocking to U.S. bonds despite the pressure that our own debt has been under recently. That's forcing U.S. Treasury yields down.
In fact, yesterday saw the yield on shorter-term Treasurys drop the most since 2009.
One of the complaints some investors make about gold is that it pays no yield. With Treasury yields dropping, pressure is taken off of gold, allowing the yellow metal to move higher.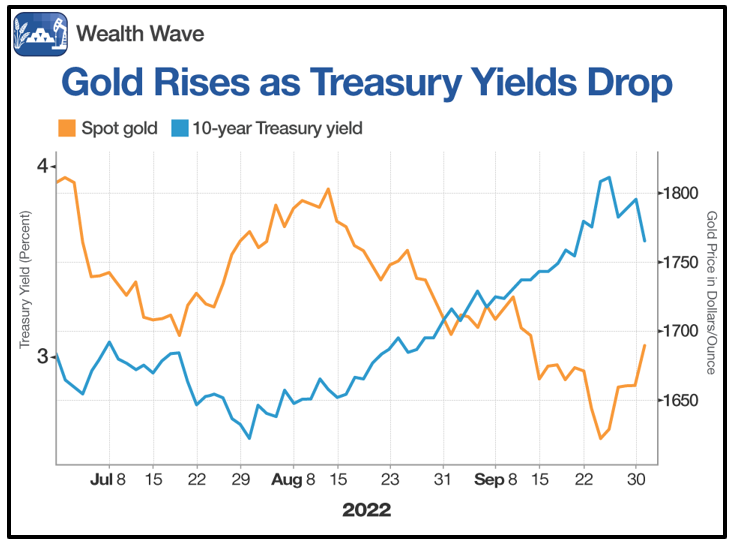 Gold vs. 10-year Treasury.
Click here
to view full-sized image.
You can see that gold and the 10-year Treasury yield move inversely. It sure looks like Treasury yields have peaked for now.
And that's why this rally in precious metals may have legs.
How Investors Can Play It
After a big bullish move like we saw yesterday, gold and silver will probably pull back. That pullback can be bought!
It's likely that silver will outperform gold at this stage of the rally. So, the SLV, which I mentioned above, is a fine way to play it.
In fact, SLV is even outperforming silver miners, as tracked by the Global X Silver Miners ETF (SIL). Down the road, miners will likely outperform. But for now, it's the metals' turn to shine!
And sure, there are other forces that could affect gold and silver. The U.S. dollar has been on a rampage of a rally, but that seems to be cooling. Russia is rattling its nuclear saber in its war against Ukraine. And we've probably hit peak supply in both gold and silver.
But keep your eyes on the global debt markets. If things start to go wrong in a big way, you'll really wish you owned more gold and silver.
As always, though, be sure to conduct your own due diligence beforehand.
All the best,
Sean
P.S. Last week, Dr. Martin Weiss and a special guest expert who picked the last big bottom and showed members how to spot the NEXT big bottom. Find out how by clicking here.