Halleluiah! Cannabis Finally Finds a Bottom!
Well, knock me down with a feather … Cannabis stocks are finally finding a bottom. And yes, there are some I consider worth buying.
In case you don't know, marijuana is the industry that investors like to beat like a rented mule. At its nadir on July 1, the AdvisorShares Pure US Cannabis ETF (MSOS) was down more than 60% from its January high and down more than 80% from its 2021 high.
But that changed recently. Partly due to Sen. Majority Leader Chuck Schumer finally peeling his butt out of his La-Z-Boy to progress on cannabis decriminalization.
As a result, Senate Democrats will introduce a bill as early as this coming week to decriminalize marijuana at the federal level. It's called the Cannabis Administration & Opportunity Act.
Let's be levelheaded about this … The bill faces an uphill battle. Previously, Republicans hated Schumer's idea of creating grants to help those impacted most by drug convictions and give loans to small cannabis businesses owned by minorities.
So, can Schumer put enough sweeteners in the bill and tweak it enough to get it through the buzzsaw that's a Senate vote? We shall see.
But investors aren't waiting. They're buying the best pot stocks with both hands. And I can tell you why.
I'm recommending my subscribers buy, too, because there's a small core of cannabis stocks that are dirt cheap.
I'm talking about multi-state operators that are either making money or about to make money. And yet these stocks are trading at bargain-basement prices.
Puffing Potential Profit Opportunities
Here's my short list of dirt-cheap cannabis stocks …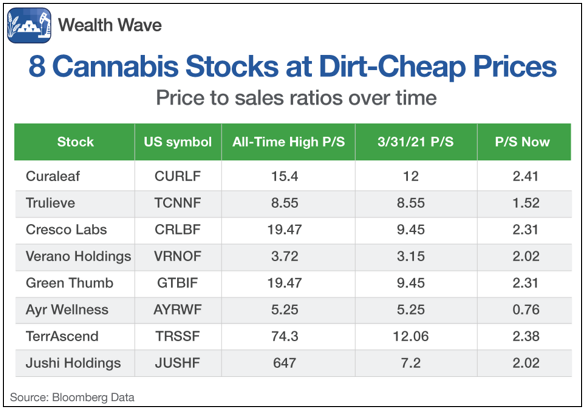 I'm looking at price-to-sales ratios because not all these stocks have earnings … yet.
As I said, earnings are coming. And sales are soaring, even as these stocks get beaten down in the markets. The P/S ratios, as seen on this chart, are coming way down.
As a result, you can see how valuations got better and better. Yeah, these are bargains.
Why are their fundamentals improving so much?
The cannabis industry made a whopping $27 billion in sales in 2021, up 35% from 2020. By 2025, the cannabis market is expected to approach $45 billion annually.
27 states have legalized medical marijuana and 11 other states have legalized recreational cannabis. Newly legal markets are opening in New York, New Jersey, Connecticut and New Mexico.
More than 428,000 Americans now work full-time jobs in cannabis. A hundred thousand jobs were added in just the last year alone. This means cannabis workers outnumber the country's dentists, paramedics and electrical engineers.
The pandemic was a boost for cannabis retailers, because nearly all states ruled they could stay open to dispense medical marijuana when other retailers had to shut down. And people were sitting around at home with nothing to do. So of course they smoked more weed.
Now, we aren't going to have another pandemic lockdown. At least, I hope so. But one way or another, the U.S. is inching its way toward legalization.
Let's look at an 18-month chart of the AdvisorShares Pure US Cannabis ETF that I mentioned earlier.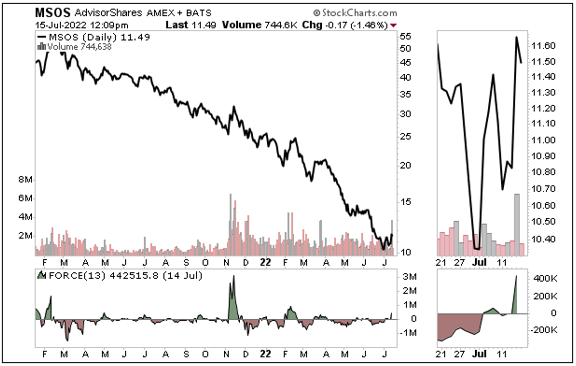 I've zoomed in on the right side so you can see recent price action more easily. All the optimism has been squeezed out of the cannabis industry over this long 18 months. Now we are seeing bottoming action on high bullish volume.
The Force Index, my favorite momentum indicator, is on the bottom of the chart. It's giving a "Buy" signal. And it's one I'll be heeding to recommend new cannabis positions across my premium publications.
It's hard to predict how high cannabis stocks will go, but after such a long and crushing drawdown, the move higher will probably be a big one.
And if the Senate passes the decriminalization bill, it could be blast-off time. Nothing travels in a straight line, so feel free to wait for pullbacks to buy.
As always, be sure to conduct your own research before entering any trades.
Best wishes,
Sean
P.S. Martin and early stage investor Chris Graebe are going on the air to show how staggeringly profitable private market deals can be … and how to get first access to one private deal for Weiss Members this July. If you'd like more information, check this out.