Here's Your Rx for Profits as COVID-19 'Spikes' Again!
COVID-19 is once again striking as the U.S. is approaching 38 million cases. With a week remaining in August, it's already the third-worst month for total cases in 2021, trailing only January and February when vaccines weren't widely available.
The Delta variant now accounts for more than 98.8% of infections in the United States. And researchers are noticing a troubling trend …
Efficacy of Pfizer's (NYSE: PFE) mRNA vaccine may have fallen to as low as 42%, with Moderna's (Nasdaq: MRNA) vaccine declining to 76%. That's why the Department of Health and Human Services (HHS) is recommending booster shots beginning Sept. 20. Boosters will likely be needed for people who received the Johnson & Johnson (NYSE: JNJ) vaccine, also.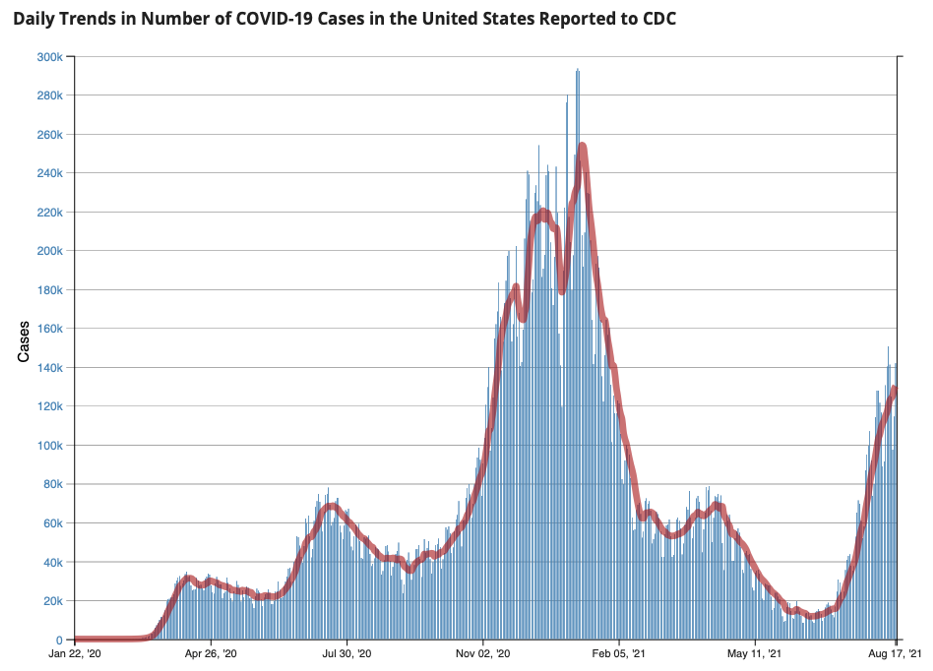 Other countries, like Israel, France and Germany decided to administer boosters as well. That's despite opposition from the World Health Organization (WHO), which says vaccines should be distributed more equitably worldwide. (President Biden pointed out the U.S. will be donating 600 million doses.)
Meanwhile, California and Washington have implemented new vaccine mandates for public gatherings, city workers and teachers in public, charter and even some private schools.
More mandates could be rolled out as the Pfizer-BioNTech vaccine has received full approval from the Food and Drug Administration (FDA).
But as investors should know, that's not all bad news.
All this is boosting shares of the big three vaccine manufacturers. Look no further than PFE's daily chart since the Delta variant surge began:
But beyond vaccine makers, other companies can offer your portfolio immunization from worsening COVID-19 scenarios. Here's one stock in particular you might want to consider …
Regeneron (Nasdaq: REGN)
Regeneron shares soared after Gov. Ron DeSantis of Florida and Gov. Greg Abbott of Texas touted the company's monoclonal antibody therapy for COVID-19.
Antibody drugs — if administered early enough post-infection — may reduce the number of patients needing hospitalization by up to 70%.
Vaccines are "proactive" — they reduce the likelihood of someone contracting a disease.
On the other hand, antibody treatments are "reactive" — a responsive therapy for after someone acquires a disease.
DeSantis has created rapid-response "strike teams" to give the treatment to COVID-19 patients at multiple locations across the state, including nursing homes and assisted living facilities.
As for Texas, state agencies will offer at least nine new antibody-therapy infusion centers. That's in addition to more than 140 providers at hospitals and clinics across the state.
Abbott himself received the REGEN-COV therapy after contracting the virus recently in a "breakthrough" case.
Regeneron delivered 135,023 doses of REGEN-COV to U.S. healthcare providers two weeks ago, up 800% from the previous month.
On Friday, this stock traded as high as $674.07, and has climbed 42% over the past six months.
Savvy investors should strongly consider buying the stock on pullbacks.
All the best,
Sean