Higher Interest Rates? Buy Gold!
It's a foregone conclusion that the Federal Reserve will raise interest rates next week. The question is by how much.
Right now, the market is all but certain that the U.S. central bank will raise rates 50 basis points (bps) on June 15. In July, it's likely more of the same, with Federal Funds Rate futures indicating a 79% probability of another 50bp hike.
Historically, gold outperforms both the U.S. dollar and stocks following interest rate hikes. The following chart, using data from the World Gold Council, shows clear patterns both leading up to and following interest rate hikes: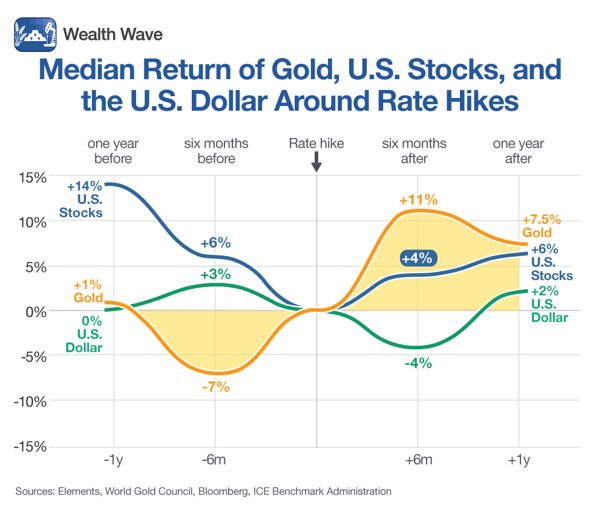 U.S. stocks tend to significantly outperform both gold and the dollar before interest rate increases, but that changes quickly once they take place.
Rising interest rates often have a negative impact on stock valuations because discount rates increase. The same applies with high inflation, which we saw more of yesterday with the latest Consumer Price Index (CPI) data. Inflation now sits at 8.6%, its highest level since 1981. When future cash flows are less valuable, valuations fall.
In the six months following tighter policy, gold historically outperforms U.S. stocks by nearly 3-to-1! This is likely because investors target safer assets like gold during periods of uncertainty.
Performance converges over the following months, but gold still outpaces U.S. stocks and the dollar. That creates an opportunity to outperform the broader stock market.
In addition to tightening economic conditions, gold has several other positive tailwinds priming it for a rally. Among them, global uncertainty is on the rise as geopolitical conflicts escalate and high inflation remains persistent.
As investors continue rotating capital into safe-haven investments, gold companies should see significant inflows.
A Gold-Plated Opportunity
To take advantage of rising gold prices following rate hikes, I like the VanEck Gold Miners ETF (GDX).
Gold miners usually outperform the asset's general price movements because of their operating leverage. Production costs are mostly fixed, so gold price increases have an outsized impact on miners' net income.
GDX looks to mirror the performance of the NYSE Arca Gold Miners Index, which exclusively includes companies in the gold mining industry.
This exchange-traded fund (ETF) holds 56 companies, but its top three positions are Newmont (NEM), Barrick Gold (GOLD) and Franco-Nevada (FNV). Together, they account for about 35% of the fund's assets.
GDX is the largest and most liquid gold miner ETF. It boasts over $12.7 billion in assets under management, and it trades with a significant average daily volume of about 8.9 million shares. Its expense ratio is a manageable 0.51%.
Looking at GDX's weekly chart, we see that the fund is looking to establish a new uptrend: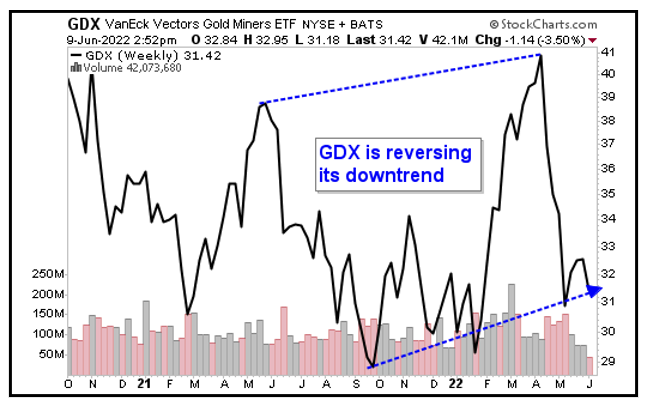 GDX broke out to the upside in March and is now showing a series of higher lows — a bullish technical indication.
The fund has since pulled back, but it recently found support at $31. The slide off of March's peak gives investors a chance to enter at a steep discount.
If you'd like my individual picks in gold, consider my service, Resource Trader. Members are currently sitting on gains of 100.75%, 22.05% and 18.75%. Icing the cake, most of the positions in my recommended portfolio spin off generous dividends.
No matter what you decide, always conduct your own research before jumping into a position, especially if you're investing on your own.
With interest rates increasing and uncertainty on the rise, I expect gold to outperform in the coming months.
All the best,
Sean