In the Year of the Pig, Gold Will Fly
From an increasingly favorable supply/demand balance to strong central bank buying, gold has lots going for it. Use any short-term pullback to get on board!
Happy Year of the Pig! The Chinese New Year has started, and it's now officially the year of an animal that most Americans associate with barbecue, pulled pork sandwiches, and bacon. Mmm … bacon.
Sorry, I don't mean to get sidetracked. So let me explain – briefly – why the Year of the Pig is going to be the year in which gold flies higher. And it could be a year in which gold helps you bring home the bacon.
To be sure, as China goes on its week-long New Year break, gold is pulling back from multi-month highs. That's to be expected. China is the MOST important buyer of gold (India is #2) and buyers there likely loaded up on the yellow metal before they went on New Year break. What's noteworthy is that the pullback we're seeing is mild. That shows you just how strong this market is.
The thing every investor should be asking him- or herself is: "What am I going to do now that gold is pulling back?"
My answer might surprise you. While buying bullion is a great play, I have an even-better way for you to generate even-bigger potential profits!
I think, if you're smart, you'll use this opportunity to add positions that should run higher for the rest of the year.
There are many reasons why. Today, I'll give you three good ones.
Reason #1: Central Banks Are Buying Gold Hand Over Fist
You've probably heard that some central bankers refer to gold as a "barbarous relic."  Why, they wonder aloud on the boob tube, would anyone want to own something so outdated?
For the answer to that, we should ask central bankers. They are buying gold hand over fist, and last year pushed their purchases to a new record, as you can see from this chart …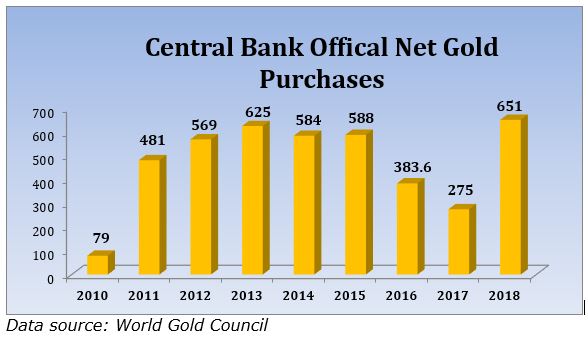 In the final quarter of 2018 alone, central banks purchased as much as 195 metric tons (6,269,396 troy ounces) of gold, the most for any quarter on record! For the year, they added a stunning 651 metric tons.
Holy moly, why are they doing that?
I'll tell you why. Because central bankers are worried about the same things that are keeping us all up at night: Trade wars. Sanctions. Currency wars.  Insurmountable debts. And more!
So yeah, central banks are buying gold. Shouldn't you?
Reason #2: Gold's Supply/Demand Squeeze
For years, big gold miners poured a lot of money into hunting for new gold mines. Now they've turned to buying up smaller miners with good projects. Why? Because their search wasn't giving much bang for the buck. And there's a good reason for that. The big, easy-to-mine gold projects have been found.
I picked up this chart from Frank Holmes at US Global Funds, and it's worth sharing …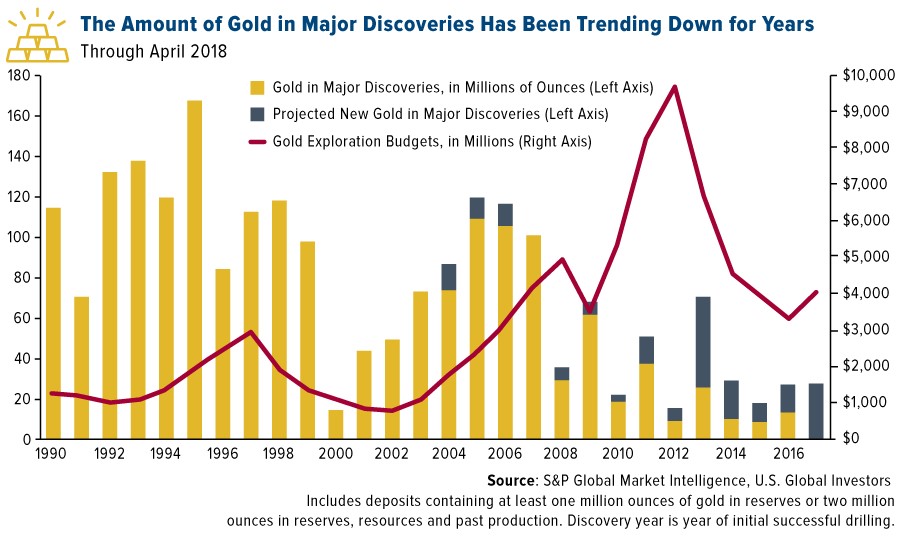 You can see that even as exploration budgets soared in 2010, the results didn't improve.
In fact, the Canadian Imperial Bank of Commerce (CIBC) recently projected peak gold production is coming! The bank says it will occur in 2021 at close to 34 million ounces, but then decline to under 16 million ounces by 2030.
What do we normally associate price peaks with? Much higher prices, thanks to a good ol' fashioned supply/demand squeeze.
Reason #3: The Most Bullish Chart in a Decade
Last week, I showed you a chart showing how gold was breaking a 10-year downtrend. Since then, it's gotten even more bullish. And now you can see something called the "Golden Cross", which is a technical signal that works very well for gold. You can see it in this weekly chart of gold …
On the far right side of that chart you can see that gold is pushing above its 10-year downtrend. Nice! Now, look at how the 50-day moving average (green line) is crossing above the 200-day moving average (red line).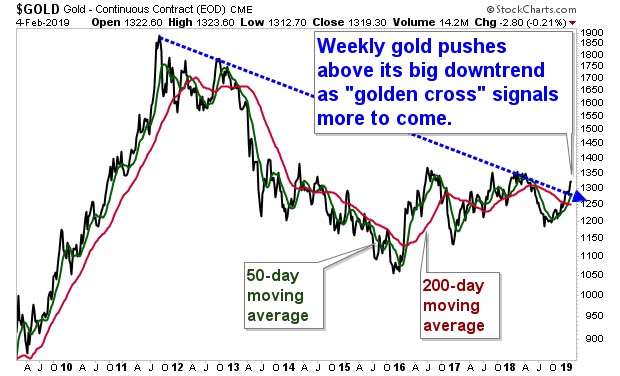 The 50-day moving average indicates the intermediate trend for a stock or commodity. The 200-day moving average is the long-term trend. In other words, the shorter-term trend has turned more bullish than the long-term trend. This shows sentiment is changing, and in the bulls' favor.
Now, a golden cross isn't a "commandment" for higher prices. But combined with the break of the 10-year downtrend … combined with the looming supply-demand squeeze … combined with whatever reasons are driving central banks to buy gold in a fast and furious fashion … I'd say the odds favor gold going higher.
There are MANY more good reasons to buy gold, but that's enough for now. Now, you should be asking yourself: How can I play this?
Now for the Weird Thing: There's a Better Investment Than Gold
There's nothing wrong with following the central banks and buying gold itself on this pullback. But there's something that does even better. I'm talking about gold miners. They're leveraged to the underlying metal, and that leverage gives them a turbo-boost when prices go higher.
The easiest way to play this is to buy an ETF that holds a basket of leading gold miners. An example is the VanEck Vectors Gold Miners ETF (GDX). However, if you have the gumption and know-how to roll up your sleeves and do your homework, you can aim to outperform that basket through purchasing individual miners.
That's what we're doing in Supercycle Investor You know your own tolerance for risk and reward. But this China New Year-triggered pullback is short-term, and a gift to investors with an eye on the long-term. Get busy now. And in the year of the Pig, you'll bring home the bacon with gold.
All the best
Sean