Inflation Protection: A Gold Developer Targeting Production
Yesterday's inflation numbers shocked Wall Street. Headline inflation surged 0.94% from last month and 6.2% year over year.
Not only is that way up from a 5.4% year-over-year rise the prior month … it's TRIPLE the Federal Reserve's 2% target and is the highest inflation rate since November 1990 — the highest rise in 31 years!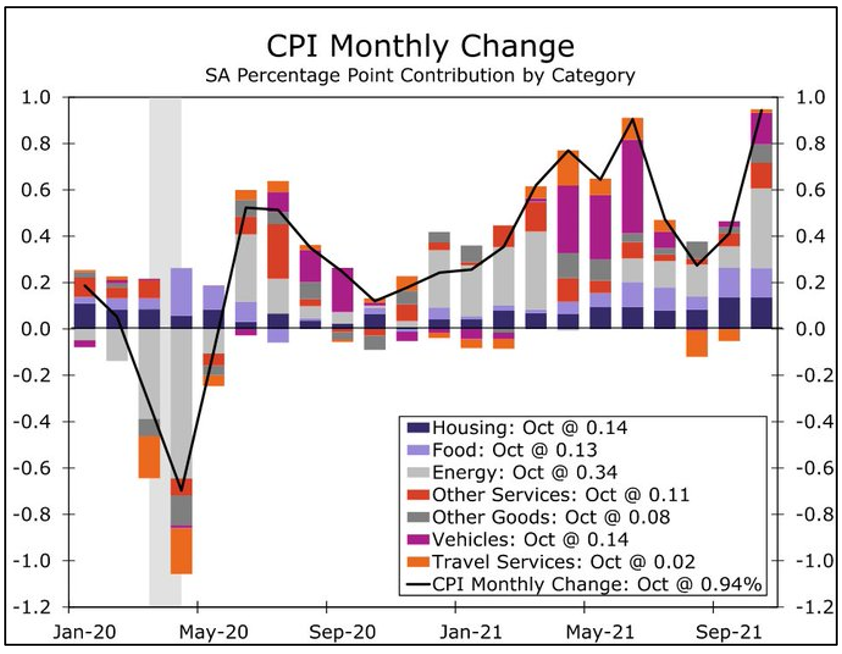 Source: Wells Fargo
As the chart above shows, energy is a big driver, but it's not the only one. The costs of housing, food and cars are all shifting into higher gear.
Now is the time to ask: How can investors protect themselves — and profit?
• A tried-and-true way to protect yourself is with gold. Over the centuries, the precious metal has held up well in the face of rising prices.
And yesterday, as the inflation news hit the wires, gold pushed higher through overhead resistance at $1,830. The yellow metal looks to be moving into the fast lane.
But what if you want to profit? Potentially, by a lot …
• Then I'd recommend buying gold and silver miners. They're leveraged to the underlying metal and can outperform as prices heat up.
And if you have an appetite for risk, consider buying a gold explorer or developer. They're underappreciated by Wall Street. Not all are bargains. But some are trading at dirt-cheap prices.
Case in point: Contango Ore (OTCQB: CTGO). While at the New Orleans Investment Conference, I got an exclusive interview with Rick Van Nieuwenhuyse, president and CEO of Contango.
He has an interesting story to tell. His company found a high-grade gold/silver deposit called Manh Choh. They're partnered with Kinross Gold (NYSE: KGC), a company that has unused capacity at its Fort Knox mill near Fairbanks, Alaska.
Kinross invested in Contango, buying 70% of the project. Rick expects the project to go into production in the second half of 2023 and enter full production in 2024.
• The beauty is, Contango doesn't have to go through the expense of building a mill. They'll just truck the ore up the road to Kinross' Fort Knox mill.
Rick tells you the rest:
Trucking the ore 250 miles down the Alaska Highway to the Fort Knox mill will dramatically lower Contango's costs.
Moreover, Contango has a second project, Lucky Shot, that it will develop with money it gets from Manh Choh.
• Contango will be in production in 2023, it has high grade AND it's going to uplist to the New York Stock Exchange (NYSE).
Is this kind of stock right for your portfolio? That's up to you. But the stock is already rising, as good miners should when gold is breaking out.
Volume on CTGO is still thin, so caution is warranted. But once it moves to the NYSE, volume should pick up considerably.
That could sound the starting gun for eager investors looking to jump into this stock.
All the best,
Sean