Did that 7% Consumer Price Index (CPI) number that came out Wednesday morning shock you?
Do you think America is going to heck in a handcart ... a handcart that's getting more expensive all the time? Well, it turns out we're in good company.
Inflation is spreading around the world like … oh, a virus or something. This has big implications for the U.S. economy.
You can prepare now — and maybe reap a whirlwind of gains — or you can ignore the problem and end up crying in your (expensive) beer.
According to the Organization for Economic Co-operation and Development (OECD), inflation in the world's rich economies has hit a 25-year high.
Check this out: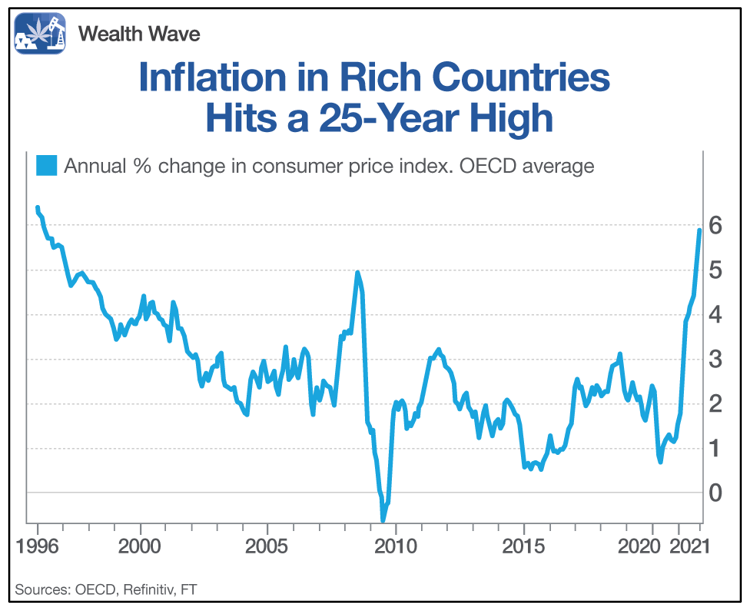 Yikes! Check out that ballistic move on the right-hand side of the chart.
The factor that's driving this increase the most: rising energy prices.
They soared by 28%, up more than three percentage points from the previous month to the highest rate since June 1980.
Food price inflation also picked up strongly to 5.5%, from 4.6% in the previous month.
What about developing countries? In 2020, inflation in developing countries around the world averaged about 5.07%. Last year, it jumped to 5.53%.
And since inflation in the U.S. really shifted into higher gear at the end of last year, it's not a stretch to say the same thing is probably happening in other countries as well.
Americans buy a lot of goods from other countries ... so, their pain is being passed through the global supply chain to squeeze you right where it hurts: your wallet.
A Tidal Wave of Inflation on the Horizon
We KNOW that bigger price increases are working their way into the American economy from overseas.
Costs of processed goods for intermediate demand — which reflect prices earlier in the production pipeline — soared 26.5% year over year in November. That's the largest increase since 1974.
So, from this we can deduce that inflation is going to get a lot worse before it gets better.
Do you want to ignore the coming wave … or stick your head in the sand?
How to Potentially Play This
History tells us that commodities perform very well in inflationary times. And an easy way to play a commodity rally is the Invesco DB Commodity Index Tracking Fund (NYSE: DBC).
This fund invests in futures contracts on 14 commodities, including gold, copper, corn, soybeans, gasoline and more.
And what's especially great is that you can own the DBC fund and get the benefit of futures going higher without having to own futures themselves. DBC has a total expense ratio of 0.88%.
It shouldn't be too big of a surprise that DBC began heating up last year along with inflation. More recently, it pulled back thanks to the COVID-19 Omicron variant scare. More recently, it bounced, and now is breaking out to the upside.
Let's look at the chart: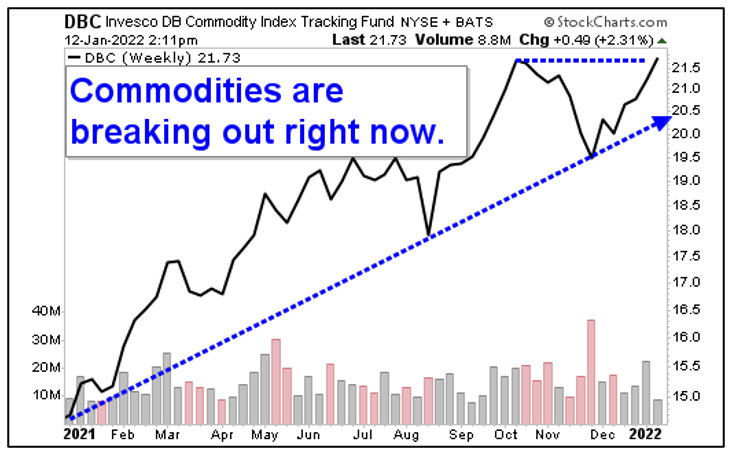 Sure, the DBC already had a big move last year ... but with the kind of breakout we're seeing now, simple technical analysis gives us a target 70% to the upside from here.
If you want to take on a little more risk with potentially much more bang for your buck, consider stocks leveraged to the underlying commodities.
I'm recommending those stocks to subscribers in my Wealth Megatrends newsletter right now.
My subscribers are currently sitting on open gains of 52% and 29% — just to name a few — based on my recommended entry prices.
If you're doing it on your own, be very careful. It can be tough to tell the dynamite from the duds.
The world is experiencing inflation. Even bigger price hikes are in the pipeline. Don't stick your head in the sand.
Catch that tidal wave and ride it to higher and higher profits.
All the best,
Sean