Invest Like the Filthy Rich
This wild bear market crushed a lot of stocks. Wouldn't it be nice to invest in something that doesn't have to worry about short-term market ups and downs and has a potentially huge payoff?
Private equity investment used to be something for the filthy rich. But now there are ways for Joe and Jane Investor to invest right along with the Rockefellers. In fact, it's such an opportunity that Weiss Ratings has launched a new publication to bring those ideas to your attention.
I'll get to that. First, private equity investment is becoming more popular with billionaires than ever!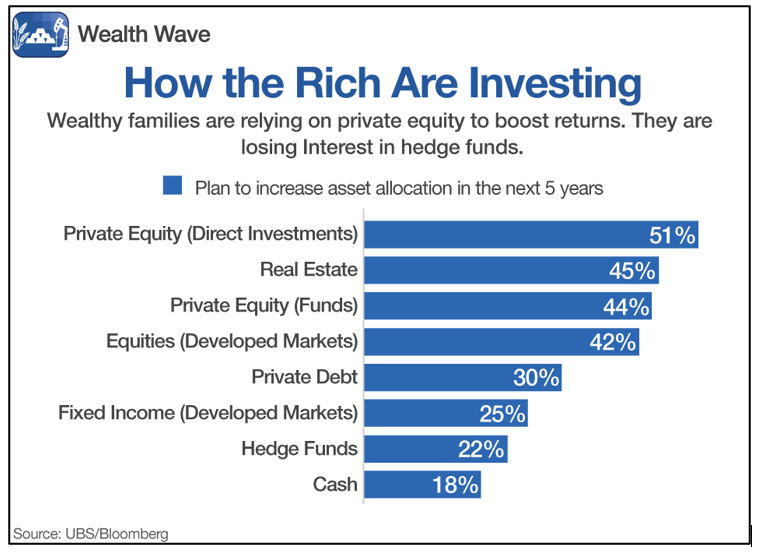 According to a recent UBS (UBS) survey that polled the 221 biggest family offices, as of 2021, these billionaire offices were allocating 21% of their money into private equity. And that allocation is growing.
Of those wealthy investors surveyed by UBS, 85% said they're likely to invest in early-stage companies this year, up from 74% in 2021.
And there's about $1.3 trillion of so-called dry powder. That is, money invested in private equity funds that hasn't been deployed into new investments … yet.
A Pathfinder for Profit Potential
Investing in this space can be very tricky … if you don't know what you're doing. Luckily, Weiss Ratings has someone who is an expert at it. But he really wants people to be aware of the risks.
"There is knock-it-out-of-the ballpark potential" in private equity, according to startup investing expert Chris Graebe. "But there is more likelihood of a strikeout, because early-stage investing is risky."
Chris, who describes himself as "from the cornfields of Indiana," was born in Ellettsville. He went to the University of Indiana but dropped out after two-and-a-half years.
"I wasn't built for school," Chris explains. "I was undiagnosed with dyslexia for much of my life." So, he quit college and started traveling.
"When I quit college, part of my dad died," Chris remembers. "But he had done the corporate thing his whole life and he just hadn't seen anyone make a career other than college to 9-5. He just thought that's what you were supposed to do."
Road Rules to Life
Chris traveled to California where he worked odd jobs, and also worked on turning his life around. He'd made progress on himself when, out of the blue, he answered an open casting call for MTV in Tucson, Arizona. He ended up on a show called "Road Rules" and flew down to New Zealand; as he put it, "It changed my life."
He won that season of Road Rules, and Chris won a car. What he also got was a vocation. He began speaking to young people about how they should make good choices and have good character. He spoke in the public arena and to faith-based crowds.
Chris became a pastor. He got married and they have five kids today. He also worked in the nonprofit sector for a decade. But the next big change in his life came in 2015. Amazon.com (AMZN) was just taking off as a global market.
"I started an Amazon business at night while my wife and kids were asleep," he said. "Tupperware, baby products, kitchen items and more." Chris' online selling did around $2 million a year in his first few years in business.
"From there, I started teaching people how to do Amazon and Shopify (SHOP). That's when I connected with a bunch of guys who were doing angel investing and stock trading."
Hard-Earned Expertise
The Jumpstart Our Business Startups was passed in 2012. It ended certain Depression-era regulations that were meant to protect average investors but actually ended up delaying their access to deals. So Main Street investors got no chance at all to do things like invest in Amazon before it went public. That kind of early investing was strictly for the white-shoe crowd.
The JOBS Act changed that. Starting in 2016, startup companies could now seek up to a million dollars from retail investors. More recently, that rose to $5 million. And this, says Chris, is making an inflection point in private equity investing. It certainly opened an opportunity for him.
In a few years, Chris earned a reputation as an expert in the brand-new crowdfunding space. "I knew all the portals, the platforms and the people in the space. Founders started chasing me down."
Better Companies, More Opportunities
"Better companies are entering the space," he says. "And there are company founders who say, 'I don't want venture capital money, with all its strings attached, in my company. I'm going to raise the money from retail investors.'"
Private start-ups can be insulated from the kind of turmoil we've seen in the markets lately. "They're not completely isolated but they don't have to produce quarterly numbers like public companies, either," Chris says. "And private companies can pivot faster. There's not a lot of red tape in the way of changes."
Indeed, the money that's flowing into regulated crowdfunding, as it's called, remains strong.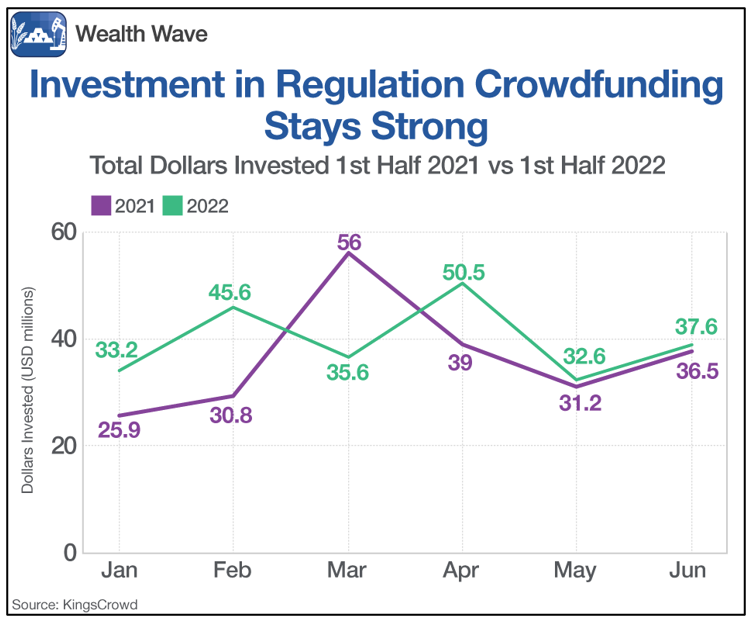 Chris emphasizes again that private equity investing is risky. But his knowledge and his connections help him find the good deals.
"My job is to empower and educate investors so they can gain the same knowledge I have, and I can show them deals I like," Chris says. "I show them deals that are good for me, and if they want to invest alongside me, that's great. They have to do what's best for them."
And that's why Chris is now leading Weiss Ratings' newest publication on crowdfunding, which was revealed to the public earlier today. In it, Chris will guide subscribers to Alpha Round-investing in hot new companies.
"You can't move your money in and out," Chris emphasizes. "It's like sending your money on a long trip to go to college and do some learning. Hopefully it comes back strong, more mature and ready to contribute to the world."
Chris also recommends people find sectors and startups that get them excited and spread their investment money around.
Make Your Move
The new service sounds interesting, and now's your chance. Click here to find out about the exciting opportunity to invest in Alpha Rounds and how Chris can help guide you to potentially enormous profits.
Chris says it's still early days, but the money retail investors put into crowdfunding startups has been doubling every year.
"Big banks aren't interested in this space now," he says. "But when the first 'unicorn' in this space happens — when Susan from Tulsa invests $3,000 and gets a check for $35,000 — you know she's going to tell the world about it."
Best wishes,
Sean Brodrick