Most folks have left coal for dead. Almost every way you look at it, the U.S. coal industry is in decline. Heck, even the sector's main exchange-traded fund (ETF) — VanEck Vectors Coal ETF (Nasdaq: KOL) — is now defunct!
Moreover, 339 coal-powered plants have been retired stateside since 2010. Only 191 remain active. And more plan to be shuttered over the next few years, including American Electric Power Company's (Nasdaq: AEP) Rockport facility in Indiana … and all of The Tennessee Valley Authority's plants.
Overseas, major countries like Germany, Canada, U.K. and France plan to phase out their coal industries as well.
And yet coal stocks haven't just resurrected …
They're ascending!
Year to date, CONSOL Energy (NYSE: CEIX) and Ramaco Resources (Nasdaq: METC) are up roughly 200%.
And Peabody Energy (NYSE: BTU) is up a mind-blowing 525% (nope, that's not a typo).
What gives?
•  Answer: The GLOBAL coal industry is NOT dead …
Coal is still the largest source of electrical power in the world, contributing 37% to global demand.
The two largest coal consumers — China and India — account for two-thirds of coal use …
And they plan to increase consumption this year.
Keisuke Sadamori, the International Energy Agency's director of energy markets and security says, "With coal demand still expected to remain steady or to grow in key Asian economies, there is no sign that coal is going to fade away quickly."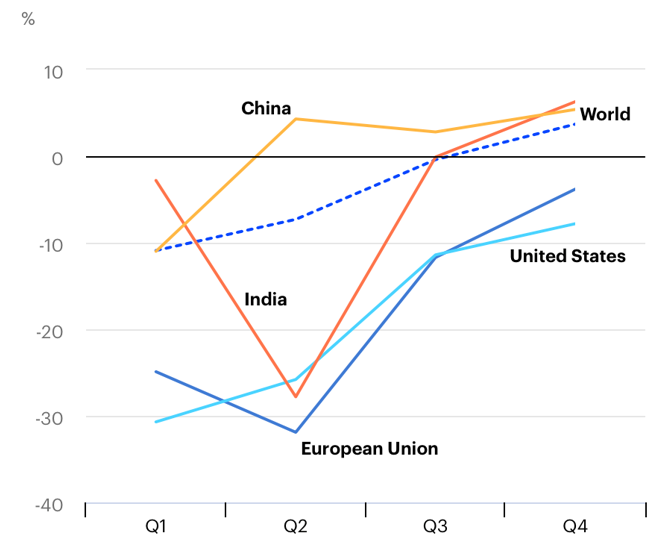 2020 year-over-year quarterly change of coal consumption by region Source: IEA
Despite China's pledge to start phasing out coal beginning in 2026 — and cut greenhouse gas emissions to net zero by 2060 — Beijing officials say coal will remain critical for China's growth.
In fact, last year, China brought 38.4 gigawatts of new coal-fired power into operation. That's more than THREE TIMES what was brought online everywhere else.
And Li Gao, head of the climate change office at China's Ministry of Ecology and Environment, recently said China will need to build even more coal-powered plants to guarantee a stable energy supply.
Indeed, due to innovations in green energy, the global consumption of coal "will decrease — but we are several decades away from turning that corner," says Tony Zabiegala, chief operating officer at Strategic Wealth Partners in Independence, Ohio.
As for the U.S., coal stocks have benefitted from the upturn in the broader energy sector amid the economic recovery.
Coal stocks are also benefiting from soaring prices of its main rival … natural gas.
In fact, some power plants in the Midwest and Northeast — areas with access to lower-cost coal — could easily switch from expensive gas to cheap coal.
Although coal use is on a slow decline in Europe and North America, it'll still hold a place in the global energy mix for years to come.
Coal stocks, like those mentioned above, look somewhat 'toppy' right now. Nevertheless, you may want to take advantage of any corrections by considering buying some shares for the short term.
Like always, remember to do your own due diligence before buying anything.
All the best,
Sean