Lithium Demand Is Shifting Into Overdrive
If you haven't bought lithium stocks yet, you oughtta! They're already on the launchpad, and some are blasting off.
Two weeks ago, I wrote an article about how a "not in my backyard" (NIMBY) mentality is squeezing America's future lithium supply. But since then, we've had good news on one project.
Thacker Pass, a Nevada lithium deposit owned by Lithium Americas Corp. (NYSE: LAC), was given the green light by a federal judge, much to the consternation of local environmental groups and sage grouse lobbyists.
Well, enjoy that victory, because permitting victories are likely to get rarer, even as demand for lithium – an integral part to the batteries that power the electric vehicle revolution – is shifting into overdrive.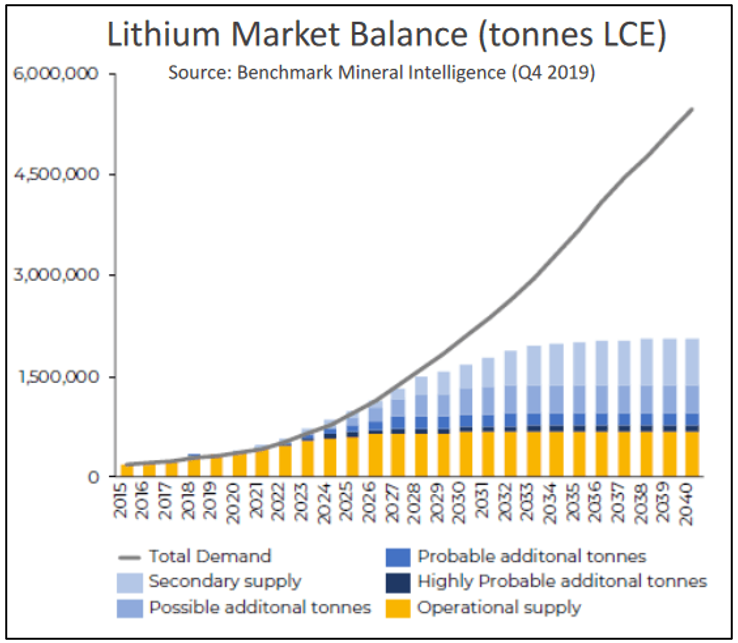 Source: Benchmark Mineral Intelligence
The graph illustrates the developing supply-demand gap developing. As a result, the better lithium stocks are poised to go much, much higher.
Recent Developments on the Lithium Front
Credit Suisse Group AG (NYSE: CS), a global investment bank and financial services firm, recently said, "Following production cuts (when the price crashed), the lithium supply glut has ended and the market is now tightening as the EV revolution accelerates, supported by the global commitment to decarbonization."
They noted lithium demand might triple by 2025 from 2020 levels and that supply would be stretched to meet that demand.
Another investment bank, Macquarie Group, said:
In the longer term, we believe the lithium market is likely to be in a perpetual deficit. As a result, lithium prices are expected to continue to rise, moving to an incentive price by 2024. Some new supply additions should temporarily lighten the market in 2026, however, beyond 2027, the supply deficit should widen significantly.
So, what do the words "perpetual deficit" mean to you? Higher and higher prices!
Macquarie is expecting lithium production to be in deficit to the tune of 2,900 metric tons this year … then rise to 20,200 tons in 2022 … then surge to 61,000 tons in 2023. Holy moly! How do you solve that kind of supply deficit when it takes years to bring new projects online? Higher prices, that's how.
Speaking of higher prices, the following graph demonstrates what's happening to lithium prices around the world: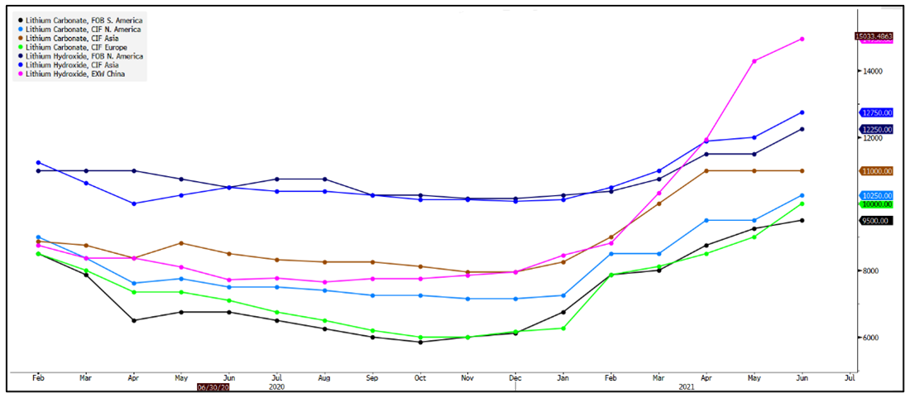 Source: Benchmark Mineral Intelligence
The second quarter alone saw lithium prices increase 20% to 40% year over year, depending on the type of lithium.
And lithium demand seems immune to the pandemic, at least so far. While car sales declined in 2020, global EV sales soared by 43%, reaching 3.24 million units according to S&P Global Intelligence.
Finally, the White House is committed to the goal of achieving net-zero carbon emissions by 2050, and officials have announced a new plan to replace 645,000 vehicles in the U.S. federal fleet with domestically produced electric vehicles (EVs).
That's more demand for an increasingly tight supply.
And that is why I just recommended two more lithium picks to my Gold & Silver Trader subscribers. One is already blasting off; I have no doubt the other will follow.
Still, when it comes to individual stocks, you must be selective. Some look like bargains now … but they'll be even "cheaper" a year from now.
My two most recent picks are for paying subscribers … but I'll share with you a great way to play this rally. I'm talking about Global X Lithium & Battery Tech ETF (NYSE: LIT).
It holds a basket of the best lithium names, has an expense ratio of 0.75% and is already breaking out.
If you're doing this on your own, please be careful and do your due diligence. Things can go wrong. But when you're investing on the right side of a massive megatrend, things can go extremely right, too.
All the best,
Sean