Lithium & EVs Poised to Shift Into Overdrive
President Biden and the Democrats in Congress just passed the Inflation Reduction Act without any Republican help. I'm not sure why Republicans didn't vote for it, other than spite, because there's great stuff in there: cheaper prescription drugs, rebates on energy efficiency upgrades for your home, faster tax refunds and even deficit reduction.
For investors, there's one part of the bill that stands out … electric vehicles.
About $386 billion of the $790 billion package is focused on green energy and EVs:
There's a $7,500 credit for people who buy new electric cars. Completely by coincidence, Ford (F) and General Motors (GM) raised the prices of their EVs by similar amounts. They say it's not related … sure, sure … but it certainly will help their bottom lines, which is bullish for the stocks.


The new law also improves the EV tax credit by making it available at the point of sale, removing the 200,000-vehicle credit cap per manufacturer and extending availability for 10 years.


There's also a $4,000 credit for people who buy used EVs. We didn't have that before. This could spread the EV craze from higher-income buyers to regular Americans.
To that last point, Joe Britton, executive director of the Zero Emission Transportation Association, told The Washington Post, "Exposing Americans of all income levels to electrification will have a really positive impact on our ability to transition."
One fly in the ointment for some manufacturers and EV buyers is that the new tax credits are only available for cars that have final assembly in America. This is intended to encourage onshore manufacturing. President Biden wants union-made EVs built in the U.S. But many manufacturers who assemble EVs in other countries will be caught wrong-footed.
We're already seeing a rush to change that. For example, Mercedes-Benz Group AG (DMLRY) is now going to assemble its EQS electric SUV in Tuscaloosa, Alabama; Ford is going to build its new electric F-150 trucks in Michigan, Ohio and Missouri; and EV-maker Rivian (RIVN) is building a new assembly plant in Georgia while getting $1.5 billion in state and local incentives to do so.
So while some adjustments need to be made, the race for America's EV future is on. This chart from Cox Automotive tracks the explosive sales growth of EVs in America in Q2: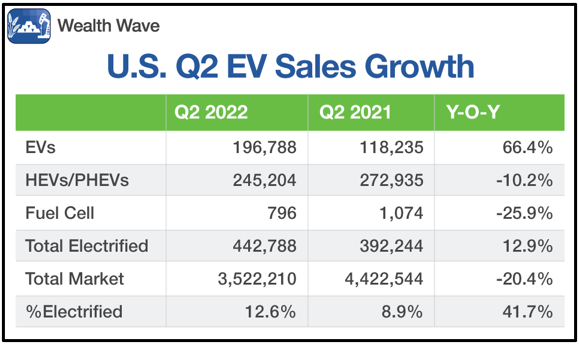 That's right, fully electric EV sales in the U.S. surged 66% in Q2. This is despite the fact that new vehicle sales overall dropped more than 20% from a year earlier. The sales of hybrid EVs dropped, but overall EV sales still went up by more than 41%!
Sure, gasoline-powered car sales numbered in the millions. This isn't an apples-to-apples comparison. But it shows a trend that will only accelerate with the incentives from the Inflation Reduction Act.
This isn't just bullish for select EV manufacturers. It's also bullish for lithium manufacturers:
Toyota (TM) plans to invest around $3.4 billion in automotive batteries in the U.S. through 2030. About 25% of Toyota's U.S. sales are currently electric, and the company plans to raise that to 70% by 2030.
Ford, along with its Korean partner SK Innovation, is spending about $11.4 billion building EV battery plants in Tennessee and Kentucky. Ford's EV sales increased 77% in June, and it expects 40% of its global sales to be EVs by 2030.
General Motors, partnered with LG Chem, is planning four new battery factories in the U.S., and it's already building one in Ohio.
Stellantis (STLA), formerly Fiat Chrysler, is building a $2.5 billion battery plant in Indiana.
Volkswagen (VWAPY) has a $22 million EV battery lab in Chattanooga. This is just the start of Volkswagen's $47.1 billion commitment to boosting its EV sales in North America. It plans to roll out a new battery starting next year. It's looking for manufacturing sites right now.
This is a clue that the price of lithium, which has gone into "snooze" mode, is about to wake up.
There's no unified lithium market or even a benchmark, but here's a chart of lithium carbonate prices in China, the world's biggest end market for lithium.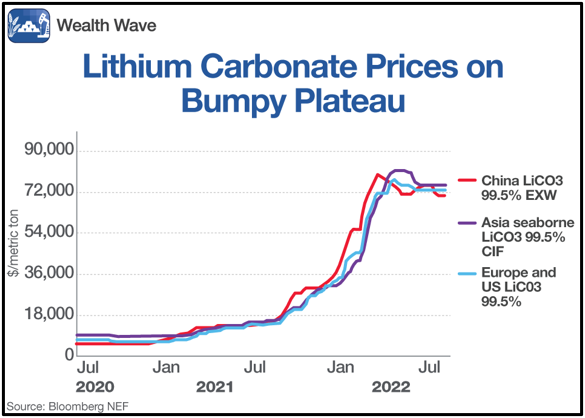 You can see that, after truly massive gains last year, lithium prices have trended sideways, consolidating gains all this year. I'd say the next big wave higher is coming.
There are a couple of ways to play this. For example, in my service Supercycle Investor, members have open gains of about 125% on Sigma Lithium (SGML), a lithium miner that should start production toward the end of this year. It already has contracts from buyers for its production. I believe it's going much higher.
But individual stocks aren't for everyone, so I have two more ideas for you. The Global X Lithium & Battery Tech ETF (LIT) holds a bunch of companies with exposure to the lithium mining and battery supply chain, and it has an expense ratio of 0.75%. Also, the Global X Autonomous & Electric Vehicles ETF (DRIV) holds a wide array of EV manufacturers, lithium miners and technology companies. It has an expense ratio of 0.68%.
Both funds outperformed the S&P 500 handily over the past month, as excitement gathered steam about this new spending bill … but they're all being trounced by Sigma Lithium.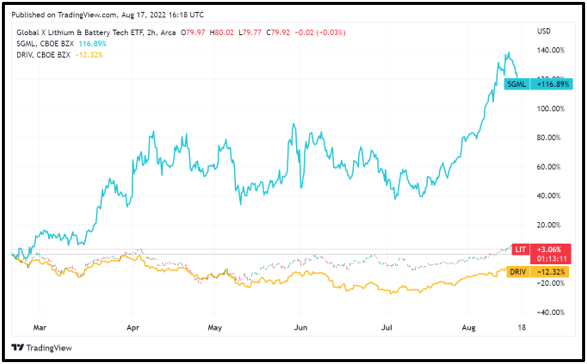 To be sure, this stock and these funds are going to be volatile. They're not for the faint of heart. But when the government is throwing money at companies, which is what Uncle Sam is doing with the Inflation Reduction Act, I find it wise to grab a bucket and catch some of that electric green.
If you want my tailored picks in this space, considering joining Supercycle Investor. Members are sitting on a bunch of positions with double-digit gains. You could be, too. Just click here.
No matter what you decide, always do your own due diligence.
All the best,
Sean