The Marijuana Land Rush of 2021
Holy Cheech and Chong! Cannabis stocks are on fire this week.
It's due to the news out of Congress: Senate Majority Leader Chuck Schumer will draft pro-marijuana legislation within weeks. Now, this isn't full legalization. That's probably two years away, though it could happen sooner.
In the meantime, we could see …
•  Passage of the SAFE (Secure and Fair Enforcement) Banking Act. This would allow federally insured banks to start working with state-legal cannabis companies. It might also allow credit cards to be used at cannabis dispensaries, though that might take more legislation.

•  Passage of the MORE (Marijuana Opportunity, Reinvestment and Expungement) Act, a bipartisan bill that would decriminalize cannabis at the federal level. It wouldn't make pot legal, though; that would still be up to the states.
Full federal legalization — akin to how alcohol is legal — would be a step beyond these bills. But one step at a time.
It reminds me of something out of our nation's history. You know I love history. And one of the more interesting periods was the Oklahoma Land Rush of 1889. That's when 2 million acres of "unassigned" land in Oklahoma was opened up for settlement. The natives who lived there disagreed, but how they got screwed over is grist for another whole column.
50,000 people lined up at a sort of "starting line" to race into the Oklahoma territory and stake their claim to land.
It wasn't just white people, either. Many African Americans saw this opening of free land as their opportunity to create communities of their very own, free at last from racism and economic stagnation.
That must have been ironic to the Choctaw, Creek, Cherokee, Chickasaw, Delaware, Seminole, Shawnee and other smaller tribes that got the heave-ho. Again — grist for another column.
Anyway, 50,000 "Boomers," as they were called, lined up for the starting gun at high noon on April 22, 1889.
A historical account says:
As the minute hand slipped over the hour hand at noontime, cannons boomed, pistols fired and bugles blared across the dusty plains. Horseback riders kicked their mounts with their spurs and wagon drivers cracked their whips as they thundered across the prairie in a frenzied sprint. Exhilaration coursed through their veins and wind whipped through their hair as they charged ahead to stake their claims to what they hoped would be their new homesteads.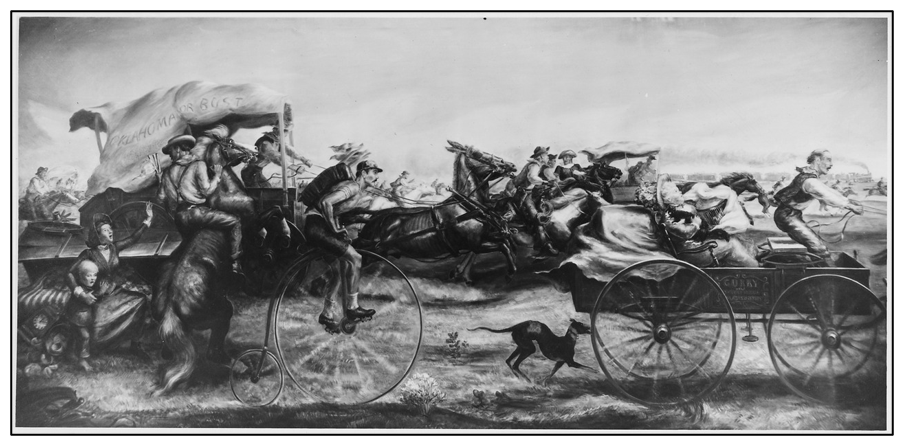 Source: John Stuart Curry — U.S. National Archives and Records Administration,
Public Domain
But did they ALL wait for the starting gun …?
Do you know why Oklahoma is called the "Sooner State"?
Because some people who participated in the land rush actually snuck into the unoccupied land early and hid there until the starting gun was fired. Then, ta-da! These "Sooners" staked their claims.
Naturally, this led to hundreds of legal battles, as well as some bloodshed. But since possession is 9/10ths of the law, the Sooners proved smarter than the Boomers.
So, what does this have to do with marijuana?
Because now, while cannabis is still federally illegal, smart people are making their move. They can see the legal cannabis boom coming. And now is the time to hit the ground running, BEFORE cannabis is legalized.
It's a land rush, only with pot stocks.
After all, this is the projection for the U.S. cannabis market WITHOUT federal legalization …
Legalization is going to kick this into overdrive.
Meanwhile, we are seeing cannabis companies grow their revenues by 71%, 93%, 131%, 197% and 323% year-over-year. Many of these companies are profitable. Some will be profitable soon.
So how do you get your piece of this action?
By buying select cannabis stocks now. Many of the best U.S. companies can be found in the AdvisorShares Pure Cannabis ETF (NYSE: YOLO). Look at this performance chart …
Since the March lows, the S&P 500 is up 51%. Not bad. But YOLO has surged more than 300%. Outstanding!
For even more outperformance, you can drill down to individual cannabis multi-state operators (MSOs). The better ones are already rising. But there's a long, long way to go.
My Marijuana Millionaire Portfolio subscribers have locked in double- and even triple-digit gains … and all evidence is pointing to more. Click here to learn more about our trading strategy and the benefits of joining.
But whether with us or on your own, when it comes to the legal marijuana boom, I recommend you be a Sooner, not a Boomer.
Chuck Schumer is going to fire the starting gun soon. Stake your claim now!
All the best,
Sean