Marijuana's 'Magic Number' Comes Up
You probably know that 4/20 is a magic number for cannabis users. The reasons why are weird (hey, it's pot, right?).
But the important thing? Americans who use marijuana generally spend a LOT of money on cannabis this month, in the run-up to April 20.
In fact, analysis from MJBizDaily.com shows that the week of 4/20 often ranked among the top 10 sales weeks of the year.
So, that means cannabis retailers will be ringing the cash register in a big way this month, especially since last year's 4/20 celebration was muted as the country was still dealing with the peak of COVID-19. This year could be … well … LIT!
Not that last year's 4/20 cannabis sales slouched. Flowhub has the numbers:
Pre-tax sales were 29% higher on 4/20 in 2021 vs. 2020.


Sales were 99% higher on 4/20 compared to an average Tuesday.


Transactions were 24% higher on 4/20 in 2021 vs. 2020.


Total transactions were 54% higher compared to an average Tuesday.


Consumers spent 29% more per transaction on 4/20 compared to an average Tuesday in 2021.
This year, cannabis retailers are expecting MORE business and will offer even more deals to get there. In short, this is good for marijuana companies' bottom lines.
But this year's 4/20 is a cherry on top of a marijuana brownie for many U.S. multistate operator (MSO) cannabis companies. That's because their revenues are growing like weeds, and more and more of them are turning a profit.
And that's one of the forces powering up a new green wave coming. Investors will have a chance to ride this wave to the peak.
The other force giving cannabis stocks so much potential? The U.S. House of Representatives passed the Marijuana Opportunity, Reinvestment, and Expungement (MORE) Act last week.
The MORE Act is a comprehensive cannabis reform bill that would legalize the drug, enhance social equity and expunge nonviolent convictions.
If it's approved by the Senate, the MORE Act would set off a chain reaction opening the floodgates for institutional capital entering the space.
With most banks, insurers and federally-funded entities not willing to risk sanctions, legalization would set off a feeding frenzy for institutions finally able to dive into cannabis exposure.
This is the second time the House passed a bill legalizing marijuana, but it stands a better chance in a new Senate session. Americans are watching, and they're more in favor of marijuana reform than ever before.
Gallup conducts a poll every year measuring American sentiment towards marijuana reform, and it continues to find greater and greater support for change: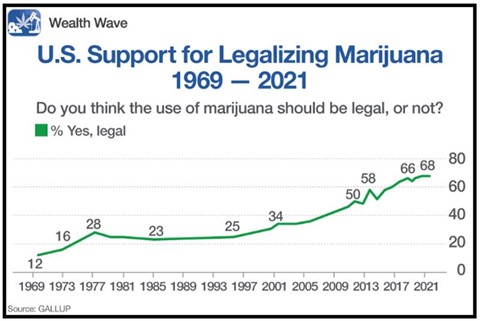 Source: Gallup
But cannabis stocks have struggled since they peaked at the beginning of 2021. However, they continue to build legislative momentum. Celebrities, advocate groups, corporations, lobbyists and ordinary citizens are all throwing their weight behind the movement.
Even if the Senate fails to pass the MORE Act, it's increasingly likely that legislators will take an incremental approach.
Banking reform is on the table, with advocates like Rep. Ed Perlmutter committed to attaching it to other pressing legislation. Although incremental, these steps would go a long way towards inflating the industry and your portfolio.
Individual states are looking to claim their piece of the pie, too, with many bringing medical and recreational reform to the ballot.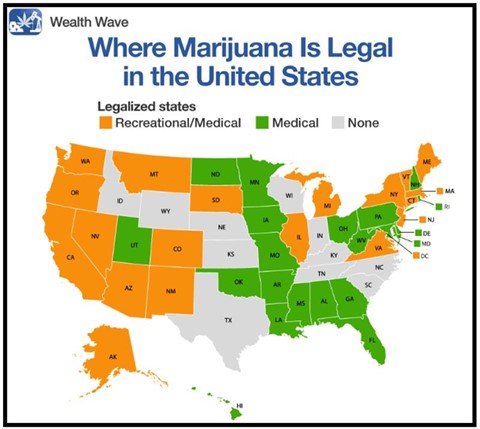 Source: MJBizDaily
With the establishment of new markets creating tremendous opportunities for cannabis businesses, here's one of my favorite ways to play the trend …
AdvisorShares Pure US Cannabis ETF (MSOS)
This cannabis exchange-traded fund (ETF) exclusively prioritizes companies in the emerging U.S. market. MSOS gives exposure to the biggest MSOs while additionally offering access to smaller companies with even higher upside. The diversification spreads risk across a total of 28 holdings.
MSOS' three biggest positions are in Green Thumb Industries (GTBIF), Curaleaf Holdings (CURA) and Trulieve Cannabis (TCNNF). Together, they make up about 40% of the fund, and they're all great companies.
Remember when I talked earlier about weed companies finally turning a profit? All three of these are in that group.
MSOS is plenty liquid, with an average daily volume of nearly 1.5 million shares. It boasts over $1 billion in assets under management (AUM).
Looking at MSOS' weekly chart, we see that the ETF is still in a downtrend, but it bottomed in March. So, it is bouncing off the lows and near historically dirt-cheap levels.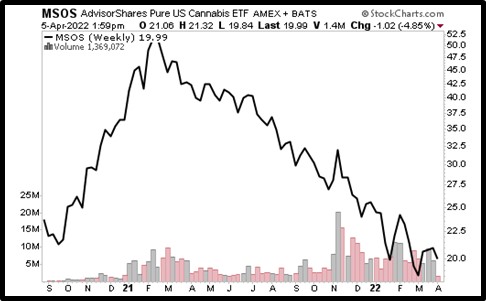 Do you want to buy things when they're expensive, or when they're cheap? If your answer is when they're cheap, now's your chance to put your money where your edibles hole is.
With the industry's strong positive tailwinds, cannabis stocks should quickly climb back after the first catalyst sets the ball rolling.
They're still trading at steep discounts to past levels, but that could change quickly given shifting regulatory tides. The next magic number in marijuana could be to your profit.
As always, conduct your own due diligence, but this opportunity might not last long.
Something else that won't last long? The chance to watch my emergency Zoom call with founder Dr. Martin Weiss.
In it, we discuss inflation, soaring gas prices, mind-boggling government debt and the war in Ukraine.
Why is this happening, and what does it all mean for you, your family and your wealth? Click here now to find out while the video is still available.
All the best,
Sean