The 'Metal Fit for a King' is Poised to Rally
Two weeks ago, I recommended building a stash of gold's "little brother" — SILVER — after buying gold itself, of course.
Today, I'll show you why you should take a look at the "baby brother" of the family — PLATINUM.
Historically known as "white gold" … its name is derived from the Spanish word platino, meaning "little silver."
Believe it or not, the Spanish conquistadors saw the metal as an impurity in gold. They threw it away … even though it's actually much rarer.
All the platinum ever mined could fit in an average-sized living room.
In the 18th century, platinum's scarcity led King Louis XV of France to declare it the only metal fit for a king. Even today, we associate it with exclusivity and wealth …
In 2018, about 165 metric tons (5,304,873 troy ounces) of platinum were mined. That's ONE-TWENTIETH the amount of gold that was mined the same year.
And yet, platinum sells at a 40% discount to gold.
Platinum is a precious metal, but it's also an industrial metal. It is vital to catalytic converters for diesel engines; it's also used in turbine engines for planes. It is used in medical devices such as pacemakers and in jewelry.
Like gold, platinum has zig-zagged higher this year. And recently, it "zagged" lower. You can see that pullback in the shares of the Aberdeen Physical Platinum Shares ETF (NYSE: PPLT). This ETF holds physical platinum and tracks the metal closely.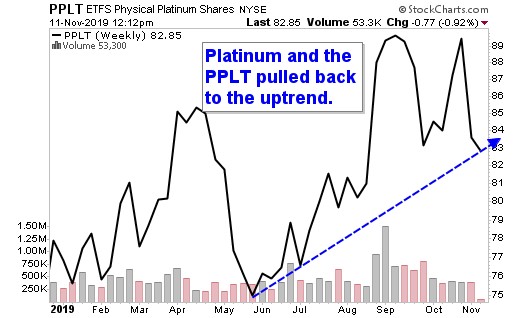 And now that platinum has pulled back to its long-term trendline, this is your chance to leverage that volatility for huge gains!
You may not realize it, but like gold and silver, platinum bullion is available from online dealers like Kitco or Apmex.
Plus, like gold, you can buy "allocated" coins or bars.
The advantage is that there are no shipping costs, and you don't have to worry about finding somewhere to safely store your precious metals. Like allocated gold, each coin or bar has your name attached, and you can ask for your metals to be shipped to you at any time.
The option I mentioned for allocated gold bullion is the same for platinum and palladium … and even silver, for that matter: Hard Asset Alliance. (Again, I don't personally stand to benefit from any dealer recommendations.)
Speaking of gold — the BIG BROTHER of precious metals — it's ALSO now giving you a historic opportunity to get in on the cheap.
Find out how to leverage gold's coming surge by attending my big event — High-Profit Gold Stock Forum: Ask Sean ANYTHING! It starts at 2 p.m. Eastern TODAY. That's just a few minutes from now!
Don't let this train leave the station without you!
All the best,
Sean