Your Next Best Bet in Energy
Nowadays, when you talk energy, people immediately think of lithium, cobalt and the metals of the new electric car future. But there are big profits waiting to be scooped up in one energy business that many are writing off for dead. I'm talking about the big trend in oil.
Far too many on Wall Street have stuck a fork in the oil business and declared it over and done. Horse hockey! Heck, if current trends hold, 2021 should be a great year for oil stocks.
Sure, I can see why some people are pessimistic. So, let's get that out of the way. Oil companies get lots of subsidies, tax and otherwise, and President Biden is talking about doing away with those. He also wants to stop the leasing of federal land to oil companies.
If Biden was a king, I might actually worry. The truth is, he's governing a fractured democracy and holding his government together by the thinnest of margins. Also, the 2022 U.S. elections are around the corner, and the Republicans are projected to make gains. So, I doubt that taking away the goodies from oil companies is going to be high on Biden's agenda.
I might be wrong, but with so many people betting that oil is over and done, I'm just itching to bet against them.
You know what I think is more important for oil? Let me show you a chart: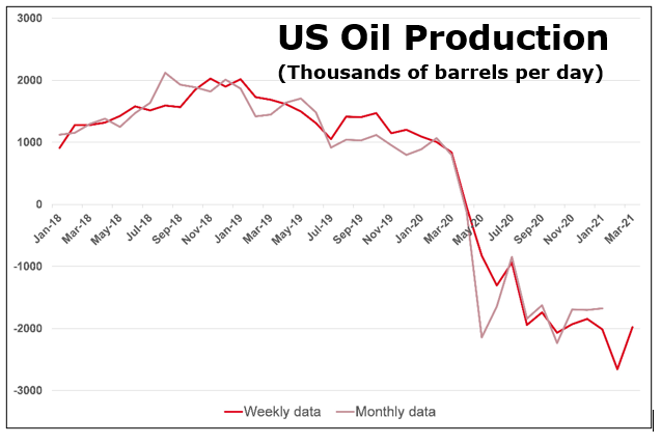 Source: EIA/GoldMoney Research
This chart shows that U.S. oil production is near the lowest it has been since the outbreak of the pandemic. Wowza! Adding more sauce to this dish, the U.S. drill rig count is falling, dropping by one per week in the most recent measure, but also down 27 rigs year over year. Less drilling translates into less production.
And did you know that U.S. oil demand is going up due to the pandemic winding down AND summer driving season around the corner?
What happens when the supply of something goes down at the same time that demand goes up? That's right, in a supply-demand squeeze, prices usually go higher.
I have to think this is all supportive of oil prices, especially in a recovering economy.
Sure, oil is an internationally traded commodity, and OPEC+ (the coalition of Saudi-led Organization of the Petroleum Exporting Countries (OPEC) countries and the "nonaligned" oil-producing riffraff led by perpetual bad actor Russia) could turn on the taps and drown us all in oil. That's another fear hanging over the market.
But flooding the market is not in the Saudi coalition's best interest. No, I'd say those fine folks would be happier with HIGHER oil prices.
Now, let's look at a chart of the U.S. crude oil benchmark, West Texas Intermediate:
You can see that crude has climbed steadily since November before peaking last month. The pessimists will say this is a top. I say crude is coiling up for its next big move higher. The next move could easily take it to $76 per barrel.
There are many ways to play this, and I recommended a red-hot oil explorer and producer to my Supercycle Investor subscribers this week. There are some good exchange-traded funds (ETFs) in the energy space as well.
A good choice would be the SPDR S&P Oil & Gas Exploration & Production ETF (NYSE: XOP). This equal-weighted fund owns top names like Diamondback Energy, Inc. (Nasdaq: FANG) and Marathon Oil Corp. (NYSE: MRO). And its chart looks quite bullish …
It sure looks like we are seeing a "bull flag" pattern in the XOP. A bull flag is formed by consolidation after a big run. The old saying on Wall Street goes, "flags fly at half-mast." If this breakout from the flag pattern is successful, it gives us a price target on XOP of $140 per share.
That's an impressive 73% jump from current prices near $81 and a nice move for any market.
You should consider it for your own portfolio and place your bets — if not on XOP, then on something else. Be sure to do your own research before you buy anything.
All the best,
Sean