Pay Close Attention to This Gold & Silver Signal
One of the most important signals of a precious metals bull market is flashing "green." And I want to make sure you don't get left in the dust when the profit train rolls out.
I'm talking about the gold-silver ratio. The price of gold divided by the price of silver. And boy, is it ever an excellent indicator of when bull markets in precious metals are ready to start.
The gold-silver ratio is the number of ounces of silver it takes to buy one ounce of gold. On July 1, it peaked at over 96. More recently, it was at 85.65.
Why is this important?
The gold-silver ratio represents bullishness on precious metals as a whole. When the ratio is high, that means investors have given up on precious metals. So, they sell silver — A LOT. More than they sell gold.
You see, silver is the drama queen of the precious metals. It overdoes the percentage moves on the upside and the downside. In a real bull market, silver leads the way.
History shows us that as the gold-silver ratio peaks, this indicates peak bearishness in precious metals. As bullishness comes back into the market, investors start buying more silver than gold. And the gold-silver ratio falls.
Just like it's doing now. Let's look at a chart …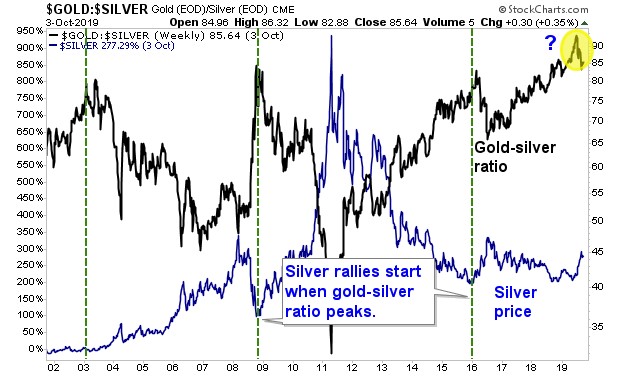 The blue line on this chart is the price of silver; the black line is the gold-silver ratio. The green dotted vertical lines are where rallies started.
You can see that the gold-silver ratio's most recent peak came just before silver started to turn higher.
Some Geological and Historical Perspective
The ratio of silver to gold in the earth's crust is 17.5-to-1. So, it seems that the gold-silver ratio would equal 17.5 to 1, right? But that's logical. Markets are emotional, not rational.
In Roman times, the gold/silver price ratio was set at 12-to-1. In the 20th century, the ratio was 47-to-1.  And in the past 20 years, the ratio averaged right around 60-to-1.
So you can see the recent peak over 96 was way out of whack. Extreme bearishness. And we know precious metals are cyclical.
Now, the cycle is ready to swing in the other direction.
What Does the Past Tell Us?
I've talked about this ratio before — most recently in July. At the time, I wondered if the gold-silver ratio was peaking, and signaling the start of a new bull market.
Since then, gold has rallied 7.08%. And silver has rallied 15.22%. Sure enough, drama queen silver is leading the precious metals rally.
What's fueling this rally in silver and gold?
There are multiple factors, but a big one is negative interest rates on government debt. Gold is often mocked by bears as paying no interest — well, now nearly $16 trillion worth of the global debt market has negative yields.
Government bonds from Germany, Switzerland, the European Central Bank, Japan and more cost YOU to own THEM.,
It's not ending anytime soon. Central banks around the world that are ready to ease from here to eternity. ETFs that hold physical metal are buying silver and gold.
How High Can the Rally Go?
So, here's a question we should be asking: How much could gold and silver rally in this current bull market?
The clue lies in the gold-silver ratio.
We can find that by looking for a historical low. On Jan. 2, 1980, the Gold-Silver ratio hit 14-to-1, as this chart shows.
That low in the ratio came very near the peak of a massive rally in precious metals. Gold hit $677.97 in January 1980.
Does that not sound like much? Adjusted for inflation, that's equal to $2,235.95, according to data from Macrotrends.net.
At the same time, silver hit $35.75. That's equal to $117.90 in inflation-adjusted dollars.
Do I think gold can get to $2,235.95? Easily. In fact, $3,000 seems like an easy target, and $5,000 is on the table. But let's be conservative — for now — and say that gold just rallies back to that old, inflation-adjusted peak.
Using history as our guide, that means silver would rally to $117.90. Or more than SIX TIMES its recent price.
What do you think that will do to gold and silver miners? I think select companies will blast off the launch pad.
How You Can Play This
An easy way to play this is with the VanEck Vectors Gold Miners ETF (NYSE: GDX) and the Global X Silver Miners ETF (NYSE: SIL). SIL will outperform GDX on the way up, if history is any guide. But it will be a wilder ride. And only you know your own appetite for risk.
On the other hand, select gold and silver miners, developers and explorers could do much, much better than the indexes. I'm putting a list together right now. I'll send them to subscribers when the time is right.
In the meantime, start doing your homework. Get ready. Because the gold-silver ratio is signaling the next big bull market. And this profit train is getting ready to roll.
All the best,
Sean