It sure looks like platinum is coiling up for a big move. And I believe it's a breakout to the upside.
Today, I'll explain why, and how you can play it.
Let's start by looking at a weekly chart of platinum: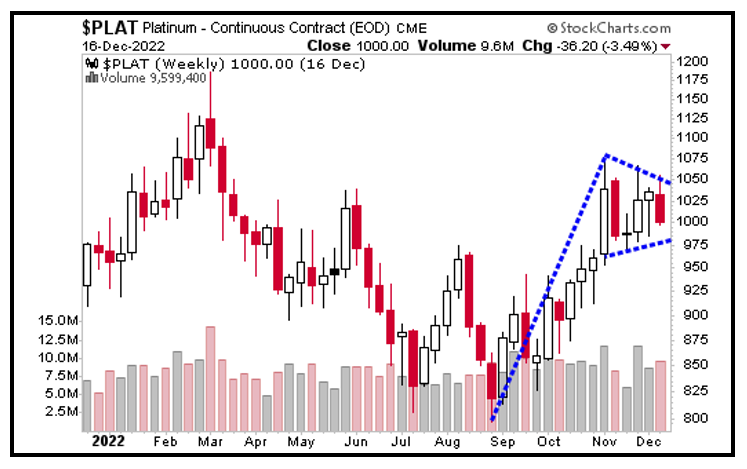 Platinum weekly chart.
Click here
to see full-sized image.
You can see that platinum spiked in February when Russia invaded Ukraine. That's because Russia accounts for 11% of global platinum mining output.
But it quickly sold off.
Platinum then lifted again when the London Metal Exchange suspended trading of Russian platinum. It sold off again, leaving bulls thoroughly disgusted. I can't blame them.
But starting in September, platinum began shifting into higher gear. After an initial surge, it consolidated, coiling up in what looks like a pennant pattern.
There's a saying on Wall Street: "Flags and pennants fly at half-mast." A successful resolution to this pennant gives us an initial upside target of $1,352. That's about 35% to the upside. Nice!
Bullish Forces in the Year Ahead
What would drive that move? Consider the following …
In November, the World Platinum Investment Council issued its 2023 forecast, saying the market will shift to a deficit after two years of substantial surpluses as global demand grows by 19% compared with a 2% increase in supply.
Fueling next year's demand is industrial demand — 34% of the total — which is projected to rise 10% next year.
Platinum is also in demand as an auto catalyst, which accounts for 38% of total demand. That is forecast to grow by 12% this year and 11% next year. Demand jumped by 25% in Q3!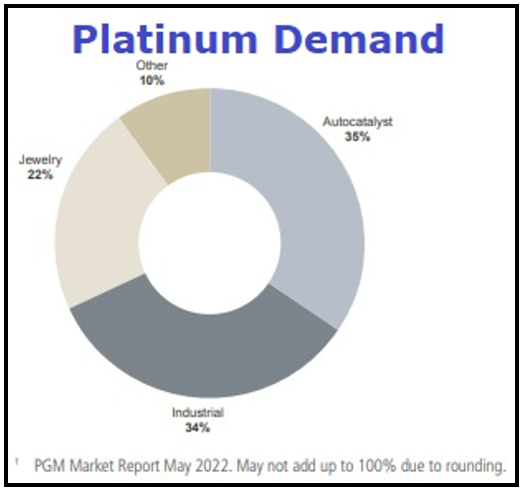 Platinum demand.
Click here
to see full-sized image.
There's also demand for platinum as an investment in bar and coin form. That's forecast to jump by 49% next year, to a three-year high!
China is a bit of a wild card. Demand for platinum is surging in that country.
On the production side, South Africa — which produces 70% of the world's platinum — is wobbling under power grid problems. Maintenance at those old mines is also an issue. As a result, we'll probably see more disruptions to South African platinum mining in 2023.
Add it all up and not only do I expect platinum to break out to the upside in 2023, but $1,352 may just be a signpost on the way to higher prices.
How You Can Play It
You can always buy physical bars. That's what I would recommend if you want to play the metal itself.
However, you can buy a fund that owns physical platinum, like Abrdn Physical Platinum Shares ETF (PPLT). It holds 100% of its net assets in platinum bullion, has an expense ratio of 0.6% and is pretty liquid, so you can buy and sell it easily. The fund is backed by physical platinum held in secure vaults in London and Zurich.
Let's look at a daily chart comparing the performance over the past three months of PPLT vs. the S&P 500: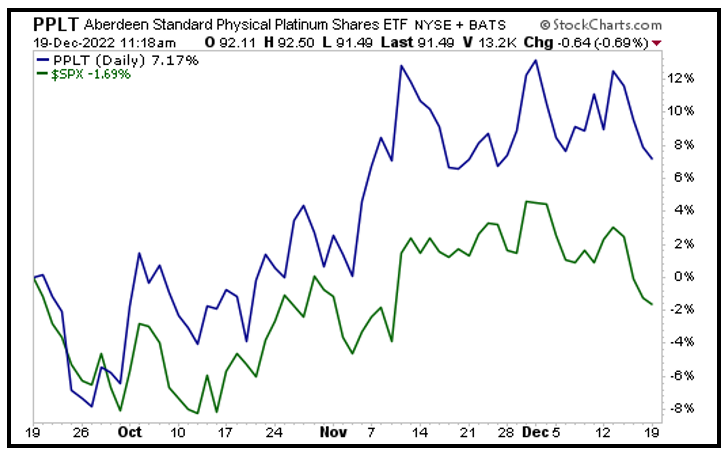 Three-month performance comparison of the PPLT vs. the S&P 500.
Click here
to see full-sized image.
In the last three months, the S&P 500 is actually down.
Meanwhile, the PPLT is off its highs but still showing a nice gain of around 7%. I expect more gains ahead for this fund in 2023.
All the best,
Sean
P.S. Chris Coney, editor of our Crypto Yield Hunter, has slipped on his educator hat to demystify the world of decentralized finance.
In his 2023 DeFi Superyield Webinar, he explains how he's been using DeFi to find impressive opportunities to go for yields of 9%–44% while other investors sit on their hands and wait for a better market.
The full webinar is available to watch for FREE. I suggest you do so sooner rather than later.