Pump Up Your Profit Potential in 2022
U.S. benchmark oil prices have rallied about 56% in 2021. At their peak, they were up 75% from the start of the year.
Could we see another big rally in 2022 … or is oil burned out?
I have some thoughts, including how you can possibly make money on it. Let's start with the fact that we aren't just seeing oil prices rise to their highest prices in a month …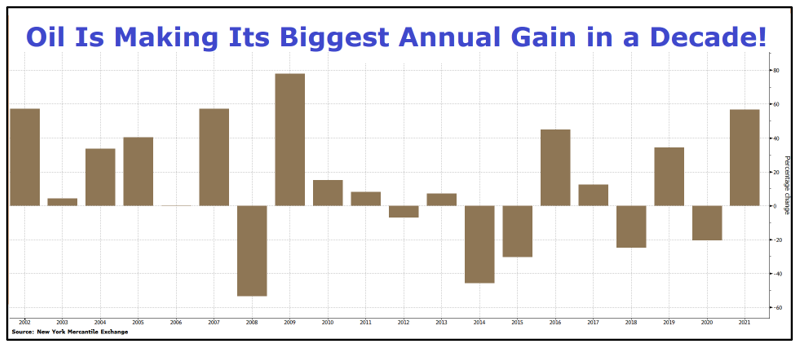 The price of oil is making its biggest annual gain since 2009!
What happened after that big gain in 2009? Oil prices rose the next two years, though the percentage gains were much smaller.
Still, up is up.
Most of this is because oil is cyclical: Demand goes up, supplies get stretched and in response, prices go up. And according to the International Energy Agency (IEA) …
Global oil demand is expected to rise by 5.4 million barrels per day in 2021 and 3.3 million barrels per day in 2022 to hit prepandemic levels of 99.5 million barrels per day globally.
Sure, you might say, we can always pump more oil. But a lot of shale oil production was shut down during the pandemic. And that's just in the U.S.; globally, it was a tough time for oil and gas.
Furthermore, it takes a lot of time to bring new oil projects online.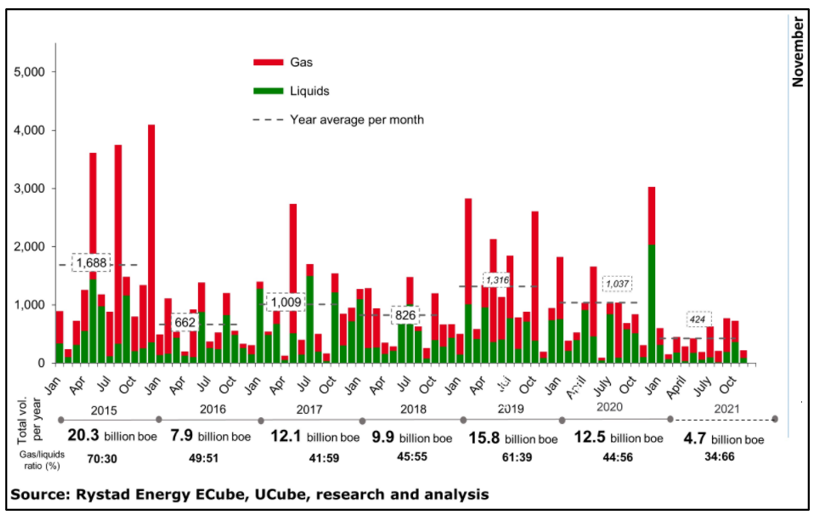 In fact, Rystad Energy reports that — globally — oil and gas discoveries are on track to hit their lowest full-year level in 75 years.
So no, there isn't new oil and gas being discovered. And no, we can't just pump more.
The Organization of the Petroleum Exporting Countries (OPEC+) can't simply turn on the taps. Let's be honest: The Kings of Crude do not have the world's best interest at heart.
On Wednesday, Russian Deputy Prime Minister Alexander Novak said that OPEC+ — which includes the original OPEC and a Russia-led group of "nonaligned" oil producers — is prioritizing its own strategy.
And that strategy is: Keep supplies tight and prices high to keep the money rolling in.
That means OPEC+ is going to wait for demand to rise, then raise production to meet it. Meanwhile, the spread of COVID-19 is giving the organization all the cover its needs to keep the taps throttled back.
Bottom line?
Supplies will remain tight. Prices will remain high. Then they'll go higher.
My target in 2021 for oil was $80 a barrel, and we hit that in October. For 2022, it would not surprise me to see …
Oil prices spike to $100 a barrel or higher … 32% higher than recent prices.
That could be quite a ride for well-positioned oil and gas companies. You could buy the Energy Select Sector SPDR Fund (NYSE: XLE), which holds the biggest energy names. There's nothing wrong with that.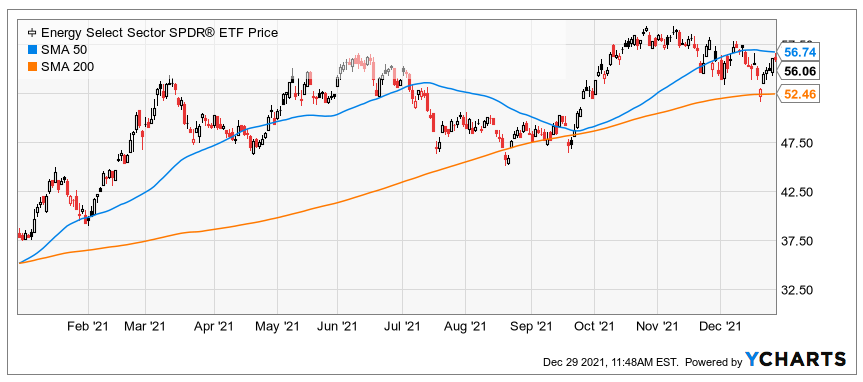 But you might find outperformance in second-tier energy names that can more easily ramp up production.
And you'll find many of them in the SPDR Series Trust - SPDR S&P Oil & Gas Exploration & Production ETF (NYSE: XOP). It has a net expense ratio of 0.35%, and its top holdings include companies like Callon Petroleum (NYSE: CPE), Devon Energy (NYSE: DVN), SM Energy (NYSE: SM) and Diamondback Energy (Nasdaq: FANG).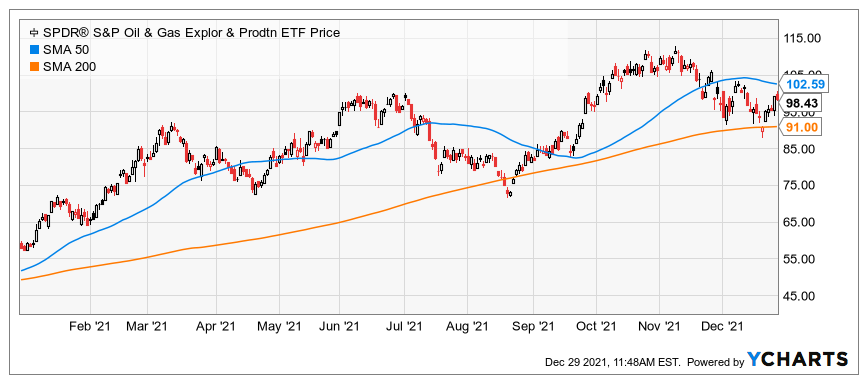 These stocks tumbled in late November when the Omicron variant reared its ugly head. But they bottomed out early this month, evidenced by XOP using its 200-day moving average as support in late December and now pushing back toward its 50-day moving average.
Will 2022 see these stocks blast off?
I think at least the first part of 2022 is going to be very bullish for oil. And strong stocks leveraged to the oil price could do very well indeed.
Both XLE and XOP have Weiss Ratings of "C." In other words, they perform well in a favorable environment and they don't do well when the tide goes against them.
That's good enough for me. I've shown you that multiple forces are in play to drive oil prices higher.
Have a Happy New Year, and I'll see you in 2022.
All the best,
Sean