Ring in Holiday Oil Profits
Markets have a funny way of stampeding in one direction, only to turn around and run just as furiously the other way. We're seeing that now in oil, which is tumbling lower.
In fact, I believe the bottom is near.
I also believe oil is about to pick itself up and charge higher. I'll give you three reasons why, and I'll give you one great way to play it.
Reason No. 1
First, let's deal with the fact that oil prices recently slid 17% from last month's high, and are near their lowest levels in a year.
This is due to at least three factors. First, an oil price sell-off is a Thanksgiving tradition. It happens nearly every year due to seasonal forces. Normally, that just brings prices down to a point that buyers find attractive.
Reason No. 2
The second factor is that this year, seasonal forces are compounded by the failure of sanctions which were intended to take Russian oil off the market. They just aren't working.
Heck, the sanctions aren't even stopping the flow of Russian oil to Europe. What's more, Russian production is forecast to rise to prewar levels by mid-2023.
Reason No. 3
Third, only a couple of weeks after saying it would lift or ease most of its COVID-19 restrictions, China is clamping down again! I have to admit, I did not have China tightening COVID restrictions on my 2022 oil bingo card! That's why this most recent steep leg down in crude blindsided me.
China has ordered people to stay home in more than 50 cities. This triggered riots as fed-up citizens protested the country's prolonged lockdowns. This is making oil traders even more nervous. And nervous traders sell oil.
Here's a chart of West Texas Intermediate, the U.S. crude oil benchmark: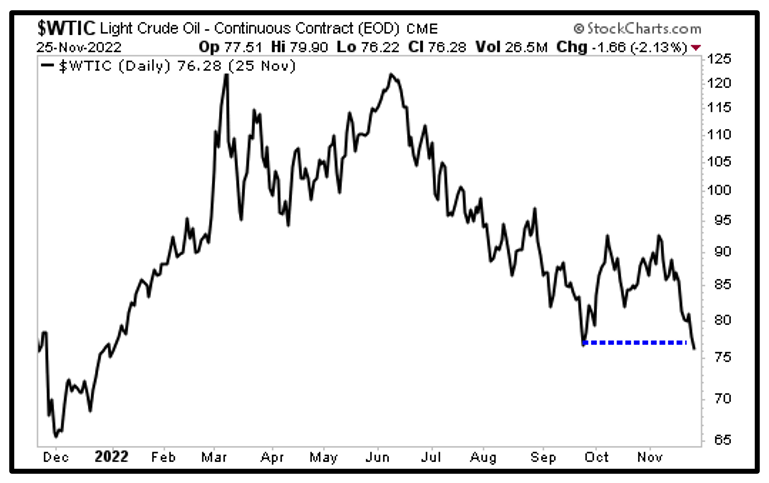 WTI chart showing the benchmark breaking support.
Click here
to see full-sized image.
You can see that crude oil just dropped through a low it set in September. Chart-wise, there's not much to prevent crude oil from visiting its low from December 2021 of under $67 a barrel. And yes, I am expecting another, final leg down.
I don't know where the exact price bottom is. But I believe that we'll see it soon. Let me explain why.
More U.S. Production … with a King-Size Asterisk
The Energy Information Administration expects U.S. crude oil production to average 11.7 million barrels per day this year and 12.4 million bpd next year. That would surpass the record high set in 2019.
So, more production means lower prices, right?
Well, there's a problem in the form of a king-size asterisk on next year's oil production projection. The EIA keeps lowering its raised production forecasts. In fact, Reuters recently pointed out that the latest EIA forecast was a 21% downgrade in its growth estimate.
Looking longer term, the EIA's forecast for 2022 end-year production growth is just half of what it was earlier this year.
And this matters, because oil is a fungible commodity. U.S. oil is sold around the world. The fact is, U.S. crude oil exports hit a whopping 113.24 million barrels in August, the most recent month of data from the EIA.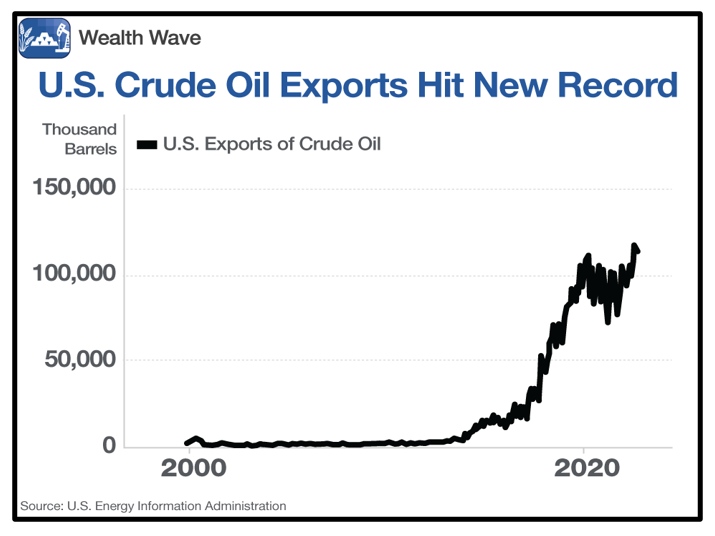 U.S. crude oil exports.
Click here
to see full-sized image.
That's up 54,562% in the past decade!
I'd say as long as U.S. producers can keep pumping at lower costs, they will sell to the highest bidder, and exports will keep rising. That should raise prices here at home.
Uncle Sam Will Start Buying
President Joe Biden released 165 million barrels of oil from the nation's Strategic Petroleum Reserve this year, in a bid to keep oil prices from soaring. He's going to release another 15 million barrels in December, after which the program of sales will be over.
The oil in the SPR is already at its lowest level in more than 40 years. Next, Uncle Sam needs to refill the SPR. The White House says it will buy oil between $67 and $72 per barrel.
If we get another leg down in oil, as I expect, it will bring oil right into that "Buy" range.
Don't think Biden will skip on refilling the SPR, either. Republicans now control the House of Representatives, and they say they are going to launch an investigation into Biden's SPR releases.
That tells me that the White House may keep buying oil even above its $72 price target.
Commercial Oil Stockpiles Are Low
America's commercial stocks of crude oil are not only lower than a year ago, but they also dropped below the five-year range, which is the gray area on this chart.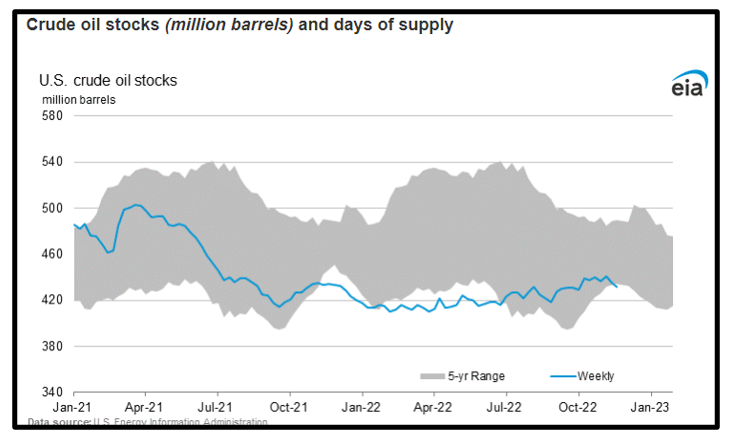 Crude oil stocks vs. days of supply.
Click here
to see full-sized image.
That's not leaving a lot of cushioning — especially if Uncle Sam is switching from selling to buying.
So, yeah, I believe oil prices are going higher for Christmas. Maybe by a little … maybe by a lot! Only time will tell, so we'll wait and see.
How Investors Can Play It
I've recommended the Energy Select Sector SPDR Fund (XLE) in the past, and it's done well. But I have a pick for you today that should outperform the XLE — and also do very well in the next price surge in crude.
Look at this performance chart over the past two months: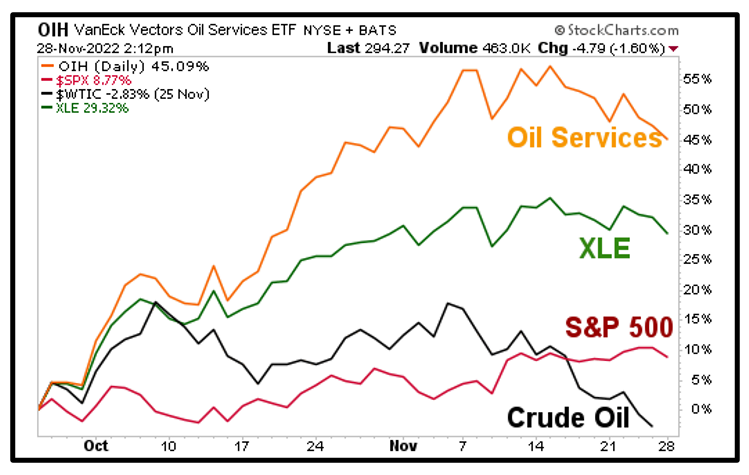 Comparative performance chart of the OIH, the XLE, the S&P 500 and crude oil.
Click here
to see full-sized image.
The last two months saw oil stocks — as tracked by the XLE — rally nicely, with a 29.32% gain. That's better than the S&P 500 (up 8.77%) and certainly better than crude oil, which fell 2.83% at the same time.
But the real winner here is the VanEck Oil Services ETF (OIH), up a whopping 45% during the same time period.
The OIH should be well-positioned for higher oil prices and strong U.S. crude exports. Or, you can drill down to find individual stocks in the OIH that could outperform.
The bottom line is, we're at a seasonal low for oil, and it's compounded by developments in Russia and China. The next leg higher should be around the corner. With the right stocks, you can make the most of it.
One last thing I'd like to mention: I'll be giving more picks in my next presentation for the MoneyShow, which is hosting the Money, Metals, and Mining Virtual Expo, December 6-7. You can attend from the comfort of your own home, and there are a LOT of great speakers, and plenty of actionable ideas. To find out more, CLICK HERE.
All the best,
Sean
P.S. If you're not a member of my colleague Tony Sagami's Disruptors & Dominators service yet, you should consider joining today. Members of that service are currently up over 30% in an oil services stock.