Rockin' and Talkin'! Interviews with 2 Red-Hot Gold Explorers
Inflation is heating up and lighting a fire under gold. The yellow metal peaked over $1,900 an ounce again this week, making a four-month high.
And miners? Miners are rockin'! The good ones are ramping up; the best are already taking off. But where should investors look for the next big thing in gold?
I have a couple ideas …
A couple of ideas involving small companies with enormous potential.
This past week, I had virtual interviews with two exciting gold exploration companies. I've talked about one before, while the other is brand-new to me … and likely to you. But both have enormous upside potential.
We'll start with an old friend …
Maple Gold Gets Great Results
Quebec's Abitibi region is a red-hot region for gold exploration. That's where we find Maple Gold Mines Ltd. (OTCQX: MGMLF). That's its U.S. trading information. Maple has a higher trading volume in its native Canada, where it trades on the TSX Venture Exchange under the symbol MGM.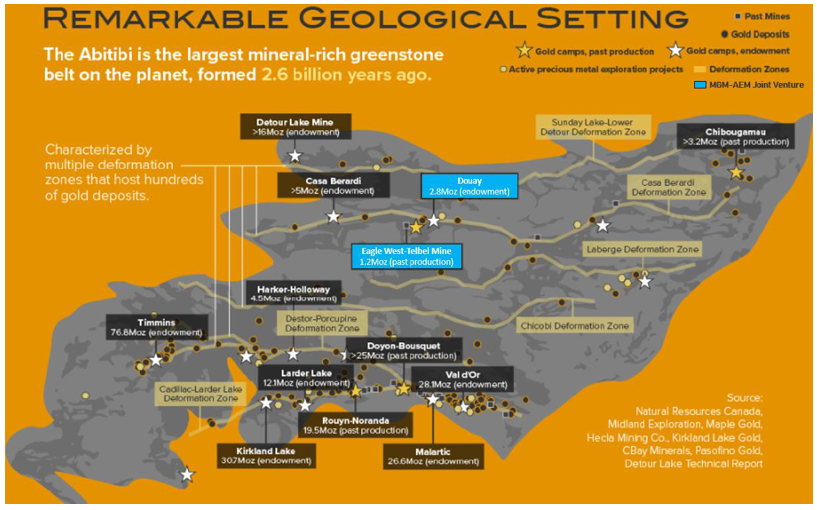 Source: Maple Gold Presentation
I explained in an October article for Wealth Wave that Maple Gold had an excellent exploration property in the Abitibi called the Douay project.
Then, one of the big miners, Agnico Eagle Mines Limited (NYSE: AEM), invested in Maple Gold. The two companies formed a joint venture, combining Maple Gold's Douay project with Agnico Eagle's neighboring Joutel project. And Agnico opened its deep pockets to fund drilling.
Drill results are starting to come in, and they are stellar.
The results include 132 meters of 1.58 grams per ton gold. And this is just the second of 22 new holes the company is reporting. More good news should be on the way.
This week, I had a video chat with Maple's CEO Matt Hornor, and he gave me the scoop on what the company is finding and the milestones he hopes to hit in the future.
You can watch that video below:
I am a small shareholder in Maple Gold Mines, and I believe this company is just scratching the tip of the iceberg of its potential.
Gold Riches in Alaska
I also recently interviewed Charles Funk, the CEO of Heliostar Metals Ltd. (OTCQX: HSTXF). It's also a Canada-based company and, like Maple Gold, has a higher volume at home. It trades there on the TSX Venture Exchange under the symbol HSTR.
Heliostar is a tiny ($33.4 million market cap) explorer with high-grade gold in Alaska and promising gold and silver prospects in Mexico.
Alaska is the story that really grabs my eyeballs. Heliostar is exploring high-grade deposits around Alaska's first underground gold mine, the Apollo Mine, on Unga Island.
The original mine was abandoned, but there's plenty of high-grade deposits that the early miners didn't find.
I'll let Charles tell you the rest of the story …
Heliostar is a VERY junior company, and it will be very volatile. I'm going to keep my eye on it going forward; the payoff could be huge if results pan out the way Charles believes.
To be sure, gold exploration is much riskier than gold mining.
Sometimes, projects don't pan out. Sometimes things just go wrong. But these companies — Maple Gold and Heliostar — are two of the best gold explorers on my radar. Maybe they should be on yours, too.
All the best,
Sean