Russia Declares War on the West
Russia is declaring war on the Western world, and its weapon of choice is energy.
Two can play at that game, though, and if you want to fight back and potentially profit at the same time, I have an idea for you.
Russia's latest move came when it lowered the flow of natural gas through the Nord Stream 1 pipeline to a mere fifth of its total capacity. Nord Stream 1 accounts for about one-third of Russian gas exports to Europe.
Russia's energy company, Gazprom, initially reduced the gas flow through the pipeline by 60% in mid-June, and on Wednesday, slashed the flow again!
That sent European natural gas prices soaring 14%. They're nowmore than 10 times higher than they normally are at this time of year.
Russia is already waging a shooting war with its invasion of Ukraine. Europe and the West have retaliated by blocking imports of Russian oil, which is causing even more chaos in European energy markets.
Squeezing Europe's Energy
"We are in a situation in which gas is now part of Russian foreign policy and possibly part of its war strategy," Klaus Mueller, president of Germany's federal network agency, said in an interview on Wednesday.
This energy fracas is part of a larger push by Russia's President Vladimir Putin to split the West and potentially gain acceptance for his brutal invasion of Ukraine … and he's finding some success.
For example, to cope with the shortfall in supply, the European Union is proposing member states voluntarily cut their use by 15% over the coming months. But Spain and Portugal are already rejecting mandatory cuts, saying they don't import much natural gas from Russia, so why should their people suffer?
A fair point, but if the burden isn't shared equally, there's even less gas for Germany, France, Italy and other major European customers of the Russian energy supplier.
So, if Europe is getting much less European gas, where is it going to get more supply?
One answer: the U.S.
And that's partly why U.S. natural gas is surging along with Europe's prices. Here's a one-year chart of the two benchmarks: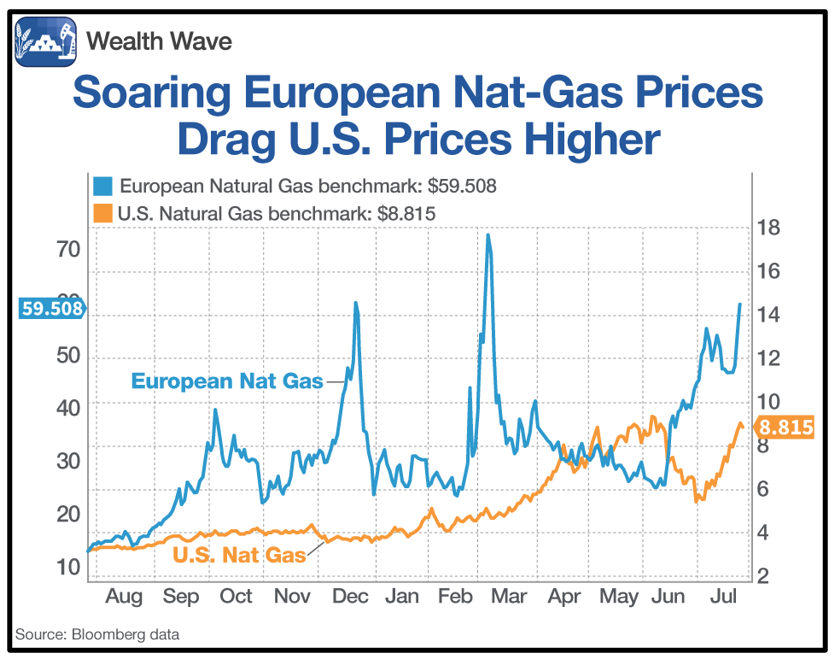 With a price differential like that, you can understand why U.S. natural gas producers and processors will sell all they can to Europe.
The U.S. sent three-fourths of all its liquified natural gas to Europe in the first half of 2022. That trend hit a wall on June 8, when the huge Freeport LNG natural gas liquification plant in Texas blew up.
That cut America's LNG export capacity by 17%. As you can see in the chart above, that sent U.S. natural gas prices lower.
The Freeport plant might come back online later this year. But even so, exports are ramping up again, as U.S. export facilities will likely be pushed to their limits.
At the same time, the U.S. is using a lot more of its own natural gas thanks to the heat wave that's baking the southern and western parts of the country.
So, sure, natural gas prices are high. But expect them to go even higher!
The Other Front in Russia's Energy War
Thanks to Western sanctions, European nations are scrambling to find new sources of crude oil to replace Russian supply.
This is sending European oil prices soaring, and the U.S. crude oil benchmark is trading at a steeper and steeper discount.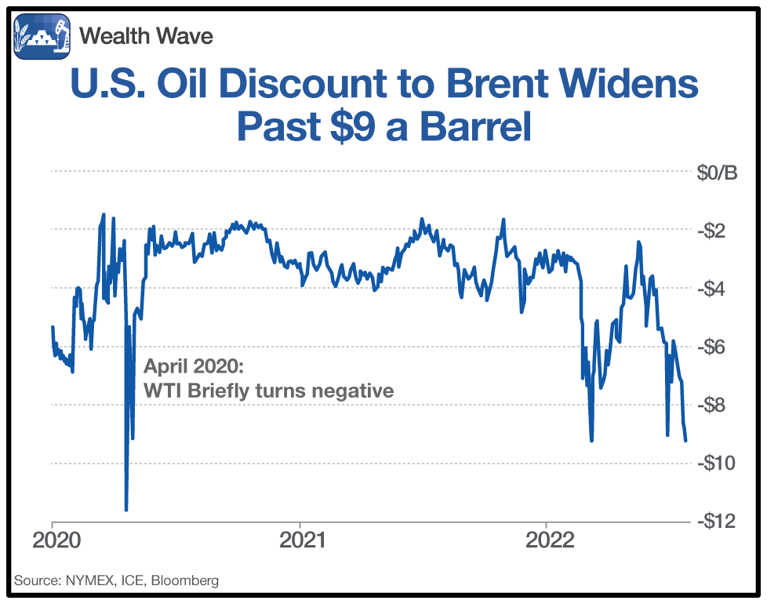 The price of the U.S. benchmark, West Texas Intermediate, is now discounted more than $9 compared to the European oil benchmark, Brent crude.
The only time the discount was bigger was in April 2020, when the pandemic meltdown briefly gave U.S. crude a negative price.
Russia isn't going to pull its tanks out of Ukraine any time soon, so expect U.S. crude to remain discounted to European crude.
That means Europeans will buy more American oil … which is very supportive of oil prices. No wonder U.S. oil exports to Europe are running about 30% higher than a year ago.
To sum up, Russia is using energy to wage war on the West. As long as that continues, expect oil and natural gas prices to stay high and go higher.
What Investors Can Do
My Resource Trader subscribers took double-digit percentage gains on Cheniere Energy Partners (CQP) recently, and I'm looking for a re-entry point.
Why?
Because this company is in the business of exporting LNG through five gas "trains" at their Sabine Pass LNG facility. And they're building a sixth one.
Booming LNG conditions helped push their operating cash flow to a record $800 million during Q1 of 2022. They announce Q2 earnings on Aug. 8, and I'm expecting good news.
Consider joining members of that service for my latest energy picks. Just click here to find out more.
CQP sold off hard with all energy stocks when the market started pricing in a recession, as you can see from this daily chart: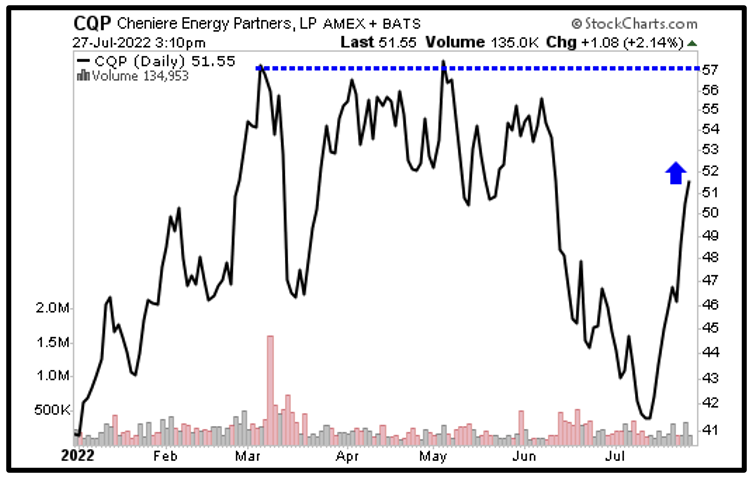 Since energy bottomed earlier this month, investors have been bidding CQP up in a hurry. Nothing travels in a straight line, so I'm expecting a pullback — one we can buy.
This stock is likely to go back and test overhead resistance and will likely go higher from there.
There are plenty of great stocks like this. Do your homework before buying anything. But Russia's war on the West isn't likely to end soon. Energy prices will stay higher for longer, and there are profits to be made.
Best wishes,
Sean