Saddle Up for the Cannabis Boom
Today, I have three charts and a hot tip for you: Position yourself for the coming surge in cannabis stocks.
Marijuana-leveraged companies rallied hard on Monday, thanks to remarks by Senate Majority Leader Chuck Schumer.
Senator Schumer stated that Democrats and Republicans in the Senate are very close to agreeing on a bill that would allow cannabis companies to access federally-insured banks.
"I am working in a bipartisan way with Democrats and Republicans to take the SAFE Banking Act," Schumer said in a televised debate with Republican challenger Joe Pinion. "It allows financial institutions to involve themselves in cannabis companies and lend money to them. But it also does some things for justice, such as expunging a record."
Right now, cannabis companies can't use federally-insured banks — or make sales using credit cards — because weed is illegal on the federal level. That would all change with the …
Safe Banking Act
Investors anticipate that it could spark a big rally in pot stocks.
Such a bill could be on the President's desk by the end of the year. Now, to be clear, this won't legalize marijuana on a federal level (it will still be a Schedule I drug).
To be specific, it states:
"This bill generally prohibits a federal banking regulator from penalizing a depository institution for providing banking services to a legitimate cannabis-related business. Prohibited penalties include terminating or limiting the deposit insurance or share insurance of a depository institution solely because the institution provides financial services to a legitimate cannabis-related business and prohibiting or otherwise discouraging a depository institution from offering financial services to such a business."
What it would do is allow companies that operate in states where pot is legal to use the national banking system.
And that's a big plus.
2 Pot-Propping Charts
That's not the only thing weed companies have going for them. Let me show you a couple more examples, starting with the fact that the valuation on cannabis companies is dirt-cheap: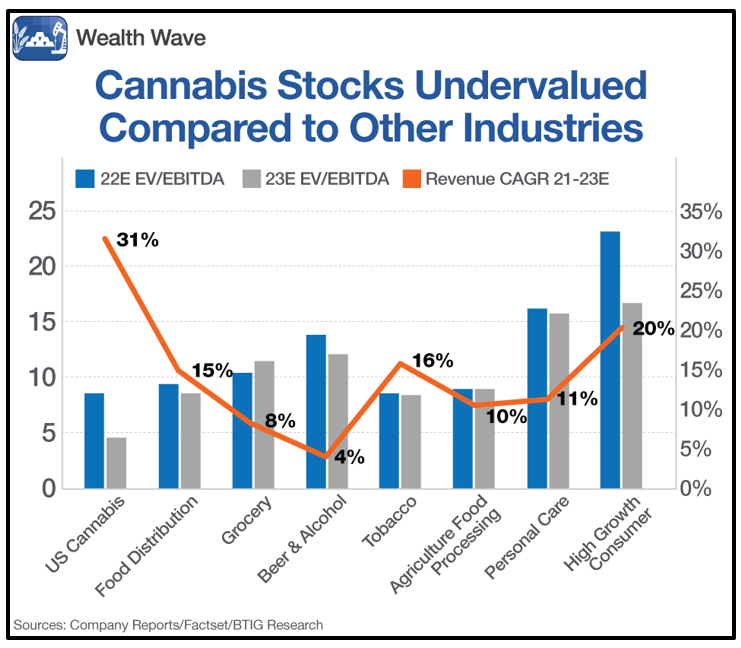 Undervalued cannabis stocks.
Click here
to see full-sized image.
This chart shows the 2022 and 2023 enterprise value of various industries divided by their earnings before interest, taxes, depreciation and amortization. It's a common way to value cannabis stocks.
By this comparison, the cannabis industry is cheaper than everything from food distribution to personal care to high-growth consumer stocks.
Pot stocks are even cheaper when you look at next year's forecast numbers. That's because of the orange line on that chart, which shows the expected compound annual growth in revenue. For marijuana companies, that's 31%, which is MUCH higher than other industries.
The next chart shows how flat-footed Wall Street is going to be caught by a rally in cannabis stocks: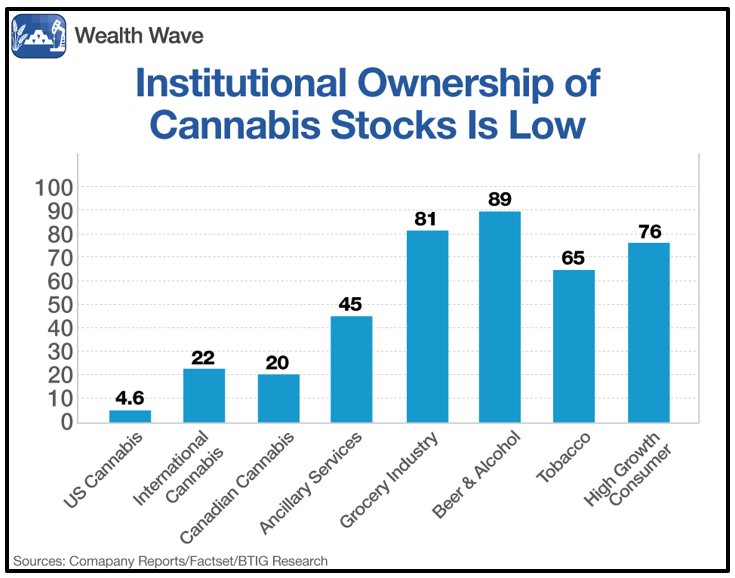 Institutional ownership of cannabis stocks.
Click here
to see full-sized image.
Industry ownership of U.S. cannabis stocks is tiny compared to a whole range of groups, from international cannabis to beer, alcohol and tobacco. There's a good reason for that: Cannabis is still federally illegal.
But in early October, President Biden made it clear he wants marijuana rescheduled.
Federal law currently classifies marijuana in the same grouping as heroin, which is as idiotic as it sounds.
But rescheduling takes time. Many observers believe once rescheduling is completed, Biden will push for full federal legalization.
So, it's still the early days of any cannabis rally. But I have an easy idea for …
How Investors Can Play It
The AdvisorShares Pure US Cannabis ETF (MSOS) is stuffed with leading U.S. stocks leveraged to the cannabis industry.
That includes Innovative Industrial Properties (IIPR), GrowGeneration (GRWG), Green Thumb Industries (GTBIF), Cresco Labs (CRLBF) and more.
Plus, the MSOS is rallying through overhead resistance: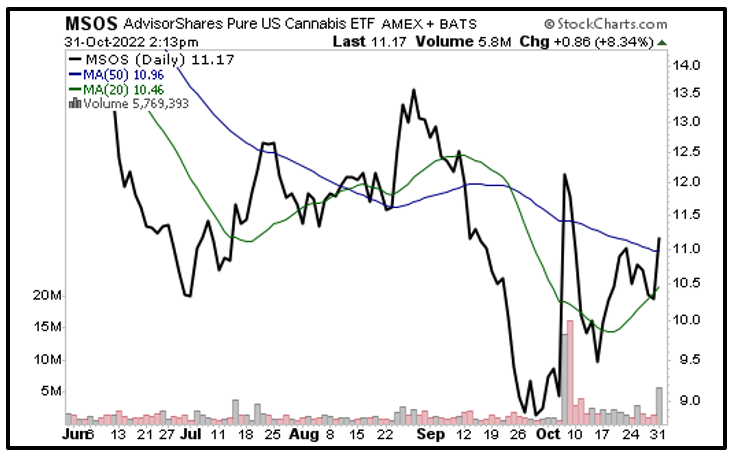 MSOS daily chart.
Click here
to see full-sized image.
You can see MSOS used its 20-day moving average (the green line) to push up through its 50-day moving average. Bullish volume is strong and improving.
This kind of breakout should take it on a trip back to $20 a share — nearly a double. And it could go a lot higher from there.
Why? Because once banking is legal for weed and weed-related companies and once institutions start buying in anticipation of federal legalization, huge weights will be lifted off these stocks.
Bottom line: Weed stocks could race much higher, and you'll want to saddle up with potential winners like the stocks in MSOS.
All the best,
Sean
P.S. Dr. Martin Weiss just revealed an opportunity that's been off-limits to the public for nearly 100 years. Watch this historic event and get first access to one amazing private deal! This deal opens Nov. 3, so act quickly! Click here to gain access.