Silver Rally in 3 … 2 … 1!
When everybody hates it, that's when you should buy it. I'm talking about silver.
While the market snoozes, silver is heating up. Soon, it will be ready for blastoff.
Rate hikes and U.S. dollar strength have held back gold and silver and delayed what should be a cyclical rally. But delayed does not mean denied. Along with long-term cyclical forces, there are more immediate forces that are powering up silver.
Today, we're looking at the three main forces …
Force No. 1: Rising Industrial Demand
The Silver Institute reports that physical silver demand climbed to a record high in 2021, led by an all-time high in industrial applications, where consumption rose by 9% to 508.2 million ounces.
Physical demand for silver is surging in consumer electronics, 5G infrastructure and solar photovoltaic panels. Result: Industrial demand is forecast to rise by another 5% this year.
Force No. 2: Global Investment Demand
Meanwhile, on the investment side, global sales of silver coins and bars for investment jumped last year by 36% to 278.7 million ounces, the highest level since 2015.
This year, sales for silver and gold bullion are falling in the U.S. but surging overseas. For example, through the first seven months of this year, India alone imported 5,100 metric tons of silver. For the full year, experts are expecting close to 10 million metric tons, nearly double last year's imports.
We are seeing a global hunger for silver as an investment. This probably reflects the fact that foreign currencies are losing value compared to the high and mighty U.S. dollar … at least for now.
Force No. 3: Peak Silver
According to data from the World Silver Survey, global silver production peaked six years ago at 900 million ounces.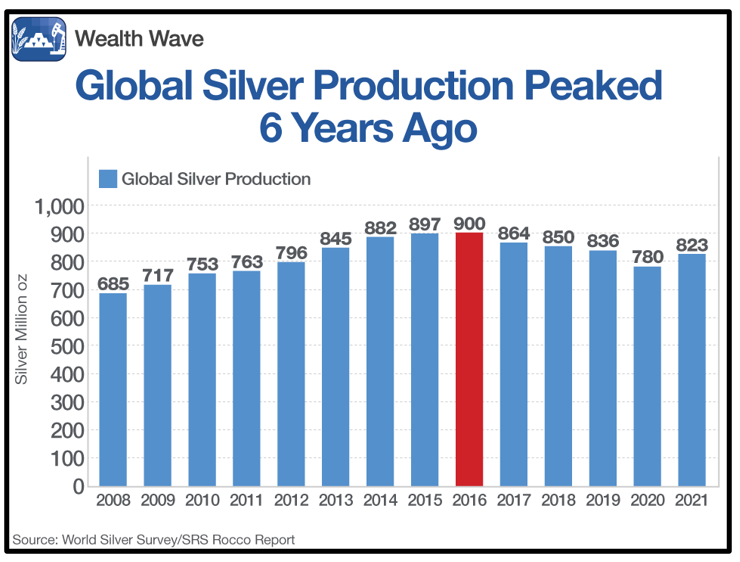 Global silver production chart.
Click here
to view full-sized image.
Silver production will likely rise this year but probably not to a new peak. Remember, two-thirds of silver production comes from mines that primarily produce other metals. With most of the world bracing for a recession, we're unlikely to see the record from six years ago broken anytime in the foreseeable future.
One reason why is, similar to gold, silver is a depleting resource. The overwhelming trend is for ore grades at mines to go down. Big new deposits are scarce.
So, we have tight supply at a time when both investor and industrial demand are rising. That's a recipe for higher prices.
How Investors Can Play It
Sentiment on silver is incredibly bearish right now. That's okay. As I've said before, "The Sea of Despair is where bull markets begin."
The Global X Silver Miners ETF (SIL) is an easy way to play a silver rally. It has an expense ratio of 0.65%. Top holdings include Wheaton Precious Metals (WPM), Pan American Silver (PAAS) and SSR Mining (SSRM).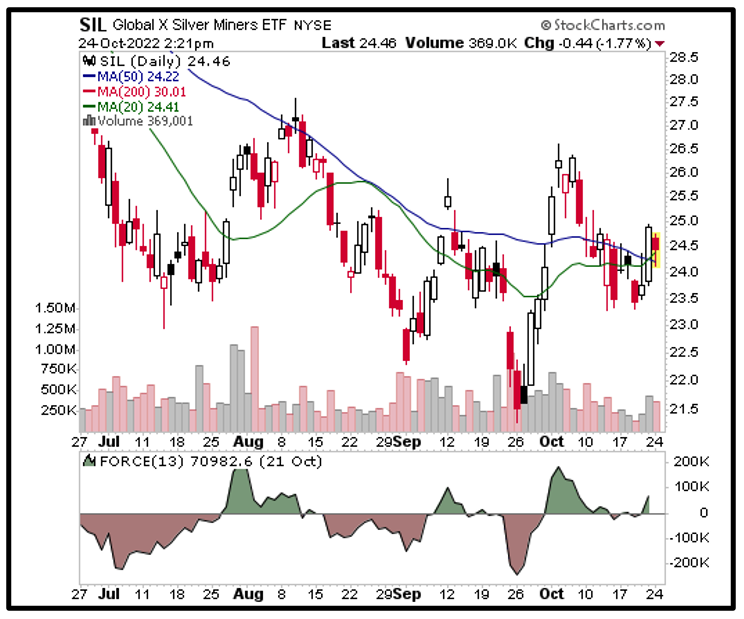 SIL daily chart.
Click here
to view full-sized image.
You can see in the above chart that it has made a higher low, and bullish volume is strong. This has tipped the Force Index, my favorite momentum indicator, which is at the bottom of the chart, back into green, bullish territory.
To be sure, we saw a failed breakout earlier this month. But the bullish momentum is growing, while bearish forces seem to be sputtering. I think silver — and silver miners — will break out sooner than later. The blastoff in silver is coming. Be ready for it.
As always, be sure to conduct your own due diligence beforehand.
All the best,
Sean
P.S. Starting today, Weiss Ratings Members once again get first dibs on something normally reserved for the likes of angel investors like Mark Cuban: The chance to invest in a rapidly growing companies before they're listed on public stock exchanges. Click here to get access.