Storm-chasing Profit Potential
Hurricane Ian left a trail of damage in its wake as it rampaged through Florida before bearing down on South Carolina. It also left some profit potential, if you know where to look.
The storm brought more than 30 inches of rain as it moved inland while storm surges reached up to 8 feet over normal tidal levels. High winds wiped out power for over a million homes in the hurricane's path.
Hurricane Ian was a Category 4 storm with sustained winds reaching up to 150 miles per hour. It's projected to be one of the costliest storms in American history, with expected damages ranging from $45 billion to $70 billion.
The worst-case scenario from the estimate would place Hurricane Ian as the fifth costliest storm in the U.S. to date, putting it only behind hurricanes Katrina ($170 billion), Harvey ($131 billion), Maria ($95 billion) and Sandy ($74 billion) in inflation-adjusted terms.
The chart below breaks down the substantial economic fallout from past hurricanes: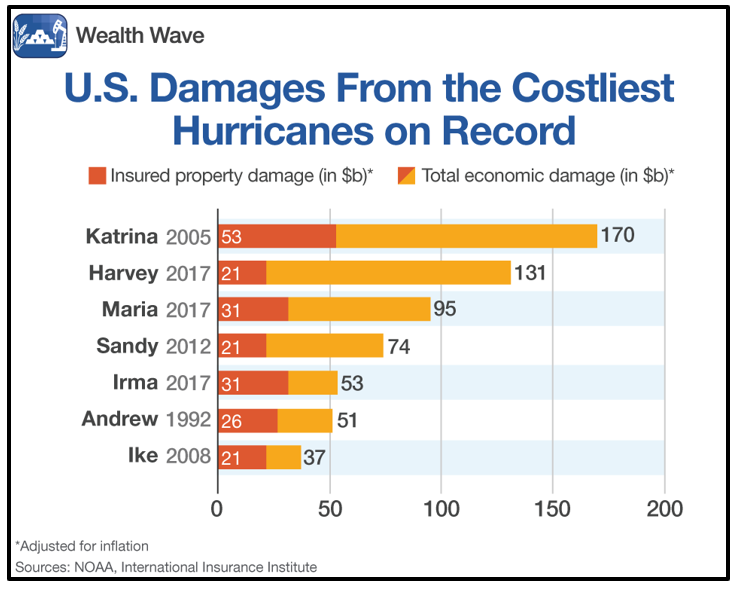 U.S. hurricane damages
Click here
to view full-sized image.
Last November, President Biden passed the $1.2 trillion Infrastructure Investment and Jobs Act, which committed over $50 billion in relief for weather-related damages from floods and wildfires.
As the storm hit, Florida Governor Ron DeSantis quickly requested federal assistance from funds earmarked for major disasters.
As households and insurance companies begin rebuilding devastated communities, certain businesses should thrive as demand soars for their products and services.
Disaster relief funds will flow into home improvement, engineering and utility companies throughout the affected areas to begin reversing the storm's damage.
Home improvement stocks are one of the first places to look because their sales surge both before and after the damaging weather.
Households purchase supplies like batteries or generators to prepare, and they often make additional trips for materials after the storm damages homes. Homeowners are usually forced to make these essential repairs quickly.
Meanwhile, engineering companies plan and implement fixes to critical public and private infrastructure. Roads, bridges and buildings are all affected by severe hurricanes, and they require immediate support to restore them to typical standards.
Target Hurricane Outperformance
Three companies to keep an eye on after damaging hurricanes are home improvement stocks Home Depot (HD) and Lowe's Companies (LOW), as well as engineering/construction firm Fluor (FLR). Here's a weekly chart of Fluor …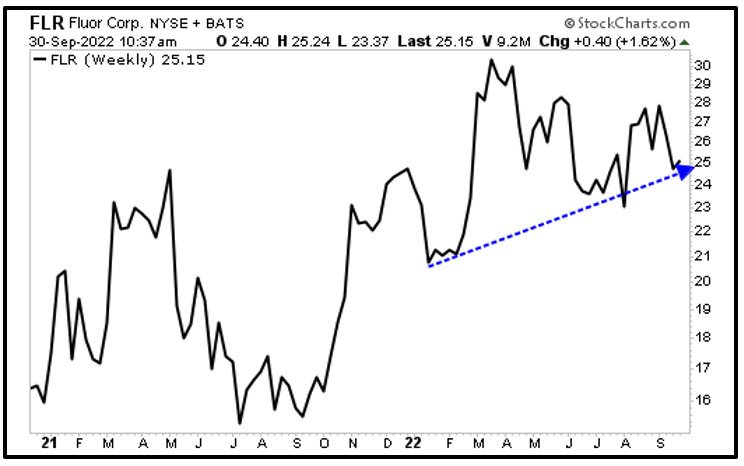 FLR weekly chart
Click here
to view full-sized image.
You can see that Fluor is holding an uptrend, but well off its highs. That's a good spot for an entry.
If you want diversified exposure, you could look into the iShares U.S. Home Construction ETF (ITB). It isn't a pure play, but it holds companies that will help rebuild storm-damaged areas.
While Home Depot and Lowe's provide essential materials, Fluor is a government contractor, and its engineering, construction and project management services are all in high demand during the rebuilding process.
After recent major storms, these companies have capitalized. And 2017 was especially rough for hurricanes, with Harvey, Irma and Maria all landing within a one-month period.
Excluding Hurricane Ian, because its total damages are still unknown, these storms account for three of the five costliest in history.
Hurricane Harvey was the first to hit on Aug. 25, 2017. And for the rest of the year, all three stocks rallied hard.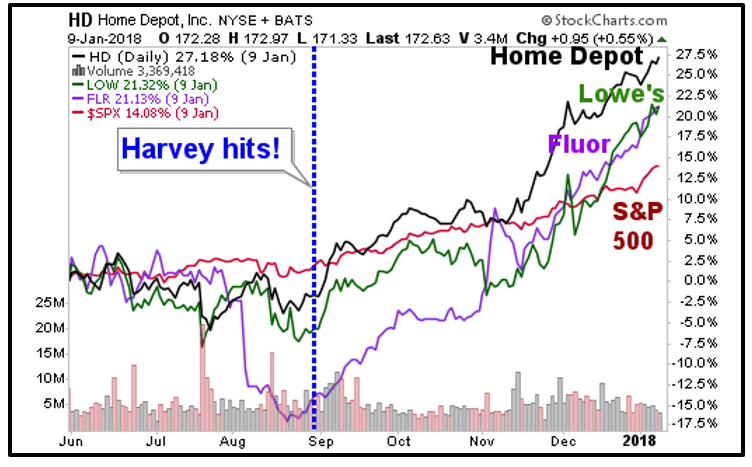 HD, FLR and LOW prices
Click here
to view full-sized image.
I've made the chart wider to give you some context. But from Aug. 25 through the end of the year, Lowe's rallied 28.65%, Home Depot rallied 29.25% and Fluor rallied 39.31%. Compare that to the 9.62% rally in the S&P 500.
In this current volatile environment, market outperformance is especially important.
Hurricane Ian caused tens of billions of dollars in damages, and the storm has created another environment for these companies to capitalize on rising demand.
Always conduct your own due diligence before entering a position, but with the worst of hurricane season generally lasting from August to late October, it could make sense to hold these names.
All the best,
Sean
P.S. Dr. Martin Weiss and a special guest expert who picked the last bottom are getting ready to show our members how to spot the NEXT bottom. Click here to get the list now.