Is it time to buy uranium stocks? At the New Orleans Investment Conference last weekend, a couple of industry insiders made a very good case for these slow-burn stocks being on the atomic launch pad.
There isn't an industry in North America that has seen more pessimism in recent months than uranium. Uranium stocks got hammered as the market got fed up waiting for higher prices. At one point in July, the Global X Uranium ETF (NYSE: URA) was 91% off the highs it hit in 2011.
The good news is that URA more recently rallied 11% higher off that low, and the better uranium stocks are leading the way higher.
But is now, right now, a good time to buy uranium stocks?
Jeffrey Mushaluk thinks so. He's the VP of Business Development for Fission Uranium (OTCQX: FCUUF), a uranium explorer hard at work in Canada's Athabasca Basin.
Mr. Mushaluk had an excellent presentation on Monday. He explained that the optimism is beaten out of the uranium industry with this factoid:
"About a month and a half ago, the market cap for Beyond Meat (Nasdaq: BYND) was bigger than all the North American-listed uranium stocks put together."
That sounds like textbook pessimism to me!
Mr. Mushaluk's presentation included this slide:
What the slide shows is the gap — between what utilities are going to need in the way of uranium and what is going to be supplied — is yawning to Grand Canyon-sized proportions.
Mr. Mushaluk and Fission Uranium believe the company's PLS Project in Canada's Athabasca Basin is part of the solution. And he quoted mega-resource investor Rick Rule as saying: "What the Persian Gulf is to oil, the Athabasca Basin is to uranium."
In other words, the Athabasca is stuffed with high-grade uranium targets.
At the conference, I also talked to Scott Melbye, Executive Vice President for Uranium Energy Corp. (NYSE: UEC). Scott also has strong opinions on how undervalued uranium companies are, what forces will drive the market going forward, and how UEC is poised to ride the next rally.
But I'll let you explain that to him yourself.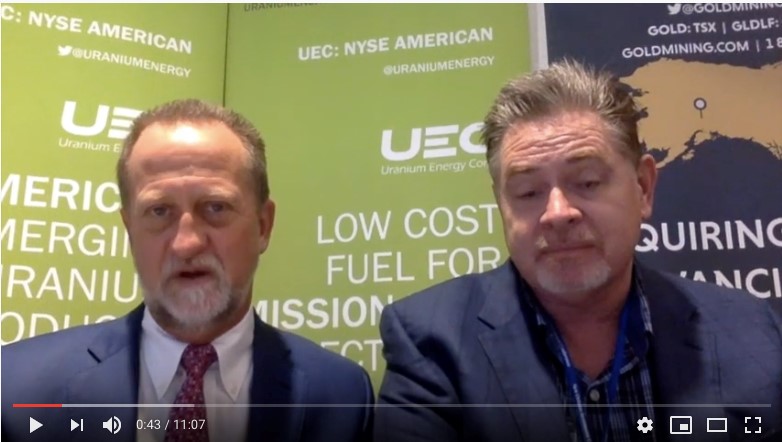 Mr. Melbye reiterated the point on the growing supply/demand gap, the huge build out in uranium power going on in Asia, and the fact that the White House should get a report on the uranium industry this month. He also has some good reasons why UEC could outperform. Watch the video and see.
Interestingly, the uranium-leveraged stock ETF I told you about earlier, URA, did very well on Monday.
Is this the beginning of the next leg up? Take a look at the daily chart of URA and decide for yourself.
It sure looks like URA is TRYING to break its downtrend. We'll need follow-through to know for sure.
When uranium stocks DO blast off again, you'll want to be long select names for what could be a heck of a wild ride.
All the best,
Sean