The Clouds Are Parting & Solar's Ready to Shine
Last year, solar stocks got smashed.
The good news? They're cheap … and forces are aligning to turn up the heat on this industry in 2022.
Give me 10 minutes of your time, and I'll tell you how to look to profit.
Let's start with a chart of the Invesco Solar ETF (NYSE: TAN), a basket of leading solar energy stocks: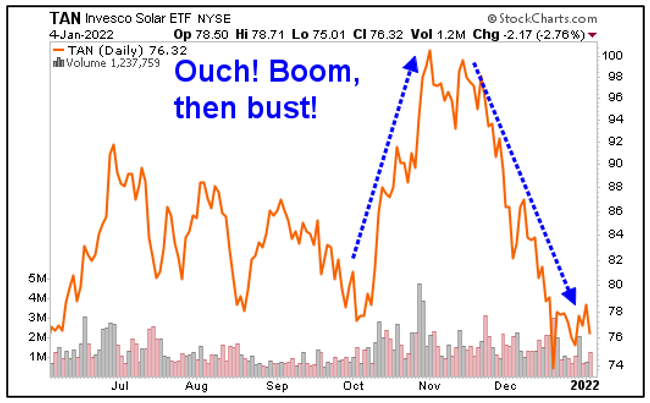 Wow! Solar stocks blasted off in October … only to give it all back (and then some) in November and December.
What the heck, right?
Well, part of it was due to supply chain issues, which may have peaked. Foreign-made solar panels and parts got stacked up at the ports.
But a bigger part? Politics.
President Biden's Build Back Better plan includes an extension of the solar Investment Tax Credit (ITC).
It keeps both the residential cash and loan credit for individuals and the commercial, utility and residential credits equivalent to 30% of the capital cost of the solar system.
Solar isn't the only industry that gets tax incentives — oil and gas gets plenty of 'em. Ethanol is the king of subsidies. And the ITC is a fine incentive for helping wean America off its fossil-fuel dependency.
That's why solar stocks took off in October.
But then in November, the Build Back Better plan sailed into an iceberg named Sen. Joe Manchin, who says he won't vote for it.
Sure, 50 Republican senators won't vote for it, either. But Manchin is the tip of the iceberg.
How much difference will not having the ITC extension make?
Energy research company Wood Mackenzie says that without those solar subsidies, we'll see new solar installations cut by 25%.
But I'll tell you this, even if Wood Mackenzie's worst fears are true, the solar power industry is still looking at darn good growth beyond 2022. Check out this chart of installation data: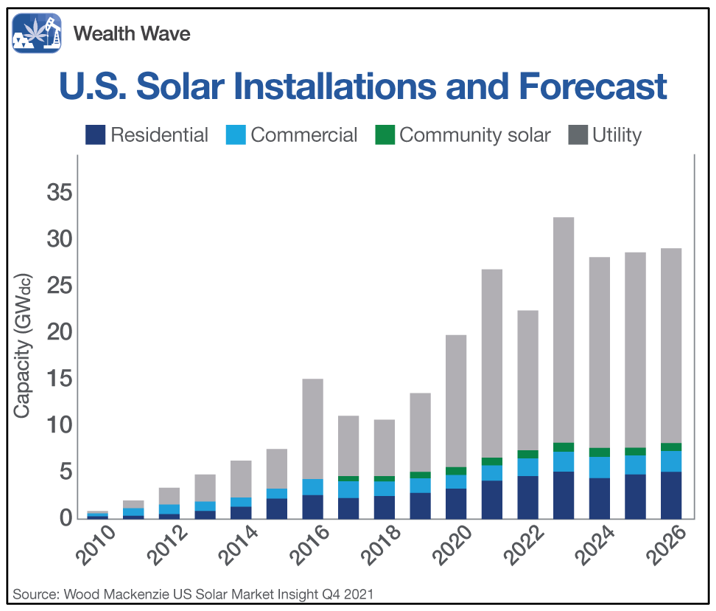 As you can see, that's not much of a dip in 2022, and things spring right back in 2023.
Want to hear more good news for solar?
The Wood Mac forecast is the most pessimistic I can find. For example, S&P Global Market Intelligence expects the U.S. to add 44 gigawatts of solar in 2022 — nearly double the 23 gigawatts added last year!


This year, for the first time, U.S. solar power is projected to grow faster than wind. Though they're both growing fast. The Energy Information Agency's (EIA) short-term outlook estimates that wind and solar capacity will reach 15% of U.S. generation by 2022 … from 11% in 2020


Privately held GAF Energy — a subsidiary of one of the largest roofing companies in the world — is launching a game-changing new solar shingle roof, Timberline Solar. The company says it will be relatively cheap. If your asphalt shingle roof costs $15,000, a Timberline Solar roof would cost $30,000. Since there are tax subsidies AND you can tell the electric company to go take a hike … that works out well financially. A solar roof saves the average family about $1,390 a year on electric bills.
Now, there are other risks ...
For example, California has proposed to reduce subsidies for rooftop solar. But that state's residents are pushing back hard on the proposal.
As for the ITC, it's likely there's such bipartisan support for solar subsidies — which strengthen America's electric grid — that we'll see something passed regardless of whether the Build Back Better bill passes.
And while supply chain issues remain, they'll get worked out.
So, look again at that first chart I showed you. TAN is trading near its lows, when many other industries and sectors are near historic highs.
TAN looks like a bargain, and all it needs is a little good news to send it on a great run 2022.
I expect it to test its November highs and probably go higher. And that's your potential ticket to sizzling solar profits. Remember to do your own due diligence before buying anything.
As for individual stocks, I just made a recommendation to my Supercycle Investor subscribers, and I'll make more soon. My subscribers are currently sitting on open gains of 100%, 47% and 30% on recommended positions.
The clouds are parting … the sun is coming out … solar profits are ready to shine.
Best wishes,
Sean