The Highway to Higher Profits
"I don't usually brag about the expensive places we go," my wife wrote on Twitter (TWTR) after our recent weekend getaway. "But I gotta reveal: yesterday we went to the gas station."
Yeah, it's an old joke. But man, is it true lately.
Last week, for the third week in a row, the nation's average gasoline price went up, climbing 13 cents to $4.31 per gallon. That's according to Energy Information Administration (EIA) data.
Diesel prices are up, too, as a combination of tight supply, geopolitical turmoil and a vroom-vroom economy put the pedal to the metal on prices.
And the one-two combo of tight supply and rip-roaring demand leave gasoline prices near the peak of $4.33 that they recently set: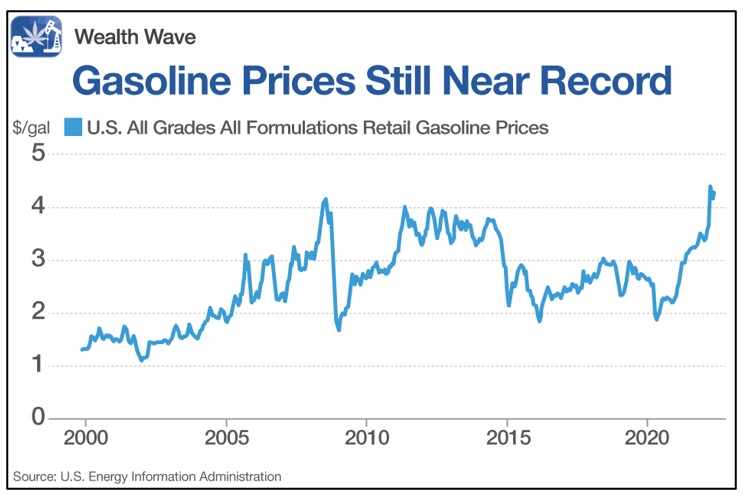 But prices can go higher. And that's despite the EIA's expecting U.S. gasoline demand to hit 9.2 million barrels day, up nearly 1% from last summer.
In fact, the agency still expects retail prices this summer to go to their highest levels since 2014.
But just how high could gasoline prices go, really?
Here's another chart that takes the EIA data and then inflation-adjusts it backward.
In other words, it shows what the price of gasoline would've hit in previous years if we adjusted for inflation.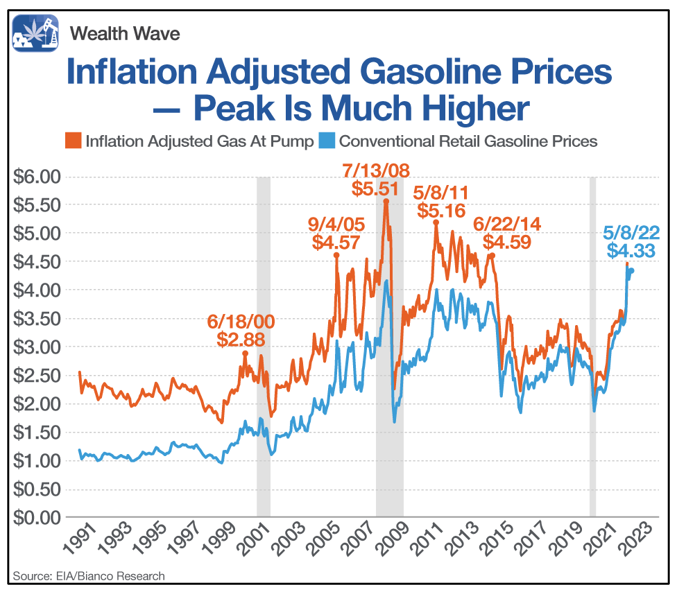 You can see that in 2022 dollars, the price of gasoline in 2008 hit $5.51 per gallon.
And that means current prices could rise prices another $1.20 per gallon before hitting the old inflation-adjusted peak.
Now, could that happen, with the stock market falling out of bed as it has for the last five weeks? Sure. The stock market and the real economy have never been more disconnected than they are now.
And in the real economy, gasoline supplies are skintight. Gasoline storage dropped for the last five weeks in a row, and 12 of the past 13 weeks!
Here's the thing: Gasoline in storage is usually building this time of year in anticipation of summer driving season.
Speaking of inflation, the price of West Texas Intermediate (WTI) crude — the U.S. oil benchmark — at $102.64 a barrel is BELOW where it was in 2013 and 2014, and well below the peak in July 2008, when it briefly kissed $150 a barrel.
So, oil can go higher. And you bet your bottom gas-money dollar that gasoline can go higher, too!
How to Consider Playing This
If you've been reading my column — and especially if you're a subscriber to my Wealth Megatrends column — you could be doing very well with energy stocks.
My Wealth Megatrends Members are sitting on open gains of 77% and 38%, just to name a few … and in this kind of market, that's like finding a gem in the rough. If you'd like to learn more, click here now.
One kind of energy stock that does very well with high gasoline prices is refiners.
The top three U.S. refiners by market cap are Valero Energy (VLO), Marathon Petroleum (MPC) and Phillips 66 (PSX).
Let's look at a performance chart and see how these three have been doing against the S&P 500: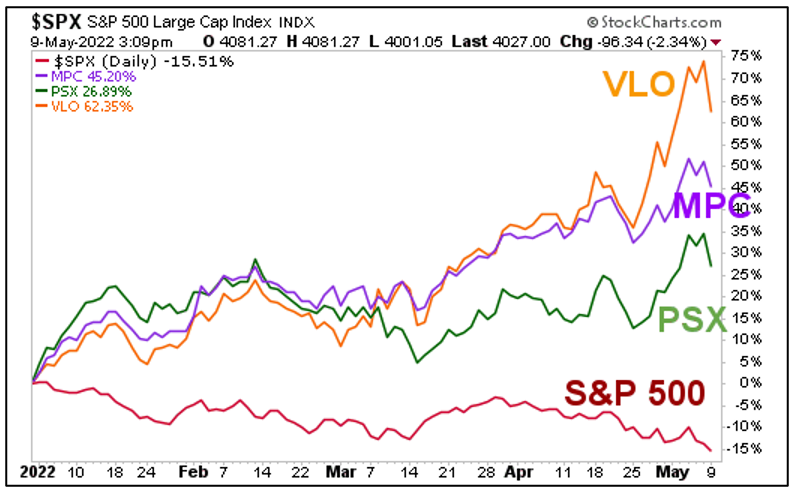 You can see that, so far this year, refiners are outperforming the S&P 500 by leaps and bounds.
Sure, there's no guarantee that refiners will continue to outperform. But I believe oil prices aren't done climbing. The price of crude will zigzag higher, and refiners will go along for the ride.
You too can hitch a ride on the road to profits. But if you're doing this on your own, be very careful, and always do your own due diligence.
All the best,
Sean