The Russians Are Coming! Here's How to Fight Back!
There's an elephant in the room, and it's getting bigger. Even worse, it has your passwords.
Cybercrime is exploding. Its global cost is expected to eclipse $10.5 trillion per year by 2025, ballooning from $6 trillion in 2021 and $3 trillion 10 years ago!
The cybersecurity industry recently slid under the radar as technology stocks pulled back, but its prospects are compelling. Companies and governments are spending hundreds of billions of dollars to combat the issue.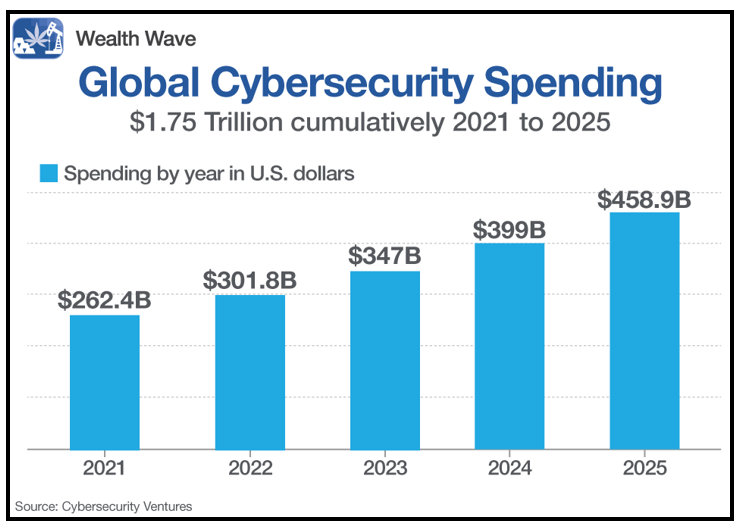 Cybersecurity Ventures estimates that cumulative spending to fight cybercrime will eclipse $300 billion this year and increase 52% to $459 billion by 2025!
The total market size is forecast to grow at a 14% compounded annual growth rate (CAGR) between 2022 and 2027. It tallied $133 billion in 2021.
Cybersecurity issues are jumping back into the spotlight in part due to conflicts in Ukraine.
This week, the U.S., U.K. and EU accused Russia of coordinating a cyberattack against a satellite company before Russia invaded Ukraine in February. The effects were felt across Europe as internet services crashed and wind turbines malfunctioned.
Given the world's increasing reliance on services online and in the cloud, incentives to sabotage or disrupt for profit are greater than ever.
And you can bet Washington is spending big bucks on it.
The U.S. House of Representatives recently approved a $40 billion relief package for Ukraine. The nation will be prioritizing funds toward maintaining its critical infrastructure, including cybersecurity.
Domestically, the Biden administration convened with the private sector last year, prompting Apple (AAPL), Alphabet (GOOGL), IBM (IBM), Microsoft (MSFT) and others to ramp up their efforts against cybercrime.
Alphabet and Microsoft pledged $30 billion over the next five years toward advancing cybersecurity programs, while IBM committed to train 150,000 people to work in cybersecurity over the next three years.
Major institutions understand the importance of preventing cyberattacks. In 2015, Bank of America (BAC) CEO Brian Moynihan claimed the bank had an unlimited cybersecurity budget — the bank's only division without budgetary constraints.
Corporations and governments will continue expanding their investments in protecting themselves from bad actors, which should create many winners in the space. That's why I'm looking for diversified exposure.
Cyber$ecurity
One of my favorite ways to play this trend is the First Trust NASDAQ Cybersecurity ETF (CIBR).
It's the largest and most liquid cybersecurity exchange-traded fund (ETF) available. CIBR focuses on companies engaged in building and maintaining security protocols for networks, computers and other devices to protect operations.
To be included in the fund, a company must have a market capitalization above $250 million, an average three-month dollar trading volume above $1 million and a free float above 20%.
This ETF manages $5.2 billion in assets across 41 total holdings. The fund's top three positions are Cisco Systems (CSCO), Palo Alto Networks (PANW) and CrowdStrike Holdings (CRWD). They make up about 18% of the fund.
CIBR's expense ratio is a manageable 0.60%, and its trades with an average volume of about 1.5 million shares.
Now, let's look at CIBR's daily chart. Where others see disaster, I see opportunity: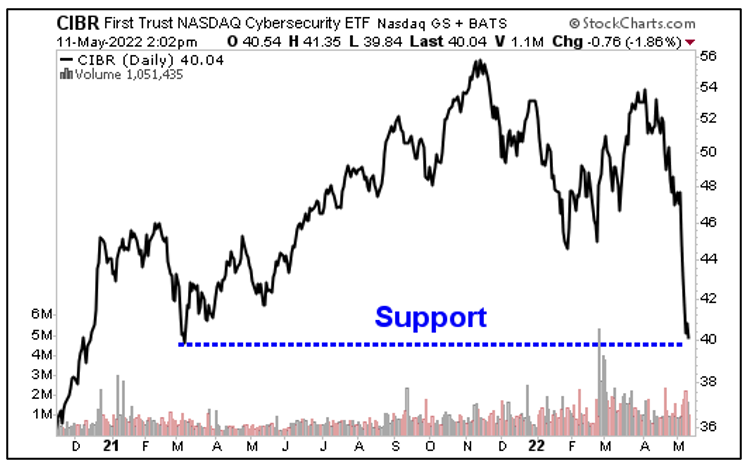 CIBR was recently caught up in the big market puke that saw stocks of all types — good, bad and ugly — sell off.
But this is an industry projected to see 14% CAGR in revenues! In other words, CIBR holds great companies trading at deep discounts.
Man, oh man, does this sell-off scream opportunity to me.
Russians and other cybercrooks are coming for your data … your security … your MONEY! Here's a way you can fight back — and pocket a nice profit of your own.
Make sure to conduct your own independent research. With strong momentum backing the biggest players in cybersecurity, these stocks could be getting ready to rocket higher on the next upswing.
All the best,
Sean