The Scariest Chart in America
Have you taken a gander at mortgage rates lately? The U.S. 30-year annualized mortgage rate has risen 90% in the past year.
This is hammering real estate, an important pillar of the U.S. economy, and promising stormy weather ahead for the housing market.
Here's the chart …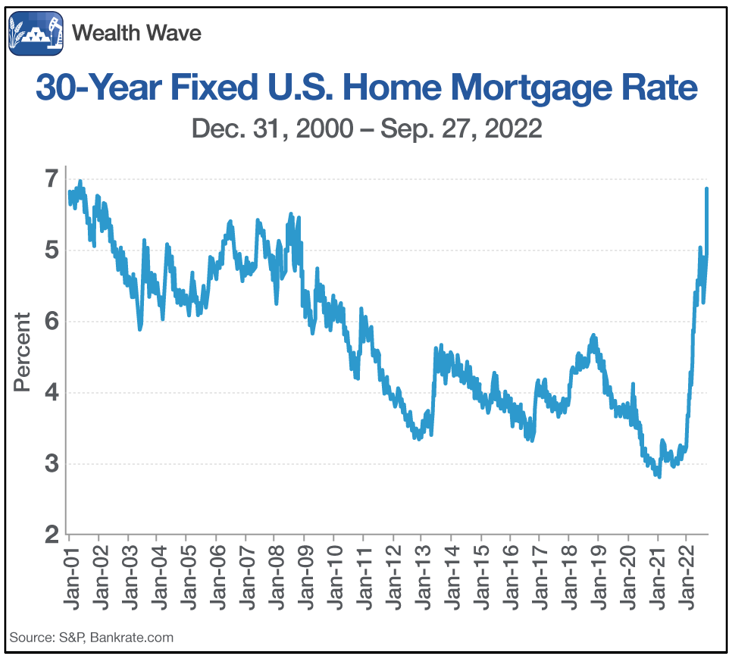 30-year fixed U.S. home mortgage rate
Click here
to view full-sized image.
Data shows the average rate on a 30-year fixed mortgage just soared to 6.87%. That's up from 3.3% at the start of the year and the highest since 2001!
It's the biggest 1-year jump since 1981. To me, this is the single scariest chart in America right now.
I used Bankrate's mortgage payment calculator to figure out what that higher mortgage rate was doing to home payments.
A year ago, you could get a 30-year loan at 3% interest. I know because I got one. Let's say a home costs $425,000, and you put 20% ($85,000) down. With a 3% loan, the estimated total payment is $1,799 a month.
But raise that mortgage rate to 6.87% on the same house and your total payment jumps to $2,576 a month. That's a jump of 43% in the monthly payment, just due to the rise in the interest rate.
This is pricing some buyers right out of the market.
We don't have to wait to see the effect on real estate. The S&P/Case-Shiller National Home Price Index for July just came out. It showed that average home prices dropped in July for the first time since 2012.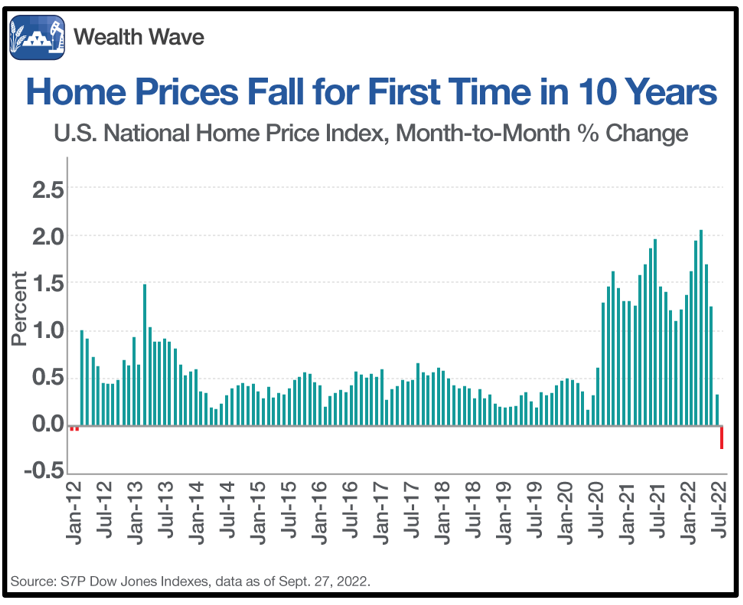 U.S. national home price index
Click here
to view full-sized image.
See that red bar over on the far right? That's quite a shift in the wind!
This could trigger a cascade of pain through the real estate market. In fact, it's already playing out. In August, 15.2% of home purchase agreements were canceled. That's up from 12.1% a year earlier.
And it doesn't stop there. Trouble in real estate has a broader economic impact.
In 2018, real estate construction contributed $1.15 trillion to the nation's economic output. That's 6.2% of U.S. gross domestic product.
What's more, consumer dollars spent on housing services — including rents and utilities — average 12% to 13% of GDP, according to the National Association of Home Builders.
Heck, my home state of Florida could certainly be in for a reckoning. In the past five years, real estate values in Florida rose 81%. Tampa is the top real estate market in America.
Sure, there are some parts of the U.S. that are still seeing home prices go up. But the biggest risk across the country now is that home prices will start to go down.
There's more trouble to come …
Builders are already building fewer homes than last year. It's the first time that's happened since 2011.
Home sales overall are already falling. The National Association of Realtors is looking for 5.19 million existing home sales in 2022. That's down 15.2% from last year.
Higher interest rates are combining with construction costs up 35% year over year to drop housing affordability to its lowest level in more than 10 years.
And according to Robert Dietz, chief economist of the National Association of Home Builders, the Fed will likely keep interest high through much of 2023.
So, I hope you like your house, and you aren't planning on moving soon. Because you might not like what you get.
On the bright side, you can hedge real estate exposure. One way is with the ProShares Short Real Estate ETF (REK). It has an expense ratio of 0.95% and offers daily short exposure to the Dow Jones U.S. Real Estate Index.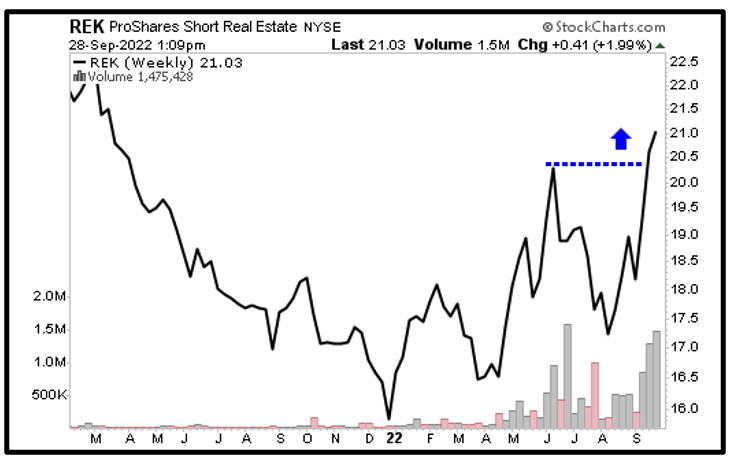 REK 1-year tech chart
Click here
to view full-sized image.
Looking at the chart, you can see REK is breaking out. It's already up 33% so far this year. Compare that to the 22.3% drawdown in the S&P 500.
With this kind of breakout, I'd expect REK to zigzag its way to $38 a share. That's a nice move from recent prices.
As always, be sure to conduct your own due diligence beforehand.
All the best,
Sean
P.S. If you enjoyed reading this, then you should check out Weiss Technology Portfolio. Members of that service are currently sitting on open gains of around 267%, 254% and 153%!