The Winner of Congress' $430B Spending Bill
This weekend, the U.S. Senate worked all night on passing the Inflation Reduction Act. It passed the Senate by a whisker-thin margin and now goes on to the House for what should be an easier passage.
This bill contains about $430 billion in new spending, a big chunk of which goes toward electric vehicles and clean energy. And man, is that an opportunity for you!
Nothing's free, of course.
The package is paid for by a 15% minimum tax on some large corporations and a 1% tax on stock buybacks. But since the government is taking money in new taxes, you might as well reap the profits.
What's in the bill? Here are some details on just the green energy section …
The bill extends a popular $7,500 per vehicle consumer tax credit for the purchase of electric vehicles. In a twist, companies will have to comply with tough new battery and critical minerals sourcing requirements. This could boost mining of those resources here at home.
For green energy, there's an extension of the investment tax credit at 30% until 2032. And if enough domestic content is used, that could take the credit to 40%. The credits would stay steady at 30% for a decade, then step down to 26% in 2033 and 22% in 2034.
Interestingly, the bill offers generous incentives to domestic manufacturers to build renewable energy hardware in the U.S. Manufacturers would be eligible for a generous credit of 11 cents to 18 cents per watt for a solar module manufactured in a U.S.-based vertically integrated plant. Not only will that make the U.S. less dependent on China, but it could also create millions of jobs.
And clean energy manufacturers could get additional tax credits if they locate projects in areas that have had a significant number of workers in the coal, oil and gas sectors since 1999, or been home to a coal mine or coal-fired power plant that was shut down.
The bill also gives $1 billion in grants to improve energy efficiency in affordable housing and at least $60 billion in grants for projects like improving air quality monitoring, improving transportation and installing clean energy in poor and vulnerable communities.
Good News = a Good Investment
The bottom line is this is all good news for clean energy stocks and funds. So, which ones do you want to buy? There are 19 renewable energy exchange-traded funds the last time I counted. Some I wouldn't touch with my money or yours!
But there are a number of funds that look mighty attractive right now. You just have to know what aspects to take into consideration when choosing one you want to invest your money in.
So, what matters when choosing a fund? Here are the three key aspects to look for:
Holdings. What does the fund own? This will dictate a fund's performance.

Average volume. How many shares does the fund trade on a daily basis? If the volume is too low, you'll be scalped going in and getting out.

Expenses. Make sure you aren't getting hosed by an expense ratio that's too high. For me, 1% is too high.
To all these, I'll add the Weiss Ratings. I usually look for a Weiss Investment Rating of "C" or higher. The higher the rating, generally, the less risk and bigger potential for reward.
I've made a list of the top five clean energy ETFs by assets. No surprise that's also the top five by volume, too: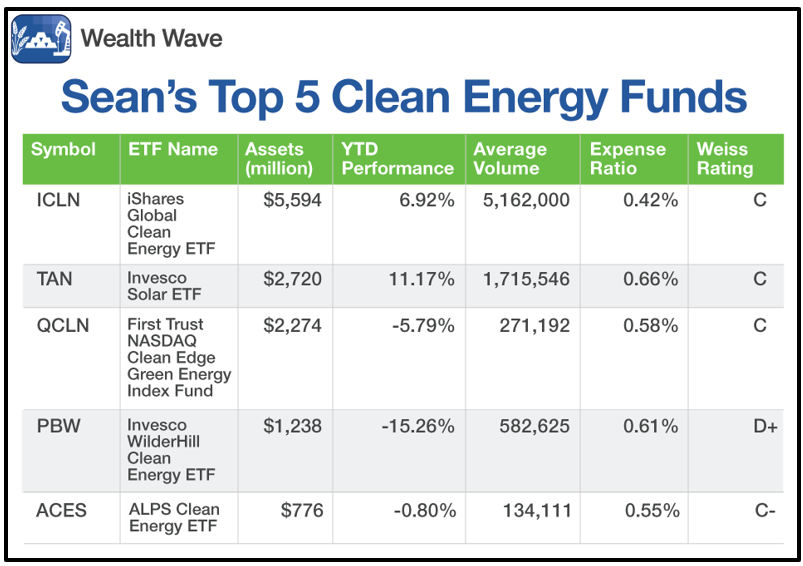 Of these five biggest renewable energy funds, the two that have outperformed are the iShares Global Clean Energy ETF (ICLN) and the Invesco Solar ETF (TAN). Both have "C" ratings and decent expense ratios.
Why are they outperforming? Probably because they have a heavier weighting to solar than the other funds. Three of ICLN's top five holdings are solar stocks. Naturally, all of TAN's top stocks are solar.
Meanwhile, the First Trust NASDAQ Clean Edge Green Energy Index Fund (QCLN) holds a bunch of EV makers, lithium miners and more, along with renewable energy stocks. The Invesco WilderHill Clean Energy ETF (PBW) and the ALPS Clean Energy ETF (ACES) also diversify into EVs.
Now, let's look at a performance chart since renewable energy stocks bottomed as a group back in May: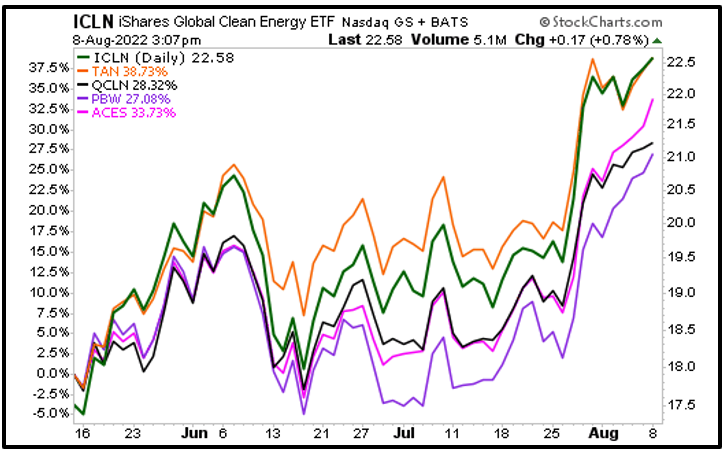 You can see that all five of these clean energy ETFs are bouncing hard, but again, ICLN and TAN lead the way.
Let's look at a one-year chart of ICLN: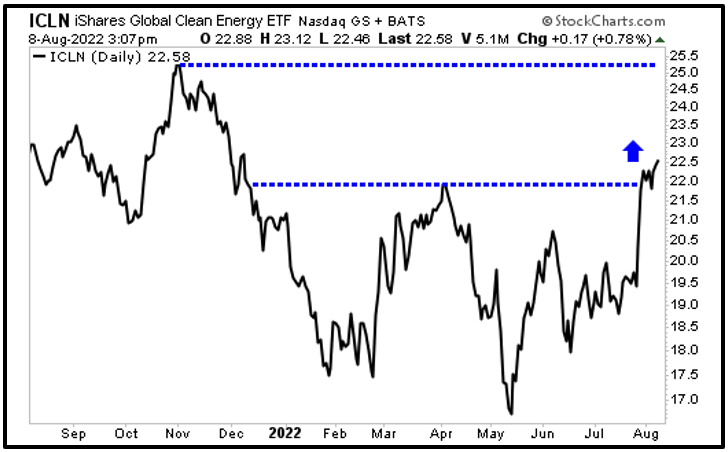 You can see that ICLN just pushed up through a line of overhead resistance. The high from late October of last year is the next target. Beyond that, my one-year target is $31.50, a 40% move higher from recent prices.
If you want to focus strictly on solar, TAN is the one for you. If you want a more balanced approach, ICLN would probably be the best choice.
If you want to know what my recommendations for companies that could profit from this bill are, join my service, Wealth Megatrends. Members are sitting on double-digit gains while being paid handsome dividend yields, which is a rarity in this market.
Whatever you buy, the Inflation Reduction Act provides many billions of dollars of investment … and this may not be the last investment that the government makes in renewables. A smart investor will get ready to ride that wave of cash to potentially huge profits.
As always, conduct your own due diligence.
Best wishes,
Sean