This Metal's Shifting Into Higher Gear
A strong and strengthening U.S. dollar is hammering most metals lower.
Gold, silver and copper are all down.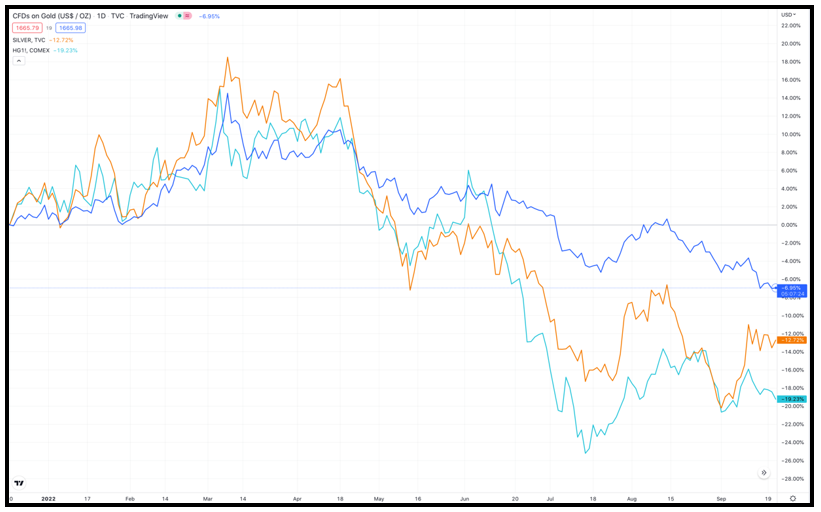 Year-to-date losses for gold (dark blue), silver (orange) and copper (light blue).
Click here
to view full-sized image.
Gold's down over 4% in just the past month. Silver's shed nearly 13% year to date. And copper's performing the worst of the three, having lost over 19%.
But one metal, often overlooked by investors, is showing surprising strength.
And it could be a good bet for higher prices going forward.
In fact, if you're looking for a refuge from the market's bearish storm, I'd say this metal is offering a safe harbor (for your portfolio, not for your car).
I'm Talking About Palladium
This lustrous, silvery-white metal is used primarily in automobile exhaust systems (80% of demand) and as a chemical catalyst. Its price soared earlier this year as concerns boiled around sanctions on Russia due to that country's invasion of Ukraine.
Russia produces a lot of palladium — 40% of the global supply in 2020. But those worries turned out to be mostly sound and fury because supply contracts signed before Russia's invasion of Ukraine were honored. So, the price of palladium slipped back.
More recently, palladium bottomed in mid-June and has zigzagged higher since.
A Multiyear Supply Squeeze
Russia is just the tip of the iceberg.
Palladium has a major supply problem, which is good news for investors.
The global palladium market's been in deficit since 2012: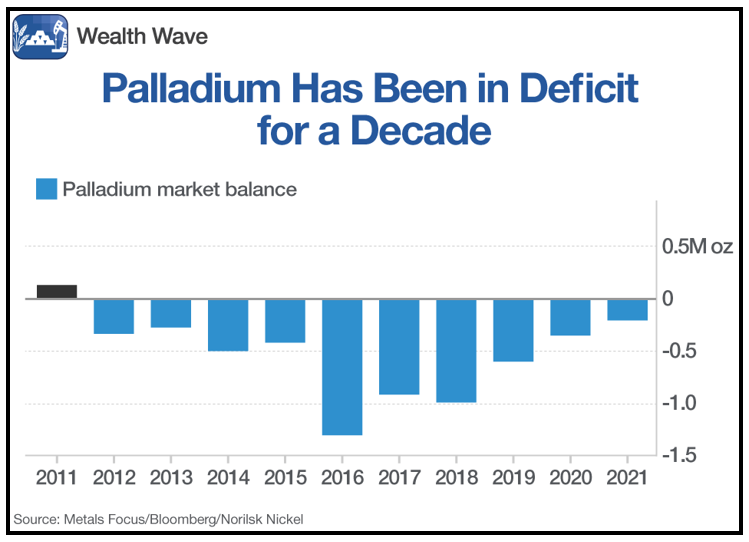 Palladium supply deficit.
Click here
to view full-sized image.
Mining giant Norilsk Nickel reported that the global palladium deficit was 200,000 ounces in 2021. That's less than it was in 2020 and seems like progress. New supply from South Africa helped.
This year, estimates are all over the map. Both supply and demand are rising. We may see a small surplus in 2022 … but that could turn back into a deficit next year.
In fact, the combination of strong demand and tight supply means that palladium could remain in deficit for the next two years, according to a report released in August by Capital Economics, which forecasts that the price of the metal would reach $2,400 an ounce by the end of 2024. That represents an 11% rise from recent prices.
Capital Economics said demand for palladium as an auto catalyst would continue to rise in China. Meanwhile, most of the large palladium miners are publishing downbeat production guidance for 2022.
"We forecast a 3–4% fall in supply from South African mines, which account for about 2/5 of global supply from mines," Capital Economics wrote.
Meanwhile, tighter regulations to curb pollution from gasoline and diesel cars are boosting the use of platinum group metals — like palladium — in catalytic converters.
What's more, palladium and 14 other important minerals were added to the U.S. Geological Survey's list of strategic metals this past February. In other words, Uncle Sam is starting to realize just how important this metal is. So, there are a couple of bullish catalysts that may not be priced in.
How Investors Can Play It
So, how can you play this supply-demand squeeze?
I'd recommend the abrdn Physical Palladium Shares ETF (PALL). It has an expense ratio of 0.60, and just holds palladium bullion. Let's look at a weekly chart: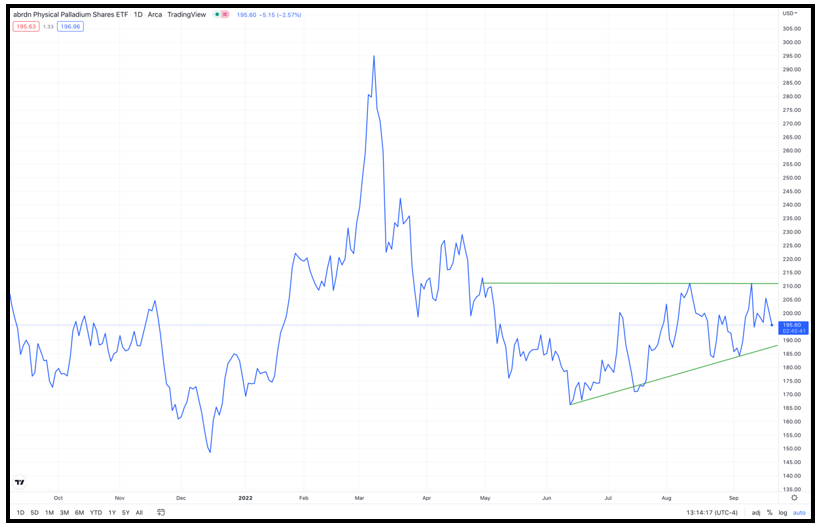 One-year chart for the PALL.
Click here
to view full-sized image.
You can see that palladium — and PALL — bottomed in June. PALL has risen higher since, and the exchange-traded fund will likely test overhead resistance around $211 again soon.
If it can break out, my bullish price target is $261. That's a 31% move higher from recent prices.
Palladium is certainly something to consider when the market is in a bearish mood, as it's been all year. But there's always a bull somewhere. And one of them is made of palladium.
As always, be sure to conduct your own due diligence beforehand.
Best wishes,
Sean
P.S. If you'd like to receive my individual company picks, click here to join my trading service, Wealth Megatrends. Members are enjoying multiple double-digit open gains and have closed out trades netting profits of nearly 60%, 34%, 30% and 24% since May. Click here to join them.