This 'Winter Crop' Is Soaring
For 2022, one of your resolutions should be to broaden your exposure to commodities. I still like gold, silver and oil. But other commodities are just as easily tradable … moving higher … and poised for even bigger gains.
Today, we're talking about wheat!
Wheat has been cultivated around the world for more than seven centuries ... and it feeds more of the world's population than any other grain.
In the U.S., it's the third-most-planted crop (after corn and soybeans) with more than 55 million metric tons produced each year. And while this accounts for just 8% of global production, America is still one of the biggest wheat exporters.
America's diverse climates make it possible to produce a lot of different varieties, classified by their planting time (winter or spring), protein content ("hard" for high-protein wheat and "soft" for lower-protein wheat) and kernel color (red or white).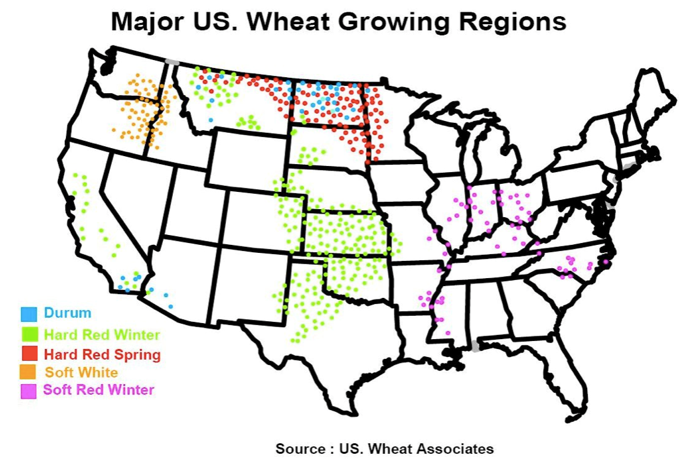 Getting to Know Your Wheats
Winter wheat accounts for about 70% of the wheat grown in the U.S. It's planted from mid-August through October and harvested from mid-May to mid-July of the following year. It's dormant between November and March … hence its name.
Hard red winter wheat has a high protein content and is the most important class of wheat produced in the U.S. It's grown throughout the High Plains, with major production in Kansas, Nebraska, Oklahoma and the Texas Panhandle … areas with significant periods of subzero temperatures and snow covering, upon which winter wheat development depends.
Soft red winter wheat is produced in Central Texas, the Great Lakes and the Atlantic Coast. It's a top choice for cakes, cookies and pastries.
Hard red spring wheat is mostly grown in north-central states like North Dakota and Minnesota, where winters are too severe for winter wheat production. The hot, dry summers help grow this high-grade wheat.
Other types of wheat include soft white, grown primarily in the Pacific Northwest and used for more exquisite types of cakes, pastries and Asian-style noodles ... and
Durum wheat, which is mainly grown in North Dakota. Durum wheat contains the highest percent of protein of any wheat variety and is mainly used in making pasta.
As with other grains, wheat is subject to the whims of the weather. Winter wheat can suffer from too little snowfall, meaning it won't receive adequate insulation from severe cold.
And as with other grains, wheat prices are influenced by seasonality ...
Old Crop vs. New Crop
During the planting months (fall for winter wheat), the source of grain available for sale is from crops harvested the previous season — the old crop.
On the other hand, during the harvest months — normally July for winter wheat — the new crop comes to market and supply is higher, which results in lower prices.
This explains why the price of wheat tends to decline between spring and the July harvest, then begin to rise from these harvest lows into fall and winter.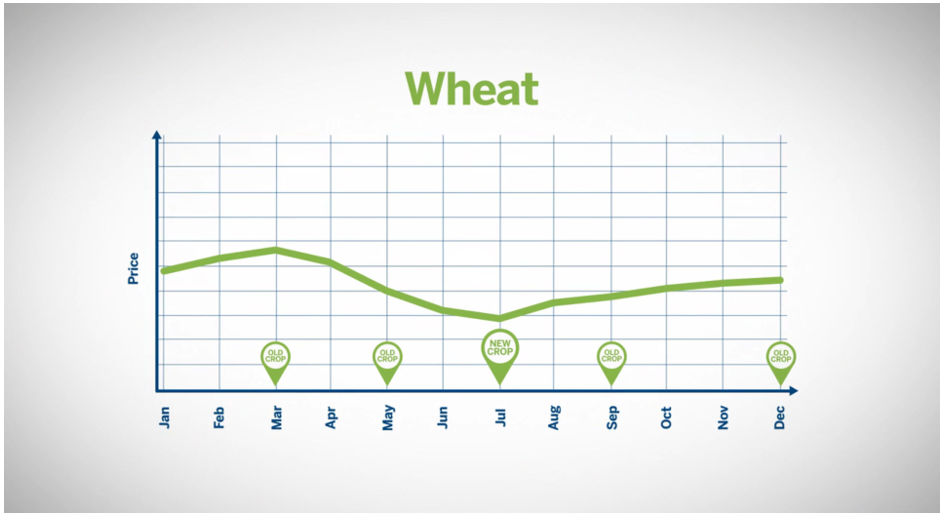 And 2022 looks to be a pivotal year for global grain markets, including wheat.
Supplies are down and it may take one to two more growing seasons to build back up to the levels last seen in the 2018–19 crop year.
Wheat futures are available to trade. But for regular investors like us, I recommend Teucrium Wheat (NYSE: WEAT), which — unlike futures — can be traded in an ordinary brokerage account.
WEAT, like Teucrium Corn Fund (NYSE: CORN) and Teucrium Soybean (NYSE: SOYB), is an exchange-traded product (ETP) ... a "commodity pool" regulated by the Commodity Futures Trading Commission.
And WEAT is also a good option for portfolio diversification. Let's take a look at the one-year chart: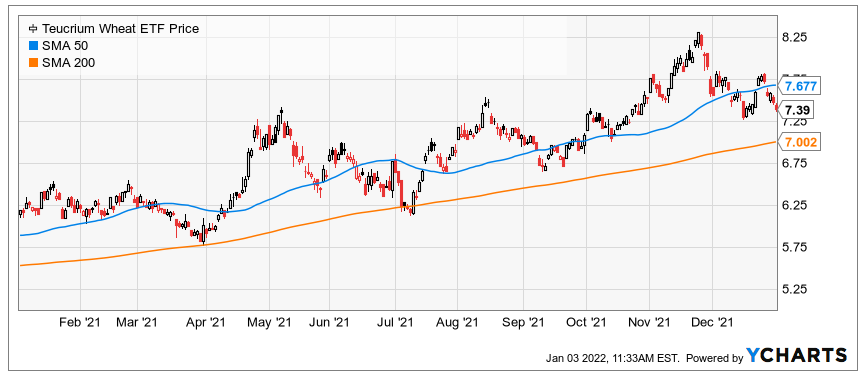 WEAT is up 18% over the past year, but it recently dipped below its 50-day moving average, presenting investors with a pullback opportunity.
Plus, winter wheat (the majority) is in the midst of its seasonal uptrend. Just remember, as always, to do your own due diligence before entering any trade.
If you're interested in specific stocks that follow cyclical trends, check out my Wealth Megatrends service. In 2021, subscribers had the opportunity to bank very respectable gains of 168%, 77% and 60%.
All the best,
Sean