Time to Get Bullish on Gold
Today, I have three must-see charts for you.
Are they bullish on gold? You bet your shiny precious-metal patootie they are!
First, let's look at the year-to-date picture on gold through Friday. You can see why investors have given up on the yellow metal: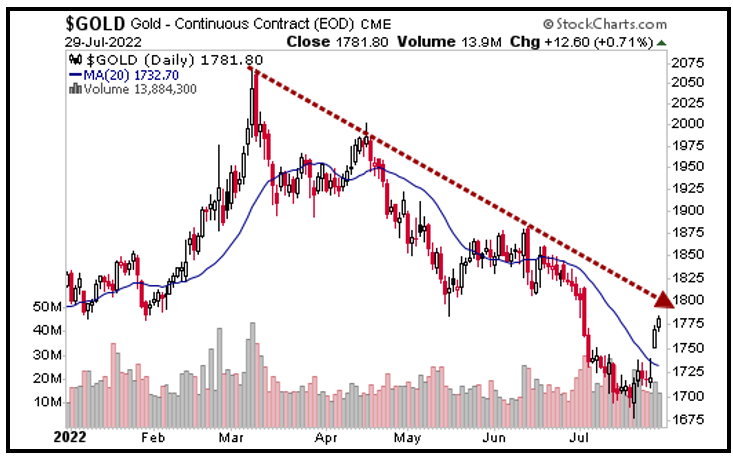 You can see that gold peaked on March 8 and has been a bumpy ride down the Slope of Doom ever since.
But that's OK, because the Sea of Despair is where bull markets begin.
If you look on the far right of the chart, you can see gold sprang back to life last week, gapping higher. Will it bang its head on the downtrend and crumble again? Not so fast!
Let me show you a longer-term picture of gold: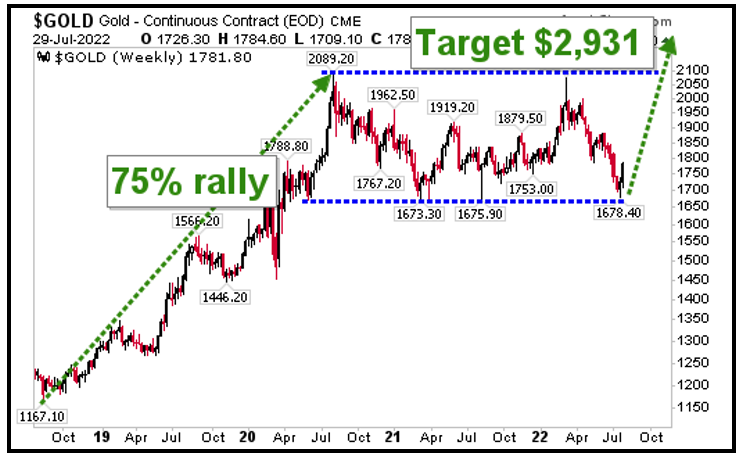 We had a strong move up in gold, followed by a long consolidation, which will likely be followed by another move higher.
If the next move higher is the same percentage move as the previous one, approximately 75%, then that gives us a target of $2,931 in the next two years.
This sideways consolidation is where gold works off the speculation of the previous big bull move. It also builds up energy for the next move, so I call it an energy band. Usually, the wider the band, the more powerful the next big move.
And two years is a long time.
Cycles Say Gold Is Ready to Move Higher
The next chart is the previous chart to which I've added a simple cycle chart.
Gold is cyclical, as are most commodities. To no one's surprise, there's more than one cycle at work. And sometimes different cycles are more important than others. At this time, the two-year cycle is pointing to a great entry opportunity: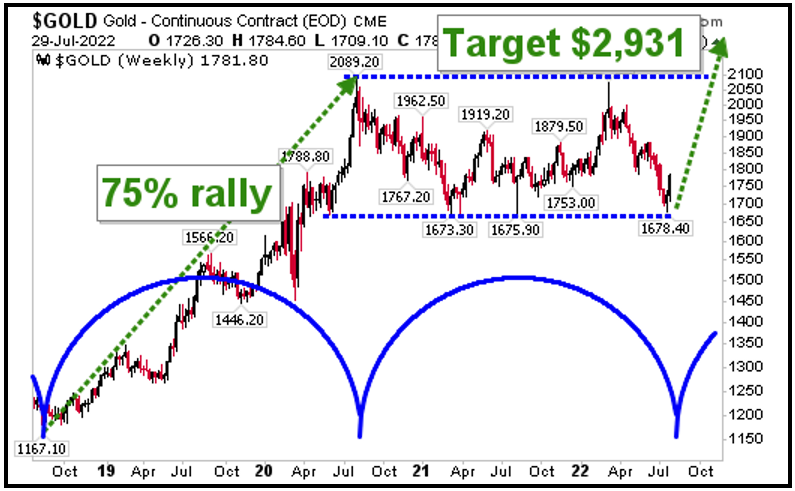 We can see that gold bottomed in August 2018. Two years later, it peaked in August 2020. Now it's approaching another bottom in August of 2022.
Going back to that first chart, gold popped late last week — making its biggest weekly gain since March — because traders began speculating that the Federal Reserve will end its interest rate cycle sooner than later.
And that may be true; however, I don't think that's the only reason. I also believe that gold is cyclically predisposed to rally.
Now, does this mean gold must rally? No. But it means the easiest path for gold now is to rally, if history is any guide.
To this, we can add the fundamentals:
Peak gold: New discoveries are going down, and grades are falling fast.


A growing middle class: In countries with a cultural affinity for gold, middle classes are expanding. China and India come to mind.


Ballooning government debt: This is a global issue. You can print fiat currency from here to Mars, but you can't print gold.
How Investors Can Add Exposure
There are plenty of gold and gold-miner exchange-traded funds that will let you ride this potential rally.
For one, I like the VanEck Junior Gold Miners ETF (GDXJ). Not only is it incredibly cheap right now … not only is it rallying with gold … but it sports a dividend yield of 2.22%, which is more than the S&P 500's dividend pays at 1.68%.
Or, you can buy individual miners. I just made a recommendation to my Resource Trader members. And you can bet there will be more to come.
Best wishes,
Sean