Tin Prices Reach Boiling Point
Many investors are obsessed with precious metals — like gold, silver and platinum — to the point that they ignore profit opportunities in other metals. And now there's a shining opportunity in that most base of metals: tin!
And I have an interview with a miner at the heart of it.
We'll get to that. But first, here are some fun tin facts …
Tin Prices Are Soaring & Can Go Higher
Tin is used for everything from plating steel cans to metal bearings.
But a huge and growing part of its demand is in solder for electronic components. The world uses more electronics every day.
In fact,sales of semiconductors, the largest single sector of demand for tin, were up 32.4% in February. So sure, tin demand is ratcheting up.
The result? Here's a recent chart of tin prices: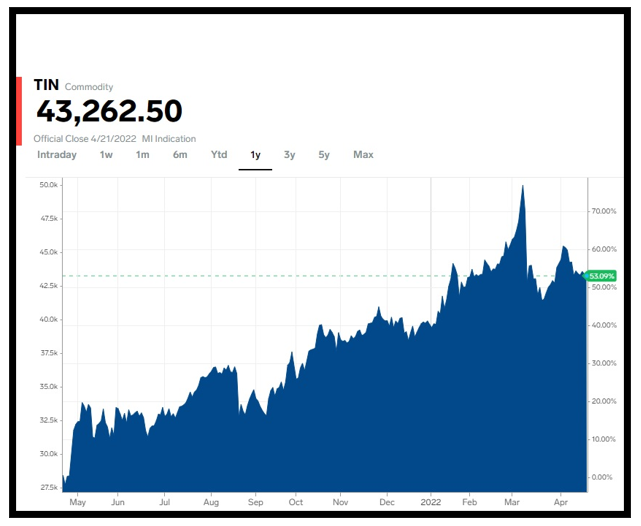 Source: CNBC
The price of tin has rallied 53% in the past year and more than 150% since the start of 2020 to more than $43,000 per metric ton.
It's off the all-time high of $51,000 it hit in early March. But there are strong forces lining up to push it higher.
Those forces include the following:
Prices are soaring even though production surged by 11% to 378,400 metric tons last year. That's because demand is rising even faster. Stocks of tin at the London Metal Exchange (LME) dropped to just 85 tons last month. Despite rising since last month, inventories are still only at two days' supply!
China is one of the world's largest tin producers (Indonesia is the biggest). But so far this year, China is a net importer, competing for global supply.
There are not a lot of tin miners. And CEOs of those companies are forecasting a tight market for years to come.
To be sure, no one can predict the future. But if the trend holds, we'll see much higher tin prices later this year.
And that brings me to my recent Zoom meeting (are there any other kind nowadays?) with the CEO of Alphamin Resources (AFMJF) (AFM.V).
I did this interview for Members to Gold & Silver Trader. Members of that service are currently sitting on open gains of 66.39%, 33.08% and 26.29%.
If you'd like to join them in outpacing inflation as metals and other resources soar, click here now.
Alphamin Is an Alpha
Alphamin is one of the world's biggest tin miners and has 8% of the world's tin resources. Alphamin owns an 84.1% interest in the Bisie tin mine in the Democratic Republic of Congo (DRC). Bisie is one of the biggest tin projects outside China and Indonesia, and it's also high grade. In 2021, Bisie produced a total of 10,969 metric tons of tin.
The company is financially solid, a cash-flow machine and has plenty of expansion potential, as Alphamin is now developing the nearby Mpama South tin deposit.
I'll let CEO Maritz Smith give you the scoop: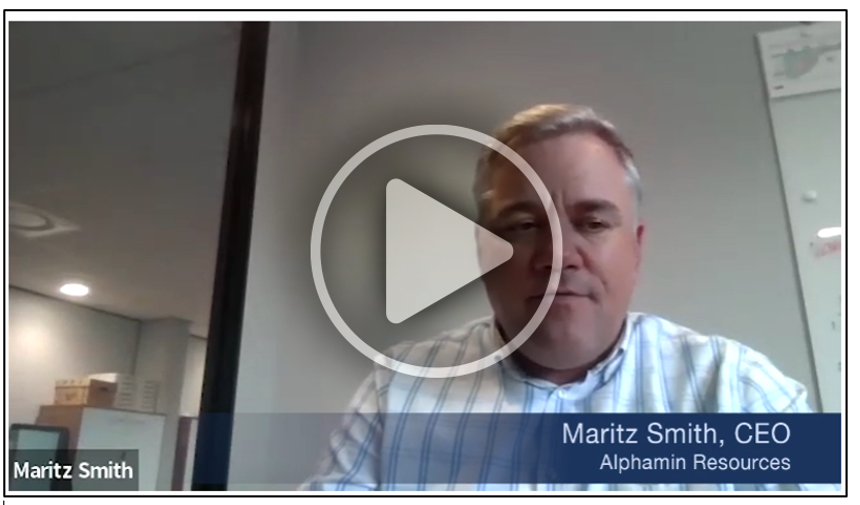 Early this week, Alphamin rocked the market by putting itself up for sale. The mine, which has its main listing in Canada, is looking for bids from China and private equity funds by the end of this month.
And in my book, Alphamin is very undervalued, even after its rocket ride this week.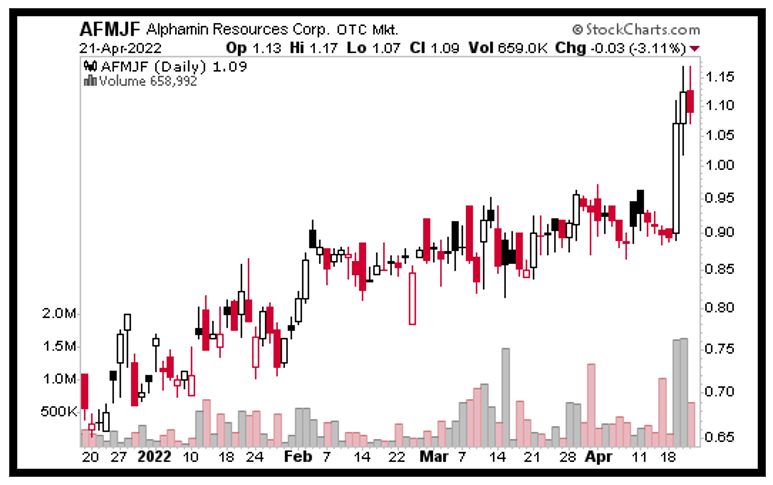 That's a heck of a move. However, there are risks.
First, there's no certainty a deal will materialize. Anyone buying it could be left twisting in the wind.
Second, as I said earlier, Alphamin operates in the DRC. While the company says that's a much better place to operate than it used to be, the fact that it's in the DRC is going to scare away some investors.
Third, in the U.S., Alphamin's listed on the over-the-counter (OTC) pink sheets. I've learned through hard experience that OTC pink volume can dry up at the worst time.
Still, it's an interesting stock at a very exciting time for tin. Remember to always do your own due diligence.
I'll bring you interviews with other great unknown stocks very soon. This is a great time to be in metals. And all that glitters is not gold; tin is shining bright on its own.
Best wishes,
Sean