Wall Street Ignores a Gushing Gold Mine
Have you seen what's happening to oil prices and the companies leveraged to them lately? They've both imploded.
Yesterday, oil prices were down 22% from just a month earlier … And energy stocks, as tracked by the benchmark Energy Select Sector SPDR Fund (XLE), were down 24% at the same time.
That's nuts! It won't last. And now's your opportunity to scoop up money that Wall Street is leaving laying around on the ground.
I'll make my case in three charts.
Chart 1: U.S. SPR Is Draining Fast
We've seen the U.S. drain its Strategic Petroleum Reserve at an unprecedented pace of 1 million barrels per day. In just the last month alone, 27.3 million barrels flowed out of the SPR and to customers as far away as China.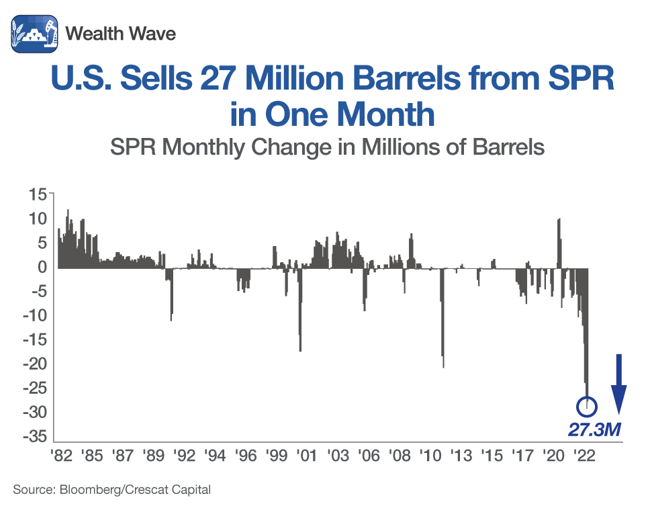 At this pace, America's Strategic Petroleum Reserves will hit ZERO in 18 months. All that oil has to be replaced sometime. That means more demand and higher prices down the road.
Chart 2: OPEC Can't Keep Up with Demand
Well, we can always get more oil from OPEC, right? That's what Joe Biden is trying to do now, cajole some extra barrels out of Saudi Arabia. He should've looked at this chart first …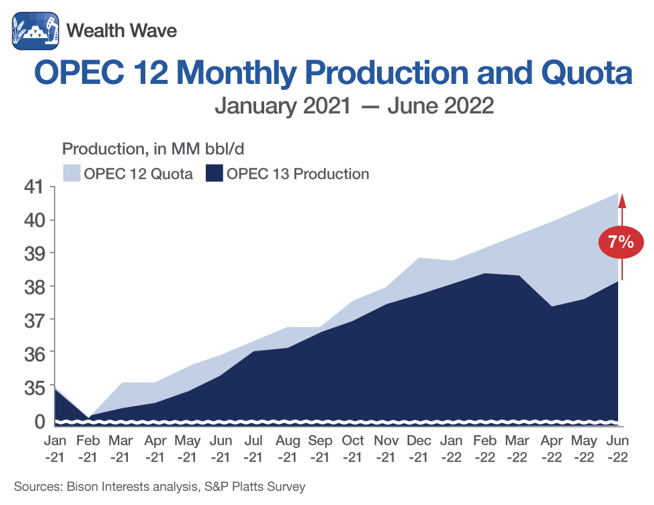 The fact is, even though OPEC keeps raising its production quotas, production has been flat since February. In fact, OPEC is pumping 7% less barrels than its quota.
Sure, the Saudis talk a good game. They'll probably even promise more production. But whether they can actually deliver is the real question.
What's more, OPEC just issued a report saying oil demand should grow 2.7 million barrels a day in 2023. Where's all that oil going to come from?
Speaking of bad news, while U.S. commercial crude oil inventories rose in the latest report, they're still 5% below the five-year average. Distillates and gasoline are fluctuating below the five-year minimum.
Despite all this, oil prices continue to slump. Absurd!
I've heard the reasons why. One is that China is issuing new lockdowns, and the market fears that will impact global oil demand. The other is an overwhelming worry that the U.S. is headed for recession next year as the Fed keeps hiking interest rates to combat runaway inflation.
To me, this is a massive disconnect and something the market will correct sooner than later. If oil stays near recent prices, or goes even lower, oil companies will be fantastically profitable.
Chart 3: Oil Profits Boost Cash Flow
Let's look at a chart of the free cash flow in Marathon Oil (MRO).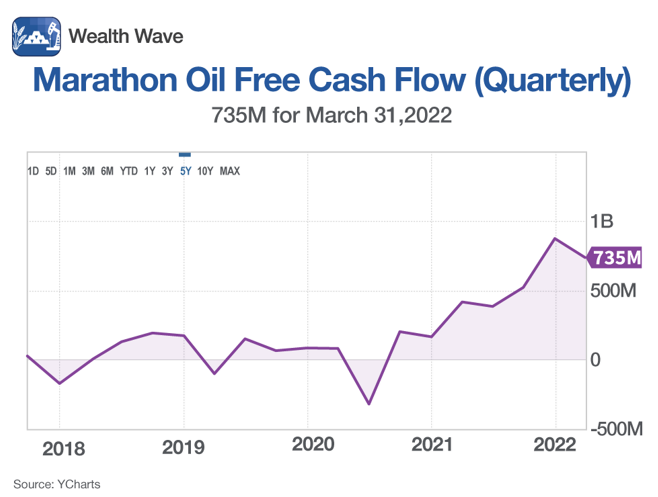 Look at that surge in cash flow this year. Marathon already sports a nice dividend, recently yielding 1.55%. With that kind of cash flow, a dividend hike looks likely.
I bring up Marathon because my Resource Trader subscribers took 37.24% gains on Marathon recently, on top of 64.66% gains they took on Marathon last month.
I didn't want to recommend selling Marathon, but its stock was plunging with the rest of the industry. In fact, Marathon is now 17% below where my subscribers rang the cash register.
I'm not buying Marathon just yet. After all, it can get cheaper. I'm waiting for my proprietary "buy" signal when momentum has turned positive again. When I get that, we'll snap it up again.
In the meantime, Resource Trader still owns a bunch of oil and gas stocks. I'm fine with that. They pay fat dividends, which are likely to grow with all that cash flow, so my subscribers are paid to wait.
Heck, oil companies are pumping up dividends massively. The dividend yield for the XLE, a basket of oil and gas stocks, is now 4.07%. That's more than two and a half times the dividend yield of the S&P 500.
What You Should Consider Doing
Wall Street is pricing in a severe recession. And sure, the Fed raising interest rates increases the odds of a downturn. On the other hand, global oil demand isn't slowing down.
I believe OPEC is right and select oil stocks are bargains now. Especially those oil stocks that pay you to own them.
You should be making your own shopping list of oil bargains. I've given you a couple ideas here. Do the research and you can easily get more. The best buying opportunity in years is coming … And you'll want to be onboard for that.
All the best,
Sean
P.S. Martin and early stage investor Chris Graebe are going on the air to show how staggeringly profitable private market deals can be … and how to get first access to one private deal for Weiss Members this July. For more information, check this out.