What to Buy as World Powers Threaten War
Sun Tzu famously said, "In the midst of chaos, there is also opportunity."
Today, I have an opportunity for you to defend your portfolio from the collateral damage of war.
Russia and Ukraine are locked in deadly conflict, and tensions between the U.S. and China are coming to a head over Chinese intervention in Taiwan.
This week, the U.S. announced trade talks with Taiwan to support the country's democracy, prompting China to immediately respond by threatening to "safeguard its sovereignty."
The move follows House Speaker Nancy Pelosi's visit to Taiwan last month, which China responded to by shooting missiles into the sea as a form of deterrence.
Now, in another show of force, China and Russia are strengthening their ties by conducting joint military exercises in the East.
China says the demonstrations are "unrelated to the current international and regional situation," but I'm not buying it. As China and Russia take up arms, you can bet the U.S. is taking notice.
Last year, the U.S. military spent more than the following nine countries combined. Here's a chart that breaks down the defense spending of the top 10 countries, with the U.S. clearly dominating the others: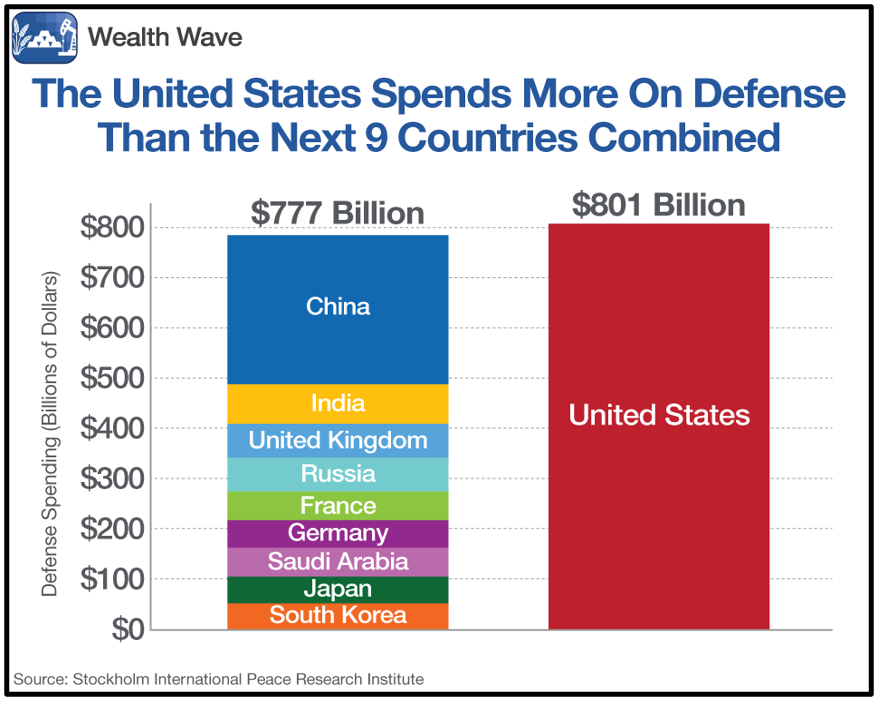 If the U.S. gets more involved in the war in Ukraine or steps in to prevent a Chinese takeover of Taiwan, its military spending will soar.
The U.S. has already spent $18 billion toward Ukraine's war efforts against Russia, and it'll be spending another $5.5 billion over the next couple of months.
This will come from the $40 billion support package that Congress approved in May, but it won't stop there.
Inflation is another critical factor that goes into determining future military spending.
With year-over-year inflation at 8.5% in July and defense contractors asking for next year's budget to outpace inflation by 3%–5%, the jump should be major.
With military spending set to increase, it helps to buy the companies leveraged to defense spending that'll see the greatest benefits.
Members of my Wealth Megatrends service are currently sitting on gains in Raytheon Technologies (RTX), but if you don't want to worry about picking individual stocks, exchange-traded funds offer broader exposure with a basket of the most popular names.
One fund you can investigate is the iShares U.S. Aerospace & Defense ETF (ITA), which is the largest and most liquid for the industry. ITA trades with average daily volume of over 180,000 shares, and it holds 3.8 billion in assets under management.
The fund tracks the Dow Jones U.S. Select Aerospace & Defense Index, which strictly includes U.S. companies that manufacture commercial and military aircraft, as well as other defense equipment. It deploys a minimum of 80% of its assets in the index.
Of ITA's 36 total holdings, its top three positions are in Raytheon Technologies , Lockheed Martin (LMT) and Boeing (BA). Together, they account for nearly 44% of the fund's assets.
Looking at ITA's daily chart, we see that the fund broke through overhead resistance earlier this month. ITA is within shouting distance of its 52-week high of about $114 per share, where another breakout could send it surging toward $134.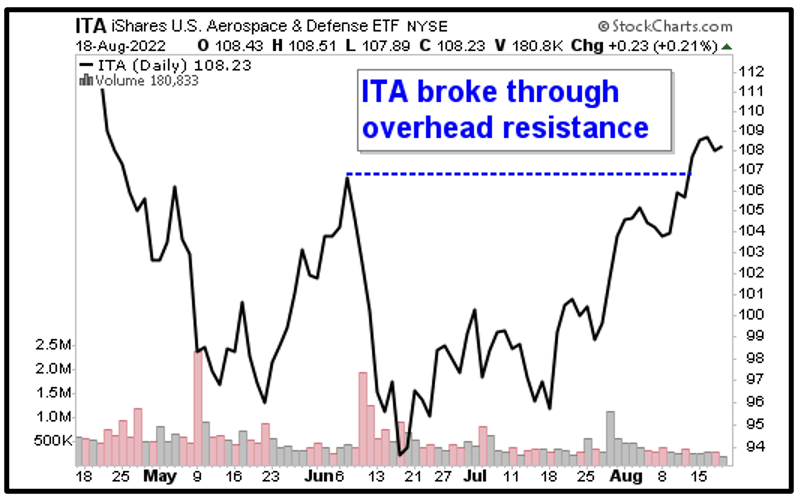 As geopolitical conflicts worsen, and the U.S. looks to increase its investments in maintaining military dominance, I expect the fund to outshine the broader market.
Always be sure to conduct your own due diligence, but this could be an excellent opportunity amid potential chaos.
All the best,
Sean
P.S. On Aug. 23, Dr. Martin Weiss is offering a free tutorial for an all-weather strategy to help you consistently beat the market. Testing shows this simple strategy would've beaten the S&P 500 nearly 5-to-1 over the past 19 years! See how it works by signing up here.