You're Paid to Be Wrong on Oil … but You'll Be Right
Recently, we've seen a sharp correction in the price of oil. West Texas Intermediate crude, the U.S. benchmark, went through six weeks of carnage, falling more than 22% from its June 8 closing high.
The fall in oil and gas stocks, as tracked by the Energy Select Sector SPDR Fund (XLE), was just as steep. Ouch!
But if you think this is making me bearish on oil and gas stocks, guess again. Global oil markets remain tight, and select stocks leveraged to the price of crude are cash-flow machines.
So, I know just how I want to play this. Let me show you some charts first.
Let's start with two charts from the Energy Information Administration: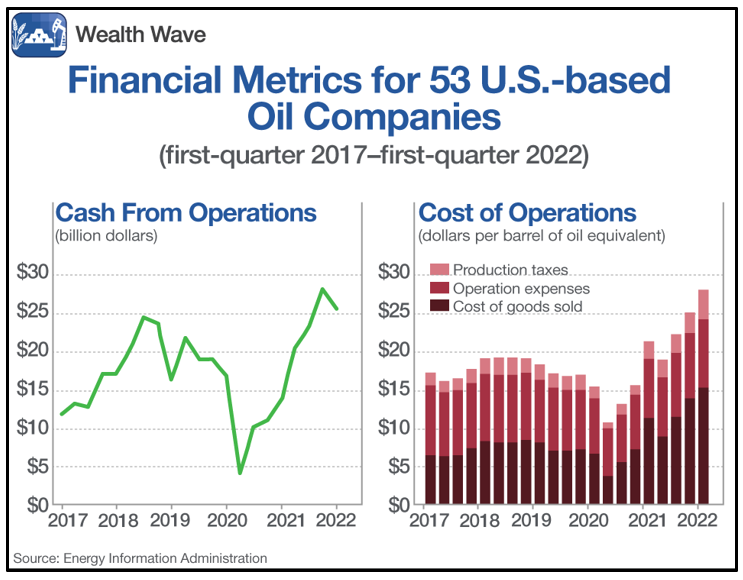 No doubt about it, costs went up in Q1 for the 53 U.S. exploration and production companies surveyed by the EIA. Capital expenditures, supply-chain issues, wrong bets on hedging, rising labor costs and more pushed the cost of pumping a barrel to $28.06.
But cash from operations rose 86% year over year to $25.7 billion. This was due in large part to the price of crude averaging $95.18 per barrel, up 64% from a year earlier.
Oil Companies Are Cash Machines!
Add it all up, and U.S. oil producers made an average $67.12 per barrel. That's a lot! It's also a little less than they made in Q4. Enough to justify the recent haircut in stock prices? Heck, no!
And that's why Reuters recently published this next chart showing profit forecasts for the five biggest western oil companies: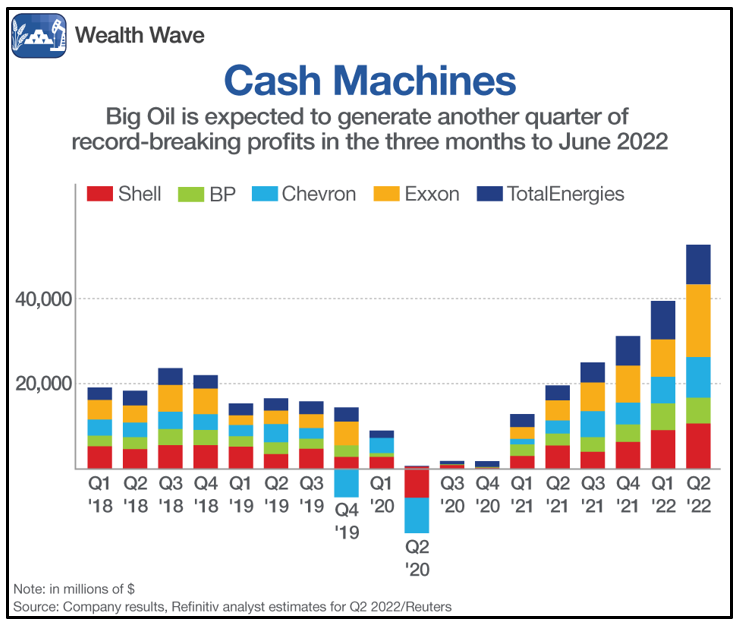 The largest oil and gas companies made close to $100 billion in Q1 of this year. In Q2, they're poised to make even more!
Now, the Mr. Smarty-pants among us will point out that the market is pricing in a recession, with its implied lower fuel use, and that's true. But oil is a global market.
The Organization of the Petroleum Exporting Countries forecasts that world oil demand will rise by 3.36 million barrels per day in 2022. Not only does that extend a recovery from 2020's slump, it supports higher oil prices. The EIA's forecast is slightly lower, at an increase of 2.2 million bpd, but still an increase.
So, demand remains strong.
But Mr. Smarty-pants might ask, "What about supply?" Ah …
Supply Is Skin-tight
These next charts show two things. The first is observable oil inventories. They really slid down a slippery slope last year, and 2022 is that red smudge in the lower left, showing 7.187 billion barrels. The cupboard is nearly bare.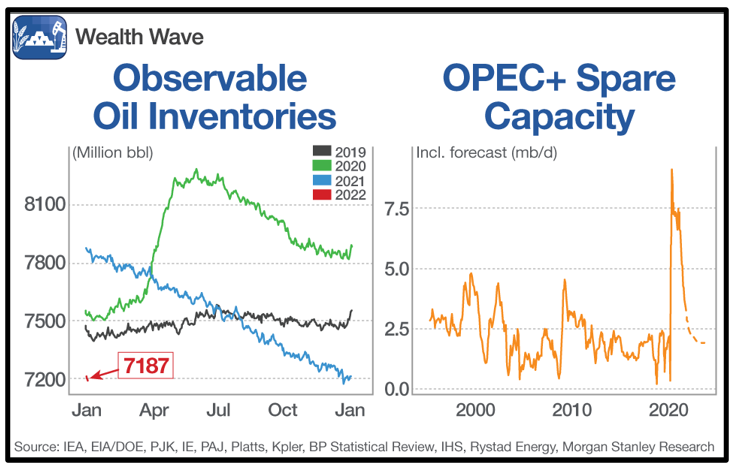 And it's not just commercial inventories that are scraping the bottom. Crude inventory in the U.S. Strategic Petroleum Reserve fell last week to the lowest level since June 1985!
The second chart shows the spare capacity of OPEC+, which is the cartel plus the gang of hooligans led by Russia. They're running out of spare capacity quickly!
In fact, OPEC is pumping 7% less than its agreed-upon quota, a quota it hasn't hit since January 2021. Just last week, Saudi Arabia announced that the most it can produce is 12 million bpd. It pumps about 10.5 million bpd now, and says 12 million bpd is its sustainable high.
Before this, the "central bank of oil" never set a limit on how much oil it could produce. Never! So, I was perplexed that this news slipped beneath the surface of the market without making a ripple.
In other words, I believe the market is mispricing oil and the stocks leveraged to it.
One more thing … dividends.
The oil industry exchange-traded fund I mentioned earlier, the XLE, sports a dividend yield around 3.94%. That's more than double the dividend yield of the S&P 500, recently at 1.69%.
The XLE's holdings are a who's who of big energy names ... Exxon Mobil (XOM), Chevron (CVX), ConocoPhillips (COP) and more! Thanks to high oil prices, they're going to unleash extra billions of dollars on shareholders, through either higher dividends or share buybacks.
Exxon says net income for Q2 could hit $16.1 billion! That's way up from $4.7 billion a year earlier. We'll find out when Exxon reports this Friday.
Chevron, meanwhile, is expecting profits to more than double from a year ago when it reports on Friday.
Conoco, which reports next week, is expecting to see earnings jump 2.5 times from a year earlier.
Let's look at a weekly chart of the XLE: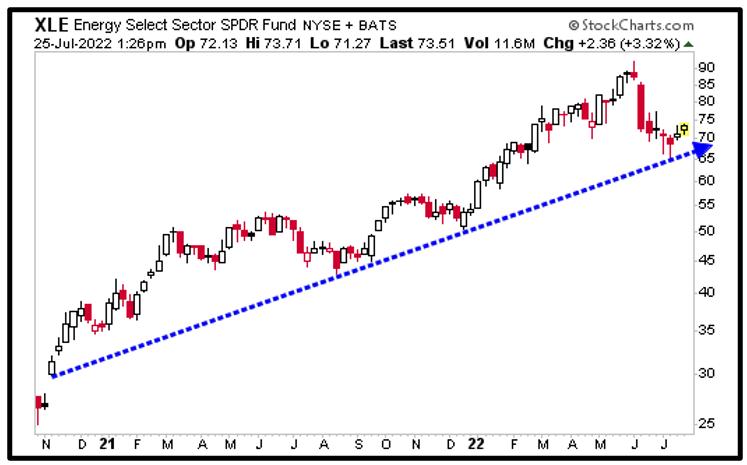 Despite the sharp pullback that started in June, the XLE clearly remains in an uptrend. That could change, sure, but I strongly believe oil prices are going higher. Why not get paid nearly 4% in dividends to find out? If I'm wrong, that fat dividend sure cushions the blow.
Now for the actionable part: July 28, at noon Eastern, I'll be giving an online webinar for the MoneyShow. My presentation is on my favorite dividend stocks for this wild market. And energy stocks are among the best 15 dividend stocks you can buy now, for a bunch of reasons I'll explain.
If you care to tune in, you can register for FREE!
Get your registration today, and I'll see you then. I'm very excited about all the money we're going to make in this market, come hell or high oil prices!
Best wishes,
Sean
P.S. Dr. Martin Weiss and early-stage investor Chris Graebe want to show you how staggeringly profitable private market deals can be … and how to get first access to one private deal for Weiss Members. If you'd like more information, check this out.