"I been down so long, that it looks like up to me," sang Jim Morrison of The Doors ... and that's the feeling many market watchers have now.
The broad market has been on such a losing streak that it feels ready, if not for the bottom, then a rally worth riding.
But what would you buy? I have an idea. After all, it's something Americans are literally dying for.
I'm talking about healthcare.
Even though health care spending will grow at an average rate of 4.9% between 2022 and 2024, according to the Centers for Medicare and Medicaid Services, health care stocks have been beaten down along with most everything else in the stock market these days.
What's more, the outlook for healthcare is growth of 5.3% between 2025 and 2030, to reach nearly $6.8 trillion by 2030. And since healthcare is something people need, it's seen as resistant to recessions AND won't see its margins eaten away by inflation.
In fact, Americans pay the most for healthcare in the world. And that's not going to change anytime soon.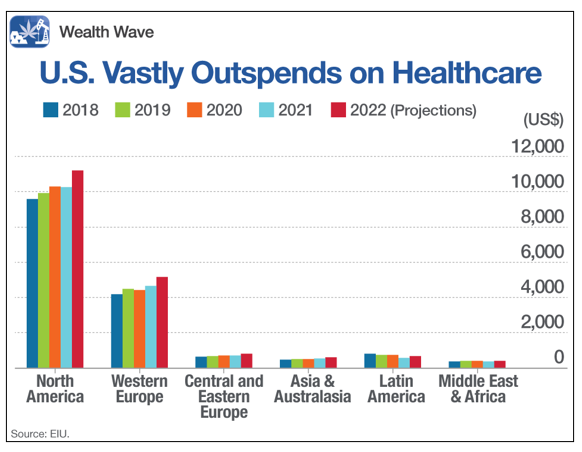 As you can see from this chart, not only do Americans pay the most for healthcare, we're expected to see costs rise faster than anyone else.
The reason for this is simple: for-profit insurance, hospitals and drug manufacturers.
That, and a Congress that's so divided it couldn't agree if the sky was blue, never mind take action to cut down the fat profits of healthcare and drug companies and give American consumers some relief.
I don't expect this to change anytime soon.
I'm taking the same attitude with that I do with the sky-high profit margins of oil and gas companies. If you can't beat 'em, join 'em.
And when you figure in the boatloads of money that the Federal government is throwing at healthcare to try and control the pandemic ... you can see that select companies will be standing there with buckets to collect the money raining down from the sky.
Health Is Your Wealth
My recommendation to ride a health care rally is the Health Care Select Sector SPDR Fund (XLV).
Let's look at a weekly chart …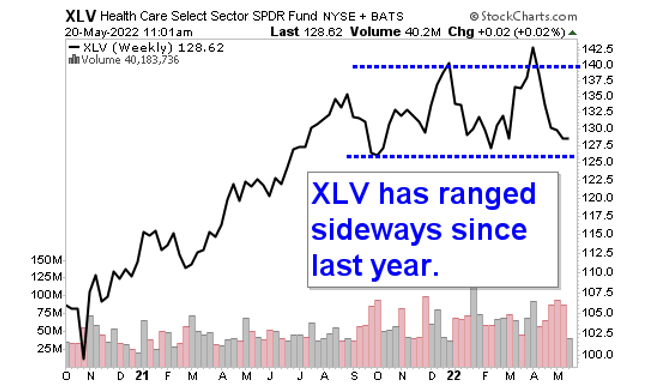 You can see the XLV has been range-bound since the second half of last year. I'd say it's building up energy for a breakout one way or another. But even just a trip to the top of its range could be quite profitable if you want to ride that rally.
The holdings of the XLV include Johnson & Johnson(JNJ), UnitedHealth Group (UNH), Pfizer (PFE), AbbVie (ABBV) and Eli Lilly (LLY). All solid stocks.
I've recommended a couple of these to my paying Members, and you can drill down into the XLV if you want to find individual stocks that might outperform. If you're doing this on your own, be sure to always do your own due diligence.
But just buying the XLV itself is fine. Its expense ratio is just 0.10%. It sports a dividend yield of 1.4%, which is a little higher than the S&P 500.
And it's my belief that when the rally comes, XLV will ride it. The markets have been down for so long. To me, it sure looks to me like the next move could be up.
All the best,
Sean