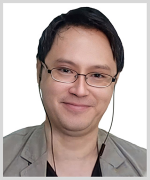 By Bruce Ng
As Ethereum (ETH, "B") gains in popularity and adoption, fees and transaction speeds grow. But in order to successfully scale to fit demand, the Ethereum network needs to maintain its cheap, fast transactions to ward off any competition.
There have been several proposed solutions. But the most notable — and one that brings significant opportunity to savvy investors — is the addition of Layer-2 solutions.
I covered the rise of L2s as a sector a couple of weeks ago. And I pointed out, the network that had the greatest total value locked — a measure of adoption — was Arbitrum (ARB, Not Yet Rated).
Today, I want to dive deeper into this L2 to explore the possibilities it could hold.
How Arbitrum Works
Arbitrum uses a technology called optimistic rollups.
To explain this, I'll use a transport analogy. Think of the Ethereum network as a busy highway, where many cars (transactions) are trying to reach their destinations (being confirmed on the blockchain).
However, the highway has limited capacity, so there can be traffic jams and delays, like at rush hour when everyone is commuting at the same time.
Arbitrum is like a high-speed train that runs parallel to the highway. It has a much greater capacity, able to carry hundreds of passengers on a single train rather than each person needing their own car. In this way, they can bypass the congestion on the highway.
That's how all L2s work. Where they differ is in how they get the train to the final station.
In the case of Arbitrum, some transactions are "rolled up" into a single batch and confirmed off-chain, which is like an express train that skips over smaller stops. This process is known as optimistic rollup, where transactions are initially assumed to be valid but can be disputed if they turn out to be fraudulent.
Once the batch is confirmed off-chain, the final result is sent back to the main Ethereum network for verification and settlement, which is like the train arriving at its destination and passengers getting off to complete their journey.
By using Arbitrum, users can enjoy faster and cheaper transactions than on Ethereum without having to compete for limited space on the main network.
Even better, increased transaction speeds on Arbitrum have a compounding effect. Say, for example, that both Ethereum and Arbitrum do 10 transactions per second. These figures compound to provide 10 × 10 = 100 transactions per second.
We can compare the transaction fees and swap fees on Arbitrum vs. Ethereum here:

As we can see, fees on Arbitrum are significantly cheaper than on Ethereum. And this opens the floodgates of adoption to a variety of decentralized applications.
As mentioned earlier, TVL is a measure of adoption. Since July 2022, Arbitrum's TVL has steadily increased.
Then, on March 23 of this year, Arbitrum airdropped 1.275 billion tokens (constituting 12.75% of all token supply) to active users of the network. Today, this airdrop is currently worth $1.6 billion at the current price of ARB.
But more impressive is how the airdrop stimulated a further increase in TVL (as you can see in the chart below) and boosted activity on the network.

Figure 1: Arbitrum TVL from July 2022 to now.
Click here
to see full-sized image.
Finding Opportunity on Arbitrum
Crypto is driven by narratives, with crypto investors and traders often investing in the latest hype. This truth was on display over the past few weeks as memecoins shot up to dominate trading.
The increased hype and activity meant more transactions on the Ethereum base chain, driving fees up to $10 per transaction and $100 to swap coins.
Now, the narrative that is seeping through the crypto space is that Ethereum is becoming too expensive to use again.
This is reminiscent of the 2021 bull market where transaction activity hit an all-time high.
If fees on Ethereum continue to be expensive, there is a possibility that a new narrative will emerge — that Arbitrum is the most compelling solution to Ethereum's scaling problem.
Sure enough, we're starting to see that narrative reflected in reality. The price of Arbitrum's token, ARB, has held up very well recently. In fact, its price was increasing even amid the recent market-wide crypto dump.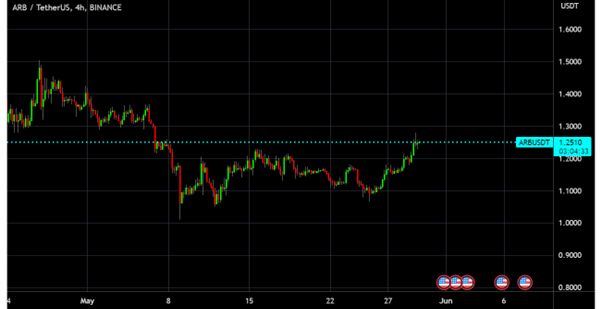 Recent ARB price action.
Click here
to see full-sized image.
So, how can you find opportunity here? Well, I have two suggestions today.
First — and this is the most direct way to leverage yourself to Arbitrum — is to invest in its token.
As you can see, the token's strength in the face of market-wide downside pressure is notable. And if the dual narratives of Ethereum being too expensive and Arbitrum as the No. 1 L2 persist, then there is great upside potential for this token.
Second is to look for DeFi opportunities on Arbitrum.
A decentralized platform or app that offers staking using the Ethereum network may also offer that same staking pool on the Arbitrum network. As an L2 looking to attract users, Arbitrum's pools are likely to offer a more attractive yield than their Ethereum counterparts.
And since Arbitrum benefits from increased activity on the Ethereum network, any narrative that pushes trading on either ETH or ARB will benefit liquidity providers on Arbitrum.
Finally, I have a bonus opportunity for you. It isn't directly a crypto opportunity, but it confronts the same challenges found in traditional finance that crypto seeks to correct.
It's no secret that the American economy — and specifically our banking system — is getting worse by the day. And with regulators and talking heads leaving us all in a lurch, Weiss Ratings founder, Dr. Martin Weiss, decided to call all hands on deck for a special Emergency Banking Summit to be held this coming Tuesday, June 6, at 2 p.m. Eastern.
At this must-see event, Martin will announce the biggest and boldest project in the 52-year history of our company.
Its goal? To help you safeguard your money from failing banks, Wall Street control and government overreach before the bottom drops out.
The summit is completely FREE to you, our loyal Weiss reader. All you have to do is save your seat here.
Best,
Bruce Ng