Beware the Split Between Short & Long-Term Holders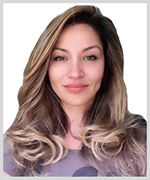 By Marija Matic
There's an interesting dichotomy developing according to on-chain metrics. It's between those who have only held their Bitcoin (BTC, "A-") for a short time and HODLers.
You see, short-term holders are selling. That's because BTC has been in slightly bearish mode today since closing out last week in red.
It has been trading around $27,000 with a cheeky wick below it today.
If the 50-day exponential moving average doesn't act as support, prices may fall to roughly $26,660 marked by the purple line below.
Short-term holders saw BTC couldn't hold the psychologically significant $30,000 level and once the price started dipping, they started selling.
Which makes sense for traders trying to time the market to maximize their capital gains.
But this is why you have to look beyond just price action in crypto, and why I suggest you keep up to date with our Weiss Crypto Daily issues. Because if you're an investor, not a trader, then you should be aware that …
There is nothing fundamentally bearish going on in crypto.
In fact, it's more accurate to say that, in the near term, the market is more in neutral mode and could go either way, depending on news or trading action.
Long-term holders — or HODLers — have a different strategy to traders.
They have been around the block(chain) before. They know that no rally is a straight line. And they know that fundamentally there's nothing actually putting downside pressure on Bitcoin right now.
As investors, long-term holders are seeing this for what it is: an opportunity. They are using this dip in prices to keep buying Bitcoin, according to on-chain data. In fact, the data shows they've been accumulating since last summer without pause.
Meanwhile, Ethereum (ETH, "B") has been trading above strong support of $1,840 for days, not caring much about Bitcoin's price action, that changed today as support started to cave in.
If ETH falls under $1,800, shown by the blue line above, the next major support would be at the dotted line at $1,660.
Reclaiming $1,900 would be a bullish impulse and would mean the bulls are back.
At the same time, alts are showing mixed performance, with another strong move from Render Network (RNDR, Not Yet Rated) which is up over 8% at the time of writing.
Last week, I mentioned that a slip in Bitcoin's market dominance could point to an altseason. But while its price is in neutral mode, BTC dominance is still holding at 47%. Combined with the alts' mixed performance, it looks like altseason is on hold for now.
Notable News, Notes & Tweets
• Now valued at $500 million, Cosmose ditches Stripe to adopt Near's (NEAR) crypto solution.

• According to ChatGPT, Nick Szabo is the most likely person to be behind Bitcoin.

• Existing crypto companies could get a "fast-track regime" to new European crypto rules, France's financial markets authority says.
What's Next
We're in a neutral phase right now. The rally has lost its steam, but without anything actually acting against it.
Just look at the Fear and Greed index below. After a few quite greedy weeks, it's now showing as neutral, lacking strong sentiment either way: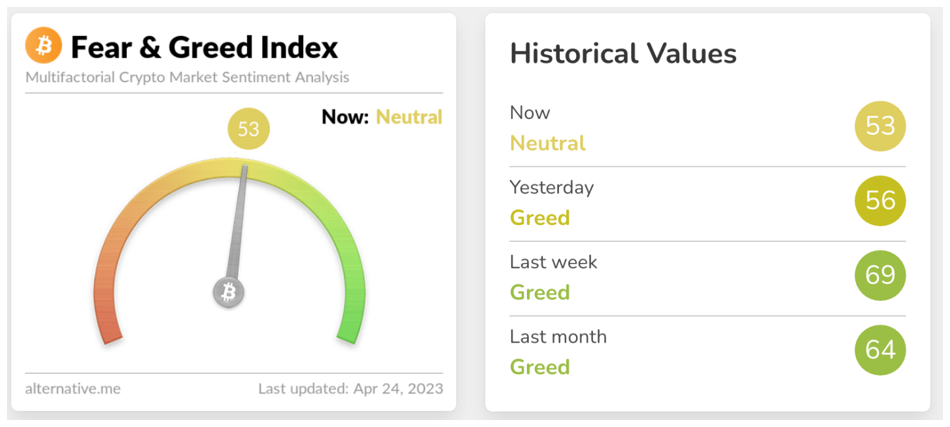 Source: alternative.me.
Click here
to see full-sized image.
For now, it seems the market is waiting for a catalyst to push it in either direction.
More specifically, I believe it is waiting for the upcoming Federal Open Market Committee meeting scheduled for May 2-3 to hear if the Federal Reserve will raise interest rates once again.
Until then, we are in a cool-off period.
Making this an excellent time to take stock of your portfolio and position it as you'd like it to be.
On that note, I suggest you watch my colleague Juan Villaverde's recent video briefing with Weiss Ratings founder Dr. Martin Weiss.
In it, Juan breaks down the crypto cycles that form the basis for the Crypto Timing Model he uses in his Weiss Crypto Investor service. He also reveals a few crypto assets he believes will outperform in the coming long-term cycle … and a few he believes will be left in the dust.
It won't be online long, so I suggest you watch it now.
Best,
Marija