Bitcoin Could Be Going Its Own Way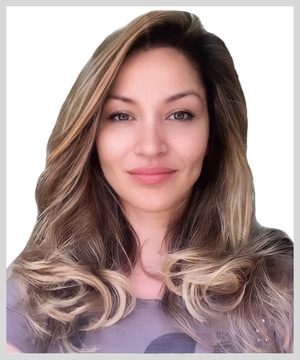 By Marija Matic
After reaching a high 0.91 correlation with the equities markets in May, Bitcoin (BTC, Tech/Adoption Grade "A-") seems to have finally started going its own way over the past 10 days. Its correlation with the S&P 500 and Dow Jones has since dropped to 0.63 and 0.58, respectively. These are the lowest levels in over than two months.
Its correlation to the tech heavy Nasdaq100 has also dropped, but only to 0.75 as this is still the most closely related index to Bitcoin since traders continue to view Bitcoin as a risky tech asset.
Image: IntoTheBlock correlation matrix showing 30-days correlation coefficient between crypto and traditional markets.
On the other hand, the traditionally unreliable correlation between BTC and gold also started dropping after reaching record levels in May: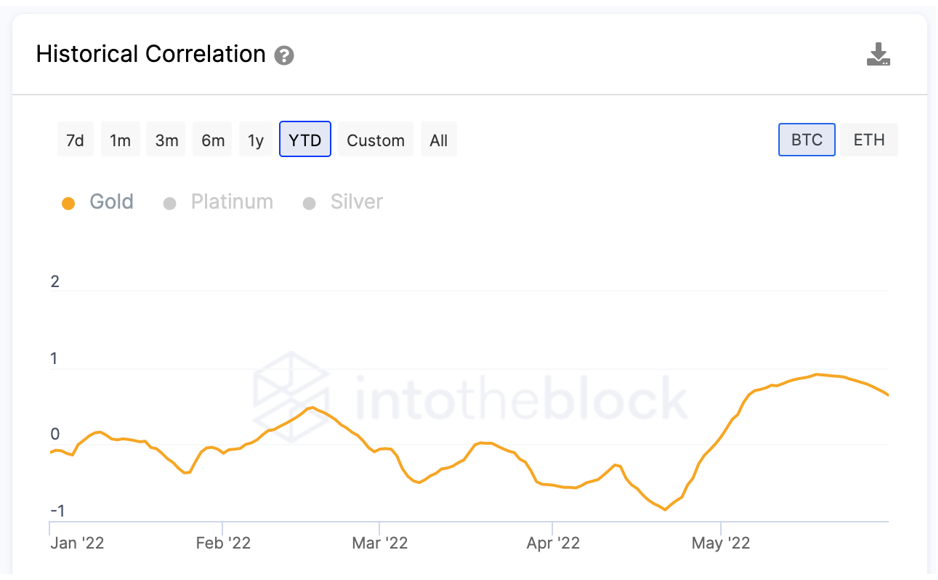 Image: IntoTheBlock, YTD correlation between BTC and Gold
This decoupling moment is interesting, though we'll have to wait and see if the correlation between traditional and crypto markets will continue to decrease, or it's just a momentary thing.
DeFi Market
Meanwhile, total value locked (TVL) in DeFi dApps has almost halved since reaching $243 billion on May 5 as a consequence of the TerraUSD (UST) collapse.
This has influenced a significant change in ranking of top dApps with the highest TVL. Namely, MakerDAO, the protocol of stablecoin Dai (DAI), has taken first placewith $10.1 billion locked on its platform.
On the downside, two DeFi giants, Curve (CRV, Tech/Adoption Grade "B") and Lido (LDO, Unrated), have seen large drops in TVL as both were largely dependent on Terra's (LUNA, Tech/Adoption Grade "E") and UST's liquidity.
While both are still performing well, they've slipped in the rankings. Most notably, Curve's drastic halving of its liquidity has dethroned it from first place.
Here's the current TVL ranking, according to DefiLlama website:

Even though MakerDAO also lost 23% of TVL in a month, its DAI stablecoin looks like a winner of UST collapse as the number of daily active DAI addresses has increased by 57% since the beginning of May.
NFT Market
When it comes to the NFT market, the percentage of wallets that hold NFTs has crossed 5%! That means the number of addresses that hold at least one NFT is growing.
This can represent both old crypto users that are venturing out into NFT space, as well as investors who are entirely new to the space and onboardedcrypto because of NFTs.
Roughly 3.88 million — or 5.06%— of all crypto addresses are now holding at least 1 NFT.
In short, NFT adoption has doubled in the last six months.
Also, the number of NFT collections has just passed 100,000. The most popular project right now is Bored Apes Yacht Club and their planned game/metaverse called Otherside. Land plot sales in this metaverse are dominating the NFT trading volumes, with the floor price of the cheapest virtual land plot being 2.95 ETH, or roughly$6,000.
Clearly, crypto life goes on. Adoption is moving from project to project, as well as from one sector to the other.
The collapse of LUNA/UST was hard to swallow, but the result will be reshuffling and increased scrutiny, which is always welcome.
Notable News, Notes and Tweets
What's Next
Bitcoin made a strong breakout yesterday from its tight, three-week-old trading range. It is currently trading above $32,000. There may be a retest of support near$30,600 before it heads higher towards $34,000, which is the next major level.
Ethereum (ETH, Tech/Adoption Grade "A") has also reacted and started trading higher yesterday. But it's still trying to break its $2,000 resistance level. Other altcoins are following, with the Cardano (ADA, Tech/Adoption Grade "B") ecosystem pushing up the most.
We will see if dips will be well supported. If they do, there is a chance of this bullish momentum not being just a relief bounce.
Best,
Marija Matić