BTC Back Above $21,000, CEL Up 400% in 4 Days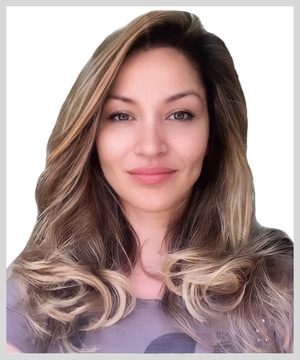 By Marija Matic
Bitcoin (BTC, Tech/Adoption Grade "A-") is back above the important psychological threshold of $20,000 after breaking it four days ago and has even crossed the $21,000 level early Tuesday morning.
This show of strength has pulled altcoins to record substantial gains, with Celsius (CEL, Tech/Adoption Grade "C-") jumping the most — 400% in four days.
Ethereum (ETH, Tech/Adoption Grade "A") is back above $1,100, while Aave (AAVE, Unrated), Polygon (MATIC, Tech/Adoption Grade "B"), Chainlink (LINK, Tech/Adoption Grade "B+") and Near (NEAR, Tech/Adoption Grade "D") all saw double-digit gains today.
Even Solana's (SOL, Tech/Adoption Grade "D") price has increased by 35.4% since announcing a technical improvement a few days ago. The team's managed to restore confidence in SOL to a certain extent, after it lost lots of value due to long-term technical issues with the Solana network.
At the time of writing, the total crypto market cap is headed to challenge its resistance level of $1 trillion.
CEL's significant jump has come one week after Celsius paused withdrawals, swaps and transfers to preserve their remaining liquidity, which suffered due to the falling prices of crypto and overleveraged positions. Its major crisis seems to be somewhat averted for now as BTC has moved further away from Celsius' liquidation level at $13,600.
That's why the price of CELhas aggressively grown. However, if BTC falls below $20,000 again, CEL's price will follow, likely aggressively so due to renewed fears of liquidation.
To the upside, the next major resistance level for BTC is $22,000, as you can see in the BTC/USDT one-hour TradingView chart below: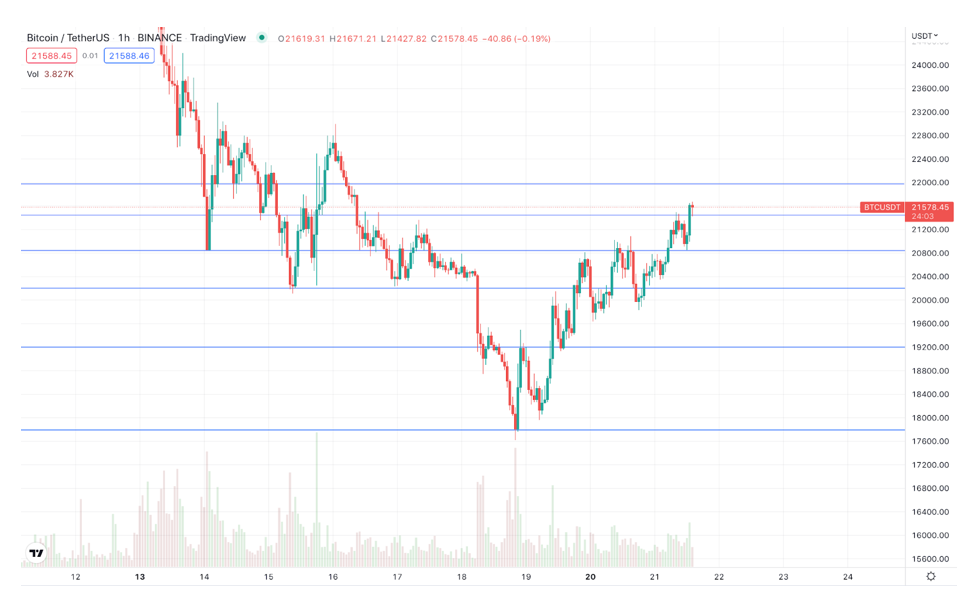 Interestingly, the first U.S. Bitcoin short exchange-traded fund was launched today on the New York Stock Exchange. The ProShares Short Bitcoin Strategy ETF (BITI) offers an opportunity to profit from Bitcoin price drops by purchasing a futures ETH contract.
That means it's now possible to speculate on BTC's price dropping on the NYSE. Considering that ProShares launched a long ETF near the top of the market, many are questioning if this short ETF launch is a sign we're near the bottom.
Notable News, Notes and Tweets
What's Next
It remains to be seen how long the bullish reversal will last and whether we're actually in a breakout trap.
Market participants may be reluctant to push significant funds back into crypto, as the fear still prevails. In fact, we are still in "extreme fear" territory according to the Fear and Greed Index:
If Bitcoin manages to go above $23,500, the previous one-year long support of $28,800 would likely become hard resistance.
But any market recovery may prove short-lived as governments are draining liquidity to combat inflation. Hence, I would expect more volatility and uncertainty in the coming weeks.
This means that crypto may still not be out of the woods when it comes to deleveraging and flushing out of bad debt. But stay tuned to the Weiss Crypto Daily issues for day-to-day updates.
And I suggest you set up alerts on our website for any crypto you do hold. This way, you'll know the moment there's a development in price action on the cryptos in your portfolio.
Best,
Marija Matić